Disclosure of Material Connection: I received one or more of the products or services mentioned above for free in the hope that I would mention it on my blog. Regardless, I only recommend products or services I use personally and believe will be good for my readers. I am disclosing this in accordance with the Federal Trade Commission's 16 CFR, Part 255: "Guides Concerning the Use of Endorsements and Testimonials in Advertising."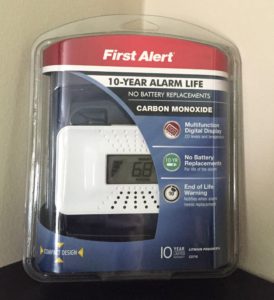 As a parent I would do anything to make sure that not only is my child safe but that I take the steps to make sure my husband and I are safe as well. So while I do things on the daily to keep us safe some are easier than others. When we moved into our new house I notice that smoke alarms were installed but there was not a carbon monoxide detector in the house. My smoke detectors do not detect carbon monoxide, so getting a carbon monoxide detector was high on my to do list. Carbon Monoxide is an odorless, colorless and tasteless gas that is nearly impossible to identify without a proper detector. Carbon monoxide is the single largest cause of accidental poisoning. The CDC reports that over 15,000 people each year are treated in emergency rooms for non-fire related carbon Monoxide exposures.
Even though my instruction manual had instructions on where to install, I was confused on where to place my carbon monoxide detector in my split level house so I called my local Fire Department to ask. Most important is to place a detector near bedrooms (if you only have one in the house make sure it's near where you sleep). It's a good idea to have a detector on every floor of your house as well as one close to the garage door if you have an attached garage. My fire marshal suggested to try and place your detector between knee and chest level, making sure not to cover your detector with furniture or curtains.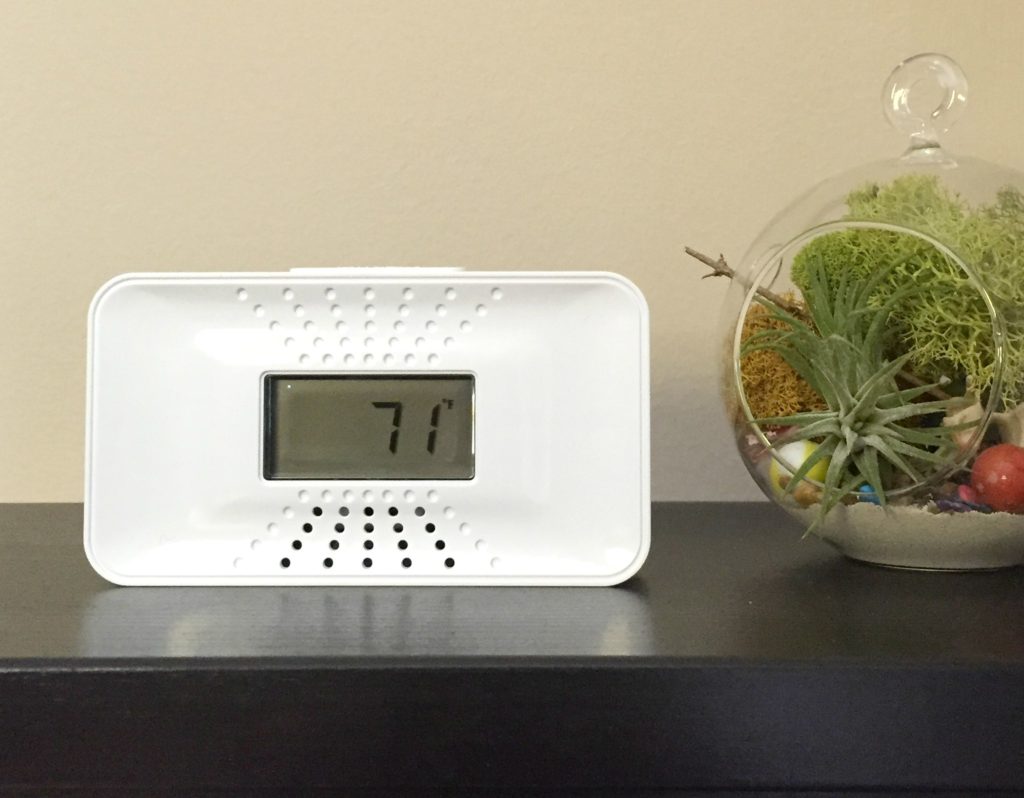 This Mamas Experience
The First Alert 10-Year Alarm Life Carbon Monoxide Detector contains a sealed non- replaceable battery making it so easy to use. The user manual goes into great detail explaining where to install, how to install and even has a wall mounting guide template (I feel this was made for me since the thought of unnecessary holes in my wall keeps me up at night). The First Alert Carbon Monoxide detector can not only be mounted on the wall it can be placed on a tabletop. Getting your alarm ready to use is easy, once you switch your alarm on it cannot be turned off. Once your alarm has reached its end of life (10 years) you will have to break the tab and slide the switch to deactivate mode. Once it has been deactivated it cannot be reactivated. Your alarm will chirp to let you know that you have activated it correctly.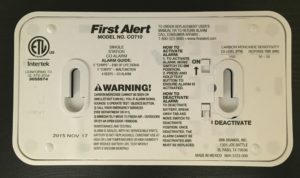 Make sure you test your alarm weekly and make sure everyone in your house knows your "emergency plan". As a child I remember my father teaching my brother and I our "safe plan". In case our fire alarm or carbon monoxide alarm would sound we knew to immediately get outside and to our safe meeting place. Make sure your "safe place" is far enough away from your house in case of fire and to keep a safe distance from emergency vehicles. Make sure everyone in your household knows where your safe place is, in the event that your family gets separated while evacuating; it will also help in knowing that everyone has safety made it out. When testing your alarm have your children help so they are familiar with the sound and be sure they know to never ignore your carbon monoxide alarm when it sounds.
Keeping your family safe is important and First Alert 10- Year Alarm Life Carbon Monoxide Detector makes it easy. Although you should not fully rely on it to always be working efficiently, just like a light bulb it can run out of power or decrease in efficiency, so to combat this making sure that you have a house inspector to check over this amongst other elements in your house would be a great idea to keep your home safe. You can get a Home inspection Austin, TX, Orlando, FL, and pretty much anywhere so make sure that you are taking advantage of this safety feature for your home.
Follow First Alert