Disclosure of Material Connection: I received one or more of the products or services mentioned above for free in the hope that I would mention it on my blog. Regardless, I only recommend products or services I use personally and believe will be good for my readers. I am disclosing this in accordance with the Federal Trade Commission's 16 CFR, Part 255: "Guides Concerning the Use of Endorsements and Testimonials in Advertising."
Terra Bella February 2016 Review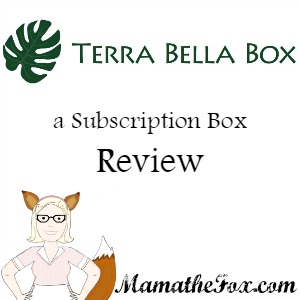 About Terra Bella
I think Terra Bella is one of the highest quality subscription boxes on the market. Each box is specially designed with their customers in mind. All of the products that make the cut into a Terra Bella box are cruelty free. They try to always support small as well as women & minority owns businesses. Helping every day people and families succeed. Around Thanksgiving we often hear about Small Business Saturday. After that we forget about the smaller companies. By subscribing to Terra Bella, or gifting a subscription, you are empowering small businesses beyond the holiday season. 
Each box has a variety of beauty, bath and healthy products. By keeping us on our toes and by providing such high quality products we are itching for more, month after month.
Prices
Here are Terra Bella's current prices
Terra Bella Box:
month-to-month: $34.95
3 month subscription: $104.86
6 month subscription: $203.70
12 month subscription: $395.45
Terra Bella Box Lite:
month-to-month: $16.95
3 month subscription: $50.85
6 month subscription: $101.72
12 month subscription: $203.40
Follow Terra Bella
Facebook               Twitter               Instagram               YouTube               Pinterest
Mama's Experience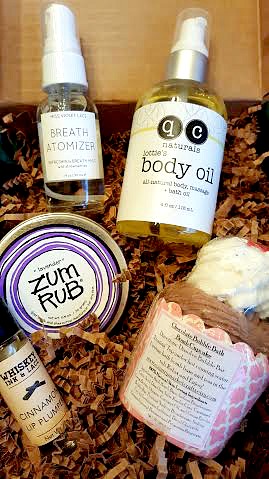 Every month Terra Bella never disappoints. They have a perfect variety of beauty products in different categories. This month was a Valentines Day self pamper theme. Each item I can use in a normal day or while getting pampered for the day dedicated to love. Loving yourself is something I am working towards in my Better Choices series. When I can see in myself what God see's in me, I know I am going in the right direction.
qc naturals – lottie's body oil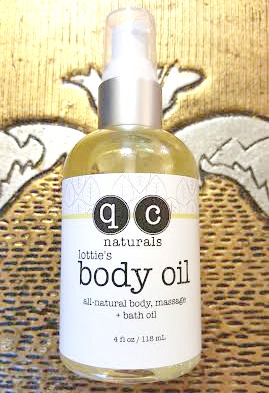 I am the kind of person who needs to use a moisturizer after every bath or shower. It just how much skin is. Especially my legs and my hips! I always go for a lotion and rarely remember oil as an option. My mother, on the other hand, uses oil like is is going out of style. Head to toe, after every shower. I remember this as a fond memory of her. I spoke with her and she still uses oil, so I decided to use this lottie's body oil just like my mother for a few days and see what I thought.
I applied the oil just as I would a lotion and I was so surprised at how fast it soaked in! I was not left with wet or oily skin, but instead soft skin that was slightly shiny for a few minutes until it was 100% soaked in. Being that this product is oil, it does not feel like other oils I have touched. It soaks in like my skin is yearning for it instead of rejecting it. I am officially hooked to this product. I have used it on my 3 year old daughter too and she didn't object, which says a lot of the quality of the product.
Indigo Wild – Zum Rub Moisturizer in Lavender
This Zum Rub is a combo of goats milk and shea butter. Its meant for treat those crazy rough areas of our bodies like our feet, ankles,
elbows, cuticles, lips and anywhere else you may need it. I have heard it makes an awesome tattoo cream. It comes in a small round tin, so its perfect for purses, car counsels and diaper bags. You can toss it where you need it most and it can be your little helper when you need it. I am the type of person who gets dry knuckles by surprise. One morning I just wake up and my knuckles are practically cracking. This is the best quick fix for almost cracked dry skin. It doesn't sting, because there are not dyes or artificial fillers. It quickly absorbs and gets to work. I am so impressed with how quickly this restored my knuckles back to a healthy state.
Miss Violet Lace – Breath Atomizer in Wild Strawberries
This is a super fun and unique product I would never have found without the help of Terra Bella Box. Miss Violet Lace has a super fun breath spray that comes in a fun and classy glass bottle. Sweetened with stevia, you can get amazing fresh breath without all the chemicals other breath sprays contain. This product uses USDA Certified organic extract for flavor and its meant to be used after meals or whenever you need to freshen up. My husband loves the smell and taste of strawberries, so this is the perfect way to freshen up before I cuddle up with him on the couch. When he smells that sweet berry scent I see a sneaky smile creep up on his face, which makes me the happiest wife on the block.
Whisky, Ink & Lace – Cinnamon Lip Plumper
This is the type of lip plumper that will totally plump up your lips. The cinnamon oil used in this plumper stimulates your lips and brings blood flood to them, which in effect gives them a more full look. This is a great way to get ready for a night out on the town. You should not use this product daily, its a product to be used 1 or 2 times per week at most. Otherwise your body can become immune to the effects. If you like Red Hots the candy, you are going to love this product.
Country Market Crafts – Chocolate Cupcake Bubble Bar & Bath Bomb
This was my favorite product in this months amazing Terra Bella Box. You get 2 bath treats in one with this Country Market Crafts product. The top half is a bubble bar. You can use this all at once of break in half to use 2 times. Hold it under the faucet when your bath is filling to give yourself a beautiful array of bubbles. You will be amazed at how many bubbles you will get from such a cute little frosting shaped bar.
The cupcake base is the most moistening bath bomb I have ever used. This is coming from me, the queen of bath bombs. Its my go to gift that I get for every gift giving event. Christmas, my birthday, Easter Baskets (before I had kids…now they get them LOL), and Valentines Day. I honestly feel like I am an expert in bath products. This bath bomb is one of the best I have ever used! I literally cannot believe how soft it made my skin. I did not have to apply moisturizer afterwards, I mean it was the moisturizing. It turned my water a fun brown, and smelled like real melted chocolate. As you run your hands through the water you can feel the silkiness. It calmed me down and got me giddy at the same time, which was a fun twist. This will make the perfect gift for any bath lover.