Terra Bella Box Review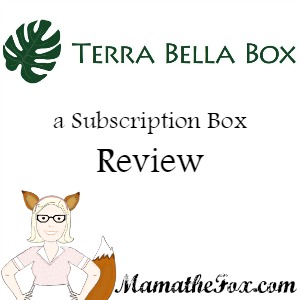 About Terra Bella
With countless subscriptions boxes available today you can easily get lost and overwhelmed. I have been looking for a natural product based box. When I found Terra Bella I was immediately intrigued. Each box contains 5-6 natural based beauty products. You can sign up without a contact (that's right, no contract) and do a month to month deal. They also offer 3, 6 and 12 month packages which make the best gifts at Valentines Day, birthdays and just about any holiday! There is also a mini box called Terra Bella Box Lite. This is a box which contains only 2-3 items per month. They do not offer Terra Bella Box Lite in 3, 6 or 12 month subscriptions, instead they just offer month to month boxes. I think it's perfect as an easy birthday gift for your friend or sister
Tired of getting subscription boxes with beauty products you never use! Terra Bella only contains natural, usable products every beauty product lover will be excited to try. Do you have sensitive skin? So does the founder of Terra Bella, Kate. She got sick and tired of buying subscription boxes and not being able to use the items, or worse, having a reaction from the products. What a waste and disappointment. Thanks to Kate's hard work and determination she created a subscription box we can all love. I am blessed with pretty 'average;' skin but I don't want the harsh chemicals that those with sensitive skin folks avoid. Kate took the time to search out companies that are small businesses. This helps all of us support local economies. She also strives to provide products from women and minority-owned businesses. Helping families instead of large corporations. Buying from these businesses also allows your products to come from smaller, fresher batches.
I live in Ohio. I have Cleveland and Columbus kinda near by, but no huge metropolis. My local stores don't stock these wonderful smaller brand products. Finding quality organic products on a local shelf is possible, but not with the variety and scale a curious beauty product lover seeks. By subscribing to the Terra Bella Box you can get a taste of tons of amazing brands and products you probably would never have found locally.
Terra Bella Box = $37.95 (month to month)
$107.84 (3 months)
$209.67 (6 months)
$395.34 (12 months – Best Value)
Terra Bella Box Lite = $17.95 (month to month)
Follow Terra Bella
Facebook Twitter Instagram YouTube Pinterest
Mama's Experience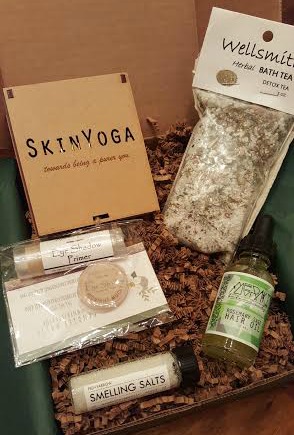 I love a good subscription box. There are tons of boxes available, but not so many 'good' ones. A good box is one I want. One where I will use the items that are included. That is what makes Terra Bella so unique, you want all the products, not just a few of them. That is what makes customers go back and sign up for 3, 6 and 12 month subscriptions. They quickly see that this is not some random stuff in a box, but a well thought out and purposefully planned box. I love that the support local businesses. Families, just like mines and yours.
January 2016 Box
Wellsmith – Detox Bath Tea
SkinYoga – Coffee Body Scrub
Fig + Yarrow – Smelling Salts
Meraki Botaniclas – Rosemary Sage Hair Oil
Mother Earth Beauty Bar – eyeshadow primer
Mother Earth Beauty Bar – eyeshadow in Midnight Mocha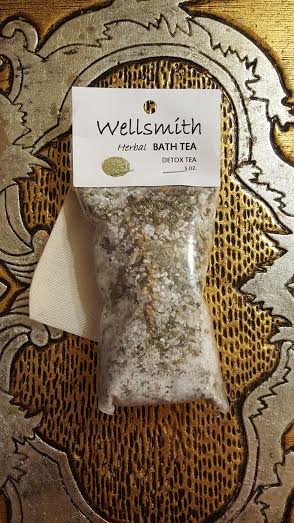 Wellsmith – Detox Bath Tea
Bath teas are one of my most favorite treats. I get little alone time as a mom of two toddlers. When I get the chance to take a bath I revel in the glory of it. I always use a special add in to my bathing experience. I have tried different bath teas before, but what I love about Wellsmiths is that you get to divide up the tea for yourself. You get your own separate cheese cloth sack bag. This is a reusable bag that you fill with as much or as little bath tea as you desire. I typically place it under the running water so as my hot water fills the tub is pummels the tea and helps mix and release it. This package suggests to boil water and add your bag to the boiling water. Then after the tea starts to release 15 minutes) to dump the water and bag into your bath. I like this idea as a way to fast activate the tea bag. I have not tried this as I haven't have the time to boil water before (I mean precious little moments count for a tired mom), but I do plan on trying this method soon. The smells that emit from this bath tea are so fun and relaxing. This will instantly turn your tub into a spa. If you're keen to pursue new methods of detoxification for your own wellness, you could consider a foot soaking detox to help you relax and that is intended to remove toxins from the body.
SkinYoga – Coffee Body Scrub
I love a nice body scrub. Every few weeks or sometimes every weekly, I will give myself a full body scrub to help wipe away dead skin and to boost healthy skin growth. I do this to feel fresh and to keep those tiny red bumps that sometimes happen on my arms at bay. This scrub smells amazing! You are literally bathing in luxurious coffee! Be sure to rinse completely as to not create coffee stains on your skin (which really can happen). To watch your elbows, palms and feet for staining (think of the areas you get weird stains with spray tans). The little wooden box, which is so attractive, contains 2 uses of individually packages coffee scrub.
Fig + Yarrow – Smelling Salts
This is a fun item I would never have bought for myself. This is exactly why I love subscription boxes. I have not jumped on the essential oils bandwagon like a ton of my friends have. I think its fun and interesting and probably has some sweet benefits, but I just don't know much about it. This is a blend of salts and smells which are supposed to help stimulate energy and discourage drowsiness. You are supposed to shake the vial a bit and then hold under your nose and smell. I plan on keeping this next to my coffee maker. So when I am waiting for my liquid courage to face the day brews, I can try out my salts.
Meraki Botaniclas – Rosemary Sage Hair Oil
When I think of hair oil I think of my mother, in a good way! She taught me that you need to treat your hair with care especially in the winter. The dry air can reek havoc on your hair. Whether you are a habitual blow dryer user, curling iron addict or just live in a dry area, you need to try oil on your hair. This particular oil is to be used for 1 hour up to overnight. You take 3 drops and apply to the ends of your hair up to the roots. Being more generous with the tips and less on the scalp (however if you have dandruff or a dry scalp I would use a drop up top to help any itchy flakes). Once in hair wrap your hair up with a towel and let the oil sit for at least 60 minutes. Some people choose to sleep overnight with it in for a super deep treatment. Either way, once its done wash hair like usual. You will see and feel a difference right away. It will be shiny, healthy and silky.
Mother Earth Beauty Bar – Eye Shadow Primer & Mother Earth Beauty Bar – Eye Shadow in Midnight Mocha
I am not a daily eye shadow user. Eye shadow is something I wear to a wedding or a special night out with my husband. I do know that basics about shadow. A primer is like a base that will hold the powder in place. After a while when wearing eye shadow the powder flakes off and falls on your cheeks and nose. By using a good primer you keep the shadow on without covering your face in loose powder. This primer can be used straight from the tube (like applying lipstick) or you can use your finger. You want even stroke so you don't miss an area (think of it like vacuuming, getting all the lines straight). The shadow that comes in this box is a soft goldish/tan color. It's perfect for all skin tones.