Lumsing Portable Charger A1 Grand Review

About Lumsing
Lumsing is based out of Plainfield, Illinois. They manufacture and sell electronics in the North America, Japan and Europe. They strive to make stylish, affordable, and useful electronics for the every day user. They want to make our everyday life simple and easy. And hey, who can argue that?!
What Do They Sell?
Follow Lumsing
Mama's Experience
The shipping on a Lumsing product is speedy! One of their top priorities is to get their orders processed pronto. If you order through Amazon, you can get 2-day Prime Shipping.
Lumsing has 3 categories of their power banks: mate i, mate thin and mate mini. The power bank I have reviewed is a mate i: The Grand A1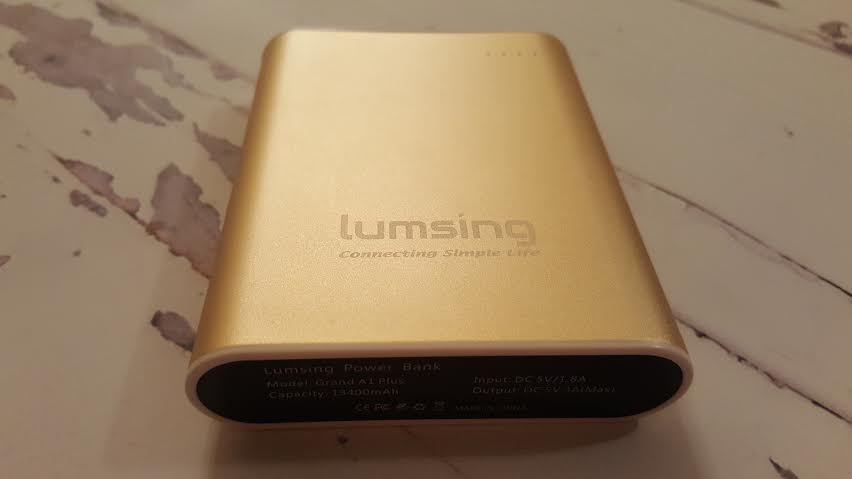 A power bank, like the Grand A1, is used when you need to charge your device without access to a wall charger. You can plug your device into this power bank as you would your wall charger or car charger. Now-a-days our cell phones and devices come with an adaptive fast charge wall unit. This allows us to charge our devices way faster. The Grand A1 has the same fast speeds! I have used other wireless charging devices in the past, but none have the strengh, power and speed of the Grand A1.
The Grand A1 Power Bank comes in 2 colors: gold, black and silver. It weighs just over 9 ounces (very light for its internal compartment) and is smooth to the touch which makes it glide easily into pockets, purses or bags.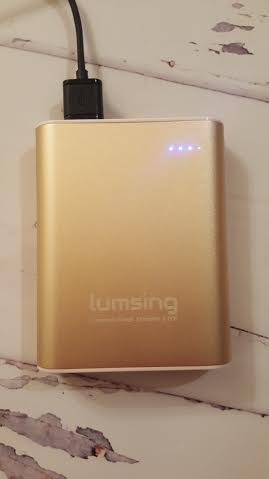 Features:
High capacity of 13400mAh (highest capacity on the market)
2 output ports (allows you to charge 2 devices simultaneously)
MultiProtect Safety System (Surge protection、Short circuit protection、over-temperature protection)
Charge efficiency higher than 90%
When needs to be recharged, it only takes 8 hours!
Side port entry for better comfort which jogging/on-the-move
Reduced LED lights (to avoid disturbing your sleep)
Easy to read power meter display
The Power Meter Display clearly shows you how much power is left. There are 4 lights.
4 lights on – ≥95%
3rd light on, 4th light blinking – ≥75%
2nd light on, 3rd light blinking – ≥50%
1st light on, 2nd light blinking – ≥25%
1st light blinking – <25%
With countless power banks on the market it can be overwhelming as to pick one, so here are my top reasons why to choose a Lumsing
It's faster (time is money)
It's sleek and stylish (perfect for business and personal uses)
It holds more "juice" than any other power bank out there (13400mAh)
The company backs it products and has amazing service