Holly Days $200 Giveaway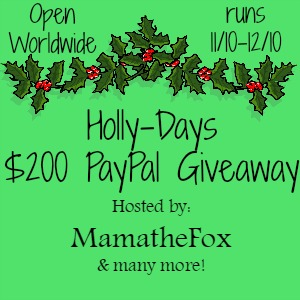 With the holidays right around the corner anyone could use a little extra cash. MamatheFox teamed up with some other top bloggers to bring you a $200 PayPal giveaway that is open Worldwide! This event runs 11/10/15-12/10/15 EST.  Must be 18+ to enter.
Be sure to check out each of the sponsors websites for awesome articles, reviews, and more giveaways!
Holly Days $200 PayPal Giveaway
If you are interest in participating in an event similar to this one, please contact Danielle at mamathefox at gmail dot com.