Capresso On-The-Go Personal Coffee Maker Review
Just in time for back to school shopping
Capresso's On-The-Go Personal Coffee Maker is just want every busy parent and college student needs. It will make you a single serving of coffee directly into you own travel mug. It brews fast for those busy mornings (they are all busy though aren't they).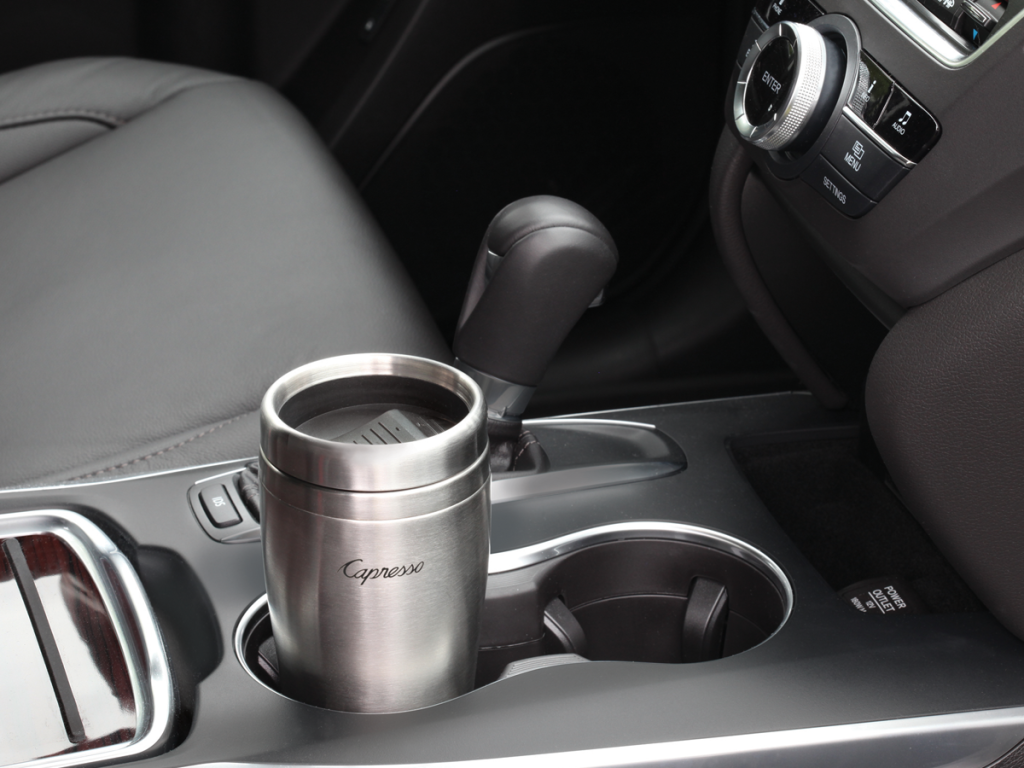 Features and Benefits
Full stainless steel housing for superior strength and style
16-oz stainless steel thermal travel mug, perfect for those on the go, or those wanting a quick single cup at home
Use included travel mug or your own mug (up to 7″ tall)
Heats up quickly to the perfect temperature of 200°F for properly extracted coffee
Brew with ground coffee or soft coffee pods
Large shower head for perfect saturation and extraction
Brews in less than four minutes
Removable permanent filter is easy to use and clean; eliminates the need for paper filters
Travel mug, coffee filter and removable filter basket are dishwasher safe
Travel Mug fits snuggly in most car cup holders
Additional stainless steel travel mugs available
Takes Up Less Precious Counter Space
I love that this comes with a travel mug. I love a nice steel thermal mug. It was something I looked for when reading through Kaffeevollautomat Test – or coffee machine tests – online. See, I drink at least 1 cup of coffee a day. Occasionally more if my kids let me get the 1st one down before lunch. My husband rarely drinks coffee. This is person for a 1 person coffee drinking home. Why waste all that precious counter space with a big coffee maker when you only need 1 cup anyways? I mean, I have almost every type of coffee known to man in my kitchen – and I store it damn well already!
Mama's Experience

I am so happy with this personal coffee maker. Being the only one who drinks coffee on a daily bases in my house, there is no reason for a full size coffee maker. Some of the other personal coffee makers available today are so big! I am by no means a minimalist but I do love extra counter space. I have enough clutter in my house thank you very much. Hypothetically, If I were to invest in a bigger coffee machine and I was looking for the absolute best quality coffee I could get, I'd look into something similar to what Iron and Fire (www.ironandfire.co.uk) provide. But I am super happy with what I have.
I am so excited that I can use my own person ground coffee in a personal maker without hassle. Other makes have a special container you have to load the loose grounds into then insert into the machine. Making a cup of coffee has to be super fast with my 2 little ones or I miss my window. Life is too crazy for all that prepping. With the Capresso On-The-Go Personal Coffee Maker I can simply scoop a tablespoon (or however much I desire) into the coffee basket. I pour my coffee cup worth of water into the water reservoir and bam! I got rockin coffee. *slurps coffee* Let's get caffeinated and kick this days butt.
Follow Capresso
Facebook Twitter Pinterest Instagram
Where to Buy Capresso
Capresso products are available:
Win a Capresso On-The-Go Personal Coffee Maker
Would you like to win a Capresso On-The-Go Personal Coffee Maker?
Enter to win one when you enter the 2015 Back To School Giveway (runs 8/1-8/15)