Pig of the Month Review
The Richard's Family spend every summer going state to state, town to town, searching for the best BBQ. If someone sold it, they tried it. After years of tasting they came to the realization that the best BBQ in the US, was from their own kitchen. And lucky for us they have created PigoftheMonth.com to share their porky deliciousness with us.
By recreating our favorite barbecues from different regions, we've decided to make our own perfectly smoked barbecue ribs, award winning pulled pork, specialty sausages, gourmet bacon,  BBQ sides, and lip-smacking Award Winning BBQ sauces—and share the goodness with you! Pig of the Month offers ribs just the way all barbecue lovers want them: perfectly seasoned, tender-on-the-inside but crispy-on-the-outside, smoky, and mouthwatering—just tear-off-the-bones good barbecue. Our smoking technique is one that was perfected over many decades. (We didn't just stuff ourselves full with all the barbecue; we also did research.)
Pig of the Month Guarantee
"We just know you'll love our products, but if for any reason you aren't happy we will refund your order and send you something else.  It's that simple.  Learn more about our 100% money back in your pockets guarantee."
Pig of the Month Menu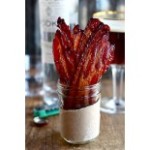 Pig of the Month offers every type of pork you could get a hankering for. Ribs, pulled pork, sausage, beef, bacon, sauces, desserts and even packages and gear.
As you search each category you will find deals and combos that will work for any occasion. From the average Tuesday night dinner to the epic Memorial Day party your uncle Al throws, PigoftheMonth.com has something for you. Most of their deals have custom options. They offer every BBQ style you may crave: Memphis, Texas, Key West, Mustard or Dry. They also allow you to add on extra BBQ sauce if you like them extra sloppy.
All of their products are FREE RANGE, ANTIBIOTIC & HORMONE FREE. I am extremely picky with the meat I will serve my family. I do not need my children to eat meat pumped with horrible things, or myself for that matter. I can safely serve all products to my family without any fear.
Their meat arrives to your door fully cooked. From a frozen state it will take about 1 day to defrost. All food comes with an instruction sheet helping you know how to reheat and enjoy. It is perfect for the huge party you are throwing and don't have time (or the patience) to cook all that food while also entertaining a house full of people. I love it for busy weeknights. For that day you know you will be home late and wont have time to cook a full meal for your family. Just pull out a frozen slab of ribs and reheat when you get home. It will taste (and smell) like you have been cooking all day but without the effort and time.
Pig of the Month BBQ is based out of Dayton, Ohio. For those of you who don't know, Dayton is known for it's BBQ in a special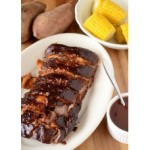 way. Cincinnati was once known as "Porkopolis". The reputation must have been regional. Nearby Dayton was the site of a 700 acre VA hospital, started at the end of the Civil War. So many healing vets once lived there that it became the Disneyland of the day. Dayton grew as the place to go for BBQ as thousands flocked there as a vacation spot.
Try Pig of the Month
Now that you are salivating head over to PigoftheMonth.com and place your first order. Use the code 25fbme to get $25 off an order of $50 or more.
Follow Pig of the Month
Enter for your chance to win a Big BBQ Fiesta
 runs 5/4 – 5/18 
1st prize winner – Big BBQ Fiesta
2nd and 3rd runner up winners – $25 gift card to Pig of the Month