Disclosure of Material Connection: I received one or more of the products or services mentioned above for free in the hope that I would mention it on my blog. Regardless, I only recommend products or services I use personally and believe will be good for my readers. I am disclosing this in accordance with the Federal Trade Commission's 16 CFR, Part 255: "Guides Concerning the Use of Endorsements and Testimonials in Advertising."
Capresso Ice Tea Maker Review
"Custom brew a refreshing pitcher of iced tea at the touch of a button with the Capresso Iced Tea Maker. Iced tea can be served and stored in the beautiful glass pitcher."
Features and Benefits

80 oz. (2.5 qt.) glass pitcher with removable lid and an easy-pour spout
Flavor enhancer adjusts brew strength from mild to strong taste
Removable permanent filter for loose tea or tea bags
Dishwasher-safe glass pitcher, permanent filter and removable filter basket
Removable water tank for easy filling and cleaning
Automatic shut off
Fresh or frozen fruit can be added to the pitcher for delicious gourmet beverages
Pitcher comes with a handy lid for easy storage directly in the refrigerator
Can also be used to prepare iced coffee
Full-color recipe booklet with 18 refreshing iced tea recipes

How Things Work

Add your favorite loose tea or tea bags to the reusable filter. Removable water tank can be filled directly at the sink for convenience. Fill the glass pitcher with ice to the ice level marking on the pitcher prior to brewing, you could use an ice maker from here to make this task easier. You can also add fresh or frozen fruit before or after brewing for a refreshing tea blend. Adjust the brew strength with the slide on the front of the machine, for stronger tasting tea slide lever to the right. Serve iced tea directly from the pitcher that can also be stored in the refrigerator after brewing. A recipe book with 18 delicious recipes is included, with more recipes on the Capresso blog (www.capressoblog.com).

The Capresso Iced Tea Maker is also perfect for iced coffee beverages, however it is recommended to use a separate filter for coffee so there is no flavor transfer. Additional filters and pitchers are available for purchase.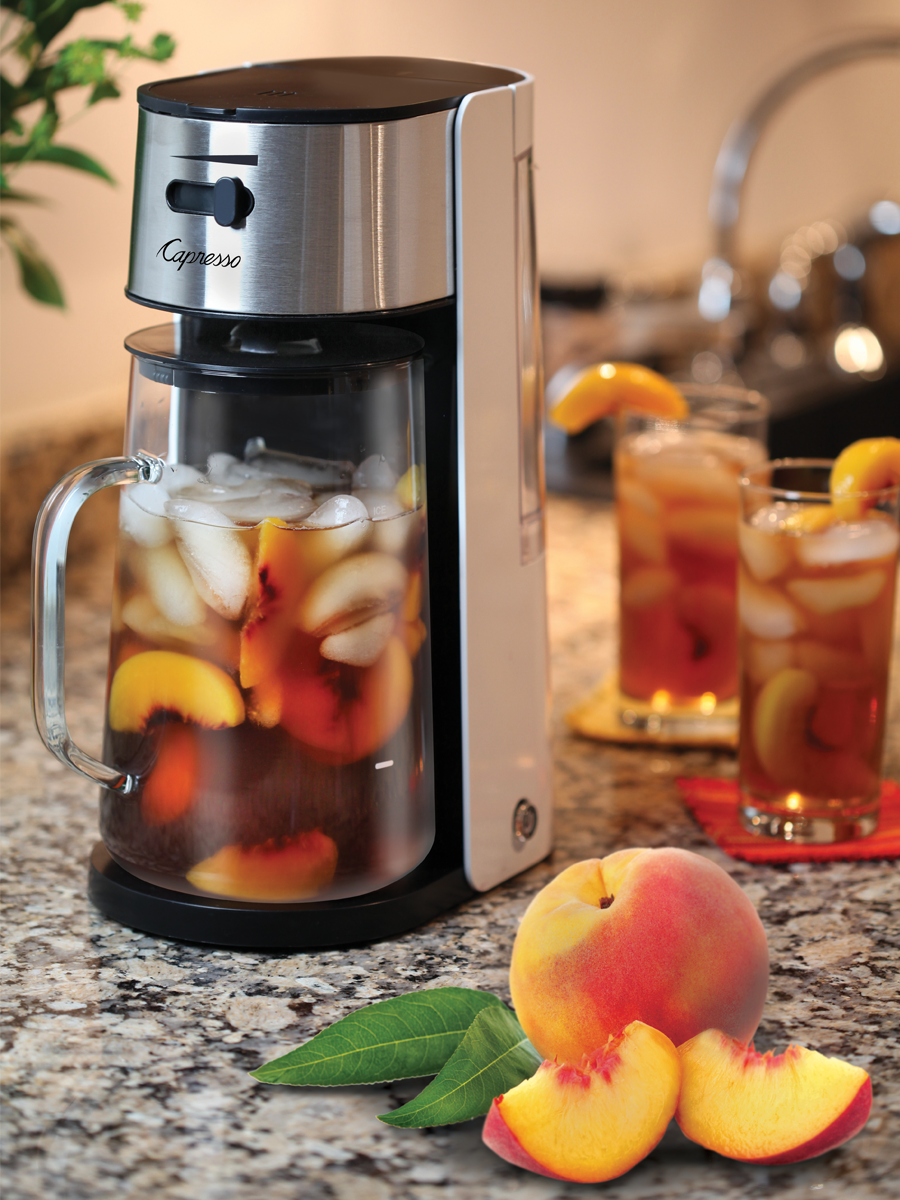 Now that it has FINALLY gotten warmer outside, my family is in the mood for ice tea. We go through a ton, and now with the Capresso Ice Tea system I can make my family fresh and affordable iced tea every day.
The ice tea maker comes with a perfect little recipe booklet. It guides you to make simple and more exciting varieties of iced tea. The machine is so versatile that you will instantly start thinking of all the fun combo you can try! I love the stop drip feature. I can pull the pitcher away, pour a glass, then place it back the brew drip will continue, just like a coffee maker would do.
Here are a few of my favorites recipes:
Raspberry Peppermint Iced Tea
1 cup frozen raspberries
1/4 cup of sugar
6 peppermint tea bags
Add raspberries to the pitcher plus sweetener if desired. You can use pure stevia as an alternative to sweetener if you're trying to avoid the extra calories or reduce your sugar intake. The pure stevia can also help with your dental health too. Fill the pitcher with ice up to the ice level marker. Place pitcher in machine. Please tea bags in the brew basket and close lid. Turn on machine and let brew. After brewing, pour tea into ice-filled glasses. Enjoy!
Pear Sweetened Iced Tea
1 can of sliced pears in juice
2 family size Lipton tea bags
Sweetener
Add sliced pears, juices from can, and sweetener to pitcher. Fill pitcher with ice up to the ice level marker. Place pitcher in machine. Place tea bags into the brew basket and close lid. Turn on machine and let brew. After brewing, pour tea into ice-filled glasses.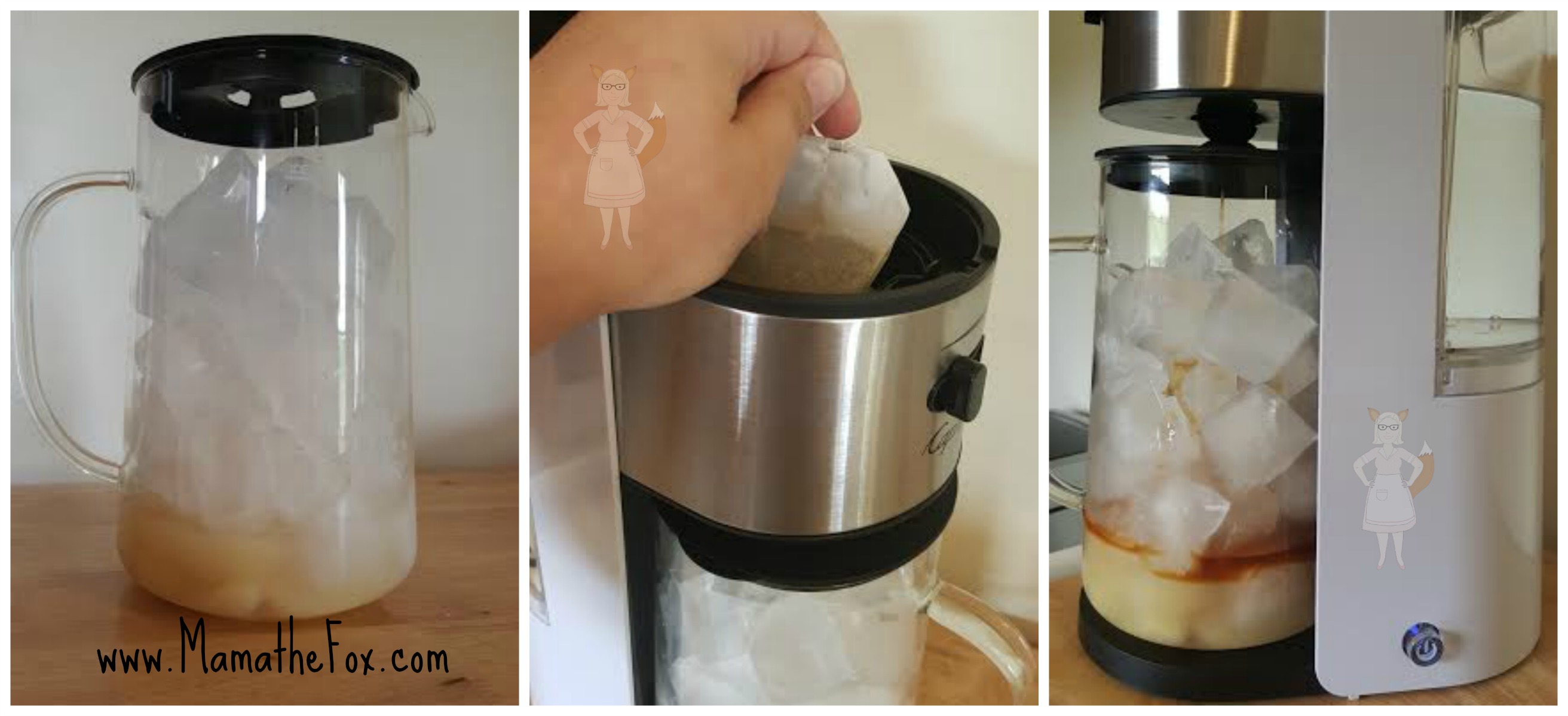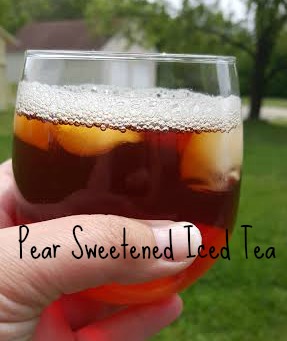 If you plan on hosting an event and need several carafes, extras are available for purchase.
Be sure to follow Capresso