NUK/Gerber Review
NUK and Gerber work together to produce some of the best cups and bottles on the market today. With all of their years of experience I know that I can trust their products.
 NUK® products help nurture baby's development at every stage – from infant to toddler. And as the brand trusted by moms for over 55 years, NUK® is also proud to bring you a full line of Gerber® Graduates® tableware products. – NUK-USA
NUK and Gerber not only meet the international safety standards, they fully exceed them. They are known for listening to their customers, moms just like you, and constantly improving their product lines.
Advanced Developmental Cup-Like Rim Cup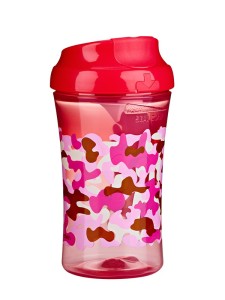 Flat, spoutless, rim similar to adult cup eases transition
100% leak-proof, spill-proof, break-proof guaranteed
Seal Zone® Technology closing system
Dishwasher-safe
BPA-free
Available in boy and girl designs
Available in 1pk and 2pk; 9oz; For 24m+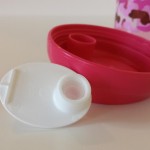 These cups are amazing. They feature a 100% spill proof design. The cup has a small marker showing you how far to twist the top when securing to ensure a safe seal. I have found that while this concept is great in theory, is only works for a short period of time. When I get a cup with the secure zone feature, it will work for the first few times and will connect in the zone. Then the 3rd or 4th time my lid will continue past the seal zone. If I stop at the zone indicated my cup will leak, but if I continue to twist until tight-by-feel then I know I have a secure lid. I would recommend turning until you feel it is secure and not fully based on the secure zone indicator.
This cup has only 3 parts. The base, the lid and a white plastic split prevention piece.
When you remove the top you will find the white spill prevention piece. You remove it by twisting and pulling it. It will pop right off.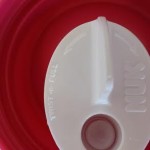 It is not a screw on piece with a track. You only need to twist it because it has a nice, tight seal. When a liquid sits in this small white piece for a while be sure to wash it well. Liquid sitting in it can be hard to see at first glance but it can be stuck on the small hole. I use a tiny bottle nipple brush when cleaning hard to reach places.
My favorite feature of this cup is how it helps my daughter keep the feeling of drinking from a cup but without the spilling factor. She thinks cups are so wonderful and uses them when sitting at the diner table. However, she is not to be trusted with walking around carrying a cup; it will be everywhere. This cup helps her keep that cup mentality, helping to avoid a developmental regression.  I want her to keep moving forward and (eventually) make a full transition to cups all the time. This is the perfect cup to help my daughter in the meanwhile.

 Advanced Developmental 1-piece Sippy Cup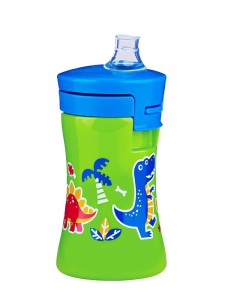 1-Piece design means no pieces to lose
Cup with hinged lid and built-in silicone spout
Soft spout is gentle on teeth and gums
Hourglass shape prevents tipping and is easy to hold
Helps child continue the transition to an adult cup
100% leak-proof, spill-proof, break-proof guaranteed
Dishwasher-safe
BPA-free
Available in boy and girl designs
Available in 1pk; 10oz; For 9m+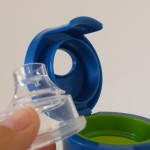 This cup is my families favorite sippy we have EVER owned. Having only 2 pieces to clean and to reassemble is a huge selling point. No caregiver likes to scramble around trying to put together a cup when the child is thirsting and cranky. I am able to easily and quickly take apart and put together this 2 piece cup. I honestly love everything about this cup and have even bought more. I stopped a few moms in the feeding section at my local Target and told them about this cup and helped them pick their next cup purchase. The only possible leakage that can occur is my the user not drinking the liquid all the way out of the rubber mouth piece. If they do not take in the full amount they retrieved then the left over in the top can spill out; the potential liquid spillage is very minimal. This is due to the deep well of the mouth/nipple piece. But like I said, buy this cup!!!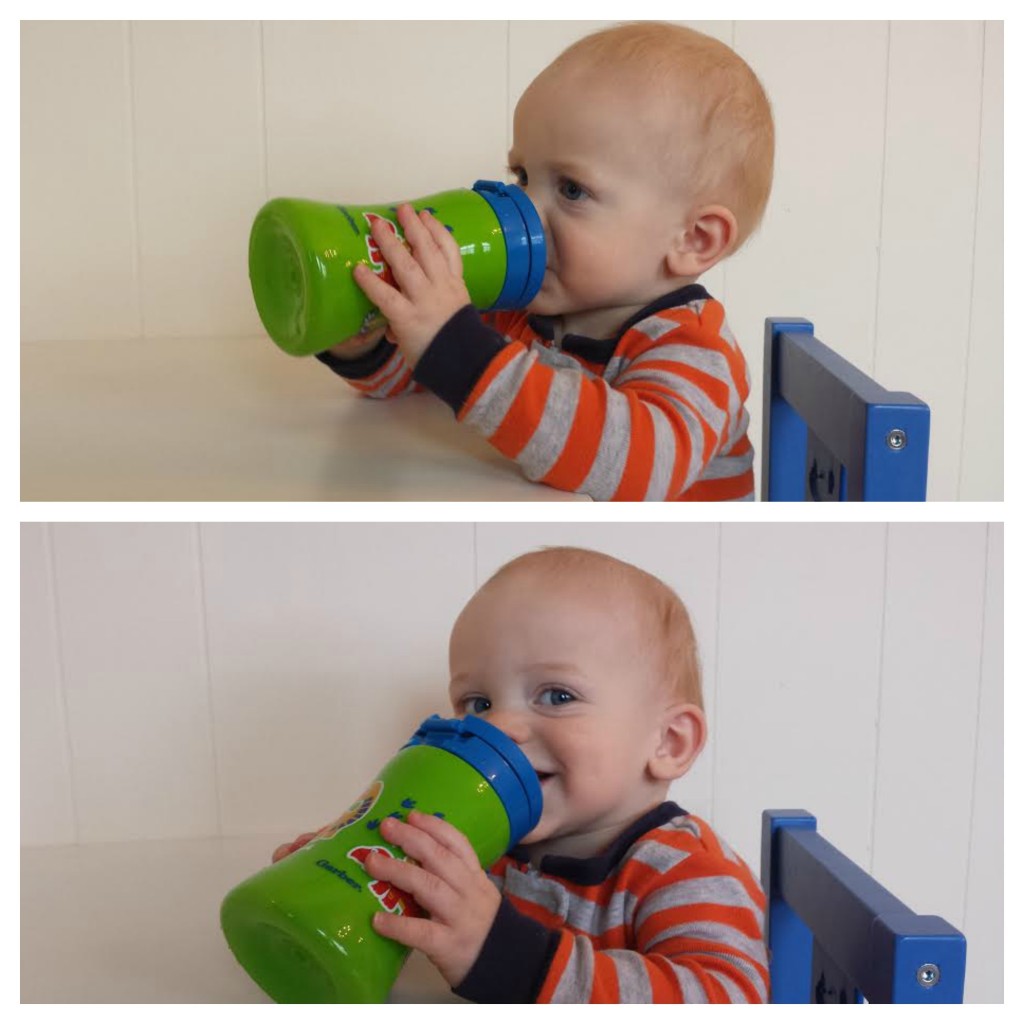 Advanced Orthopedic Bottles
Natural shape supports combining breast and bottle feeding
Advanced Orthodontic Nipple fits baby's mouth like mom's when breastfeeding
NUK® 1-piece Anti-colic Air System helps prevent colic, spit-up and gas
Easy to clean, dishwasher safe
Glass-like clarity, shatterproof
Available in boy and girl designs
BPA-free
Silicone nipple; Sizes 5oz; 10oz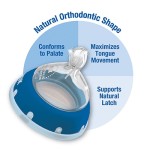 These are the best bottle, in my opinion, for the mom who wants to breast feed exclusively but has to be away from baby at times. This new design is a wonderful replica of a mother nipple. The Anti-colic Air System is such an important feature. Babies, bottle or breast fed, can possibly swallow air when eating. This being minimized is ideal. We have to burp out babies, that is a given. But if we can lessen the quantity of swallowed air this will make eating a more enjoyable experience for baby and the person feeding baby.  Less burping + less spit up = less laundry &  happy care giver.  It's a win win!
If you look closely at a real mothers nipple and a bottle's nipple there is a difference, that is a given. Every mothers nipple is different,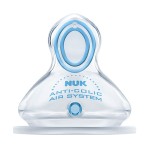 just as we as people are different. Without going into the "too-much-information" department this Orthopedic nipple is more spot on to a real mothers nipple than any I have seen in my almost 3 years as a parent of 2 children. As I looked at the bottles nipple in person for the first time my jaw actually dropped opened. I never saw a design like this, like ever. Instead of the opening being at the very peak of the nipple, like every other nipple, this opening is on an angle on the side. Quick breast feeding lesson: A woman's nipple has many ducts and her milk does not just come out if 1 single opening, but many. The baby's tongue massages the underneath of the nipple and areola to trigger a let down and allow to milk to be released. Nuk's Advanced Orthopedic nipple helps the baby keep that oral pattern and allows that sucking and mouth movement which releases milk in a breast to be the way the milk is extracted from the bottle. This allows a baby to easily go from breast, to bottle, then back to breast. 

Special Offers by NUK
By visiting THIS LINK you can receive a coupon for $1 off One NUK or Gerber Graduate Tableware Product.
More for Moms Rewards
Head over to NUK to join their More for Moms Rewards program.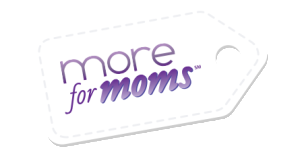 From bellies to babies – let NUK® be your trusted guide through motherhood. Our mommy bloggers share their real-life experiences and advice of the realities of being a mom. – NUK
By joining you will receive member-only offers and savings. Plus, you will get their More for Moms newsletter packed with valuable information. This is definitely not junk mail but fun-mail instead. My favorite feature is that by joining you have access to their More for Moms blog.
Follow NUK-USA
FACEBOOK            TWITTER             PINTERST            YOUTUBE
Enter the Advanced Orthopedic Bottle Prize Pack Giveaway
Runs 4/27/15 – 5/11/15