Nuk Advanced Orthopedic Bottle Giveaway
Being a mom we always want what is best for our children. Those of us who choose to nurse our babies have a hard time with the thought of bottles. We know that we don't want to confuse our children with a plastic nipple when we exclusively breastfed. But, we know that life happens and there will be time we will need to be away from our baby. In those moments, when a bottle will be used to transfer your breast milk to your baby, you will need a bottle that will help baby go from breast to bottle back to breast. This bottle is going to be a life changer. It has been specially designed to be so much like a mother's nipple I actually dropped my jaw when inspecting the design. Read more about these amazing bottles here.
Enter to win a Nuk Advanced Orthopedic Bottle Prize Pack
Winner will receive:
Set of Elephant OR Butterfly Orthopedic Bottle 3 pack (retail $14.99)
Set of Advanced Orthopedic 5 oz Bottles – choice of pink OR blue (retail $12.99)
Set of Advanced Orthopedic 10 oz Bottles – choice of pink OR blue (retail $12.99)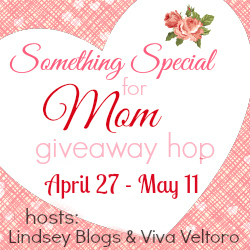 Welcome to the Something Special for Mom Giveaway Hop hosted by the Lindsey Blogs and Viva Veltoro. Mother's Day will be here before you know it, which is why a group of fabulous bloggers have come together to share gifts and giveaways that are perfect for the special lady in your life – or maybe even yourself! Be sure to hop around to them all, including the TWO Grand Prizes. Viva Veltoro has an amazing gift package for one beautiful Mom featuring products from Cake Maternity, Chewbeads, and Poncho Baby and on Lindsey Blogs you'll find Gift Cards for Jamberry Nails and aka originals hand stamped jewelry.
So Easy Being Green, Viva Veltoro, and the Something Special for Mom participating bloggers are not responsible for sponsors who do not fulfill prize obligations.