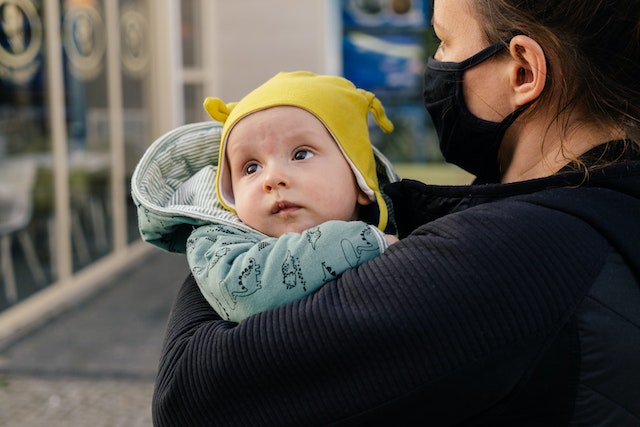 As a new parent, choosing the right carrier for your baby can be a daunting task. With so many options available, it's easy to make mistakes that can lead to discomfort for both you and your little one. Here are five common mistakes to watch out for when choosing a baby carrier:
Buying a carrier that does not fit your baby
Some carriers are better suited for newborns, while others are better for older babies. Make sure to choose a baby wrap carrier that is appropriate for your baby's age and development. If you have a regular carrier, you can use an infant insert to provide the extra support a younger baby will need to fit in comfortably. If you want only one carrier to use during your entire babywearing journey, there are carriers that can be adjusted to support your little one from infancy to toddlerhood. 
Choosing a carrier that has not been tested properly 
Orthopedic specialists and babywearing experts all agree that the best way to carry a baby is when they are in an M position. This form is achieved when the baby's thighs are spread across the mother's torso, with the knees higher than the hips. The hip and leg joints are still in the development stage at this point, which is why letting a baby's legs hang straight could lead to hip dysplasia. 
Aside from the M position, don't forget your baby's head and neck, and check that both are supported at all times. Always ensure your baby is seated securely in the carrier, and that it has been adjusted properly.
Look for carriers that have been tested and certified for safety, and have features like adjustable straps and buckles. To be safe, choose a hip-friendly product that has been tested by the International Hip Dysplasia Institute, such as the Tula baby carriers. 
Not trying before you buy
It's important to make sure that the carrier fits comfortably on both the parent and the baby before making a purchase. This will ensure that the carrier can be used for long periods of time, without causing discomfort on the wearer.
You might be tempted to buy a carrier while you're still pregnant just to get it out of the way, but it's better to hold off and borrow a carrier from a mom friend or buy a gently used carrier for the first few weeks. This way, you can invest in a proper carrier and try it on with your baby before making a purchase.  
Not prioritizing comfort
Not all newborn carriers are created equal, and what works for one person may not work for another. Take your own body shape and size into consideration when choosing a carrier, and make sure it fits comfortably and securely.
Pick a carrier with wide shoulder straps and waistband that can withstand long hours of carrying and will not make you feel sore and painful afterwards. Also, choose a carrier that can evenly distribute your baby's weight between your hips and shoulders to avoid back pain. 
Additionally, you'll want to consider the carrier's ease of use. Some carriers are more complex to use and adjust, while others are more user-friendly. If you're a first-time parent, you may want to choose a carrier that is easy to put on and adjust, so you don't have to worry about getting it right while trying to hold a wriggling baby. If two caregivers like the same carrier but have to adjust it each time for different body types, buying a second carrier can cut down on time and adjustments.
Not considering the carrier's versatility
Some carriers can be used in multiple ways, such as front, back and hip carry, while others can only be used for one specific position. Some carriers are more suitable for certain activities such as hiking, while others are better for everyday use.
It's important to consider how you want to carry your baby, and also factor in the types of activities you plan to do with your little one. For example, if you have an active lifestyle and go on frequent outside trips, consider a carrier that allows you to carry your child in multiple ways. 
By avoiding these common mistakes, you can make sure you purchase the best infant carrier for you, which will ensure a comfortable and safe experience for both you and your baby.