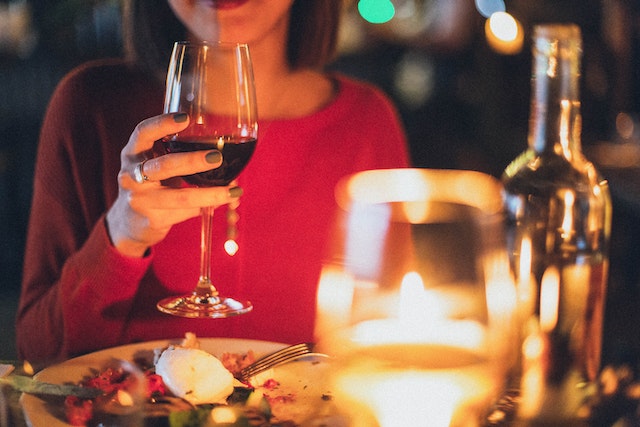 Source: https://www.pexels.com/photo/woman-holding-wine-glass-selective-focus-photography-1850595/
There's something to be said for planning a romantic Valentine's Day dinner at home; you don't have to worry about busy restaurants, wait times, or driving anywhere. Yet, it can be challenging to capture the same romantic atmosphere you'd expect at a fancy dining establishment.
Creating a romantic Valentine's Day dinner at home doesn't have to be difficult. Here are some helpful menu ideas and tips for setting the perfect table.
Consider the Theme and Mood
First, consider the theme and mood of your dinner. Don't feel pressured to bend to holiday expectations — if you and your partner like Mexican food better than foie gras, decorate with some Vday bouquet bundles and plan a fancy taco night. 
Romance looks different to everyone. Think about your relationship and what elements would offer the best surprise and experience. If you live in a warm climate, setting up a fancy table al fresco would be a nice change. If you and your partner enjoyed picnics before having a family and getting busy, consider setting up an indoor picnic rather than a dining table. Get creative and personal!
Know Your Culinary Limits
If you choose to handle the food preparation, it's important to know your limits. While it's admirable to try something new and present a fancy dish, it could be the downfall of your evening. This dinner is also a special event for you, so spending all night stressing in the kitchen will detract from the event. 
Fortunately, there are many easy dishes that look fancy. Presenting bruschetta-inspired canapes and charcuterie adds a decadent feel but takes minutes to prepare. You can find easy "cheat" versions of chicken cordon bleu and beef wellington. 
The trick to creating easy fancy meals is to purchase quality ingredients with color contrasts in nice dishes.
Learn Plating Techniques
Learning some simple plating techniques can transform your culinary efforts into a Michelin-star-worthy presentation. This skill is also a fun way to add some flair to simple meals. For example, if you're serving a three-course meal of your partner's favorites, plating mac, and cheese or pepperoni pizza like you're in a Parisian restaurant is fun and entertaining. 
The key things to remember are:
Use small portions (you can always go back for more)

Invest in a simple squeeze bottle to display sauces

Add color contrasts

Use height rather than width
There are plenty of blog posts and tutorial videos for plating inspiration online. 
Choose a Stunning Centerpiece
Your Valentine's dinner table isn't complete without a stunning centerpiece. Keep it simple with an elegant Valentine's bouquet and some candles or get creative with a unique DIY project.
Stick with Valentine's theme and create a light display with twinkle lights, rose petals, and votive candles. You can also fill a clear vase with water and waterproof fairy lights for a magical glow.
If you have limited room on the table, create an overhead centerpiece using a light fixture or fishing line as the base. Hang individual blooms, float some paper lanterns, or hang printed black-and-white photo memories.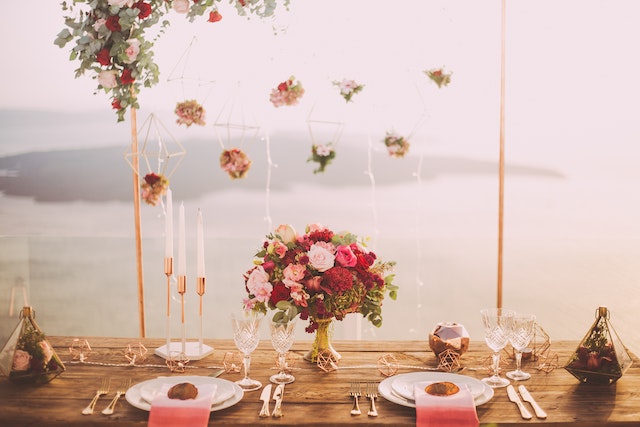 Source: https://www.pexels.com/photo/pink-and-red-roses-centerpiece-near-silverwares-1045541/
Create an Atmosphere
Think beyond your table and food choices when setting up a romantic Valentine's Dinner at home. The goal is to create an atmosphere that makes the evening feel magical and unique. The surroundings should feel immersive, so you sometimes forget that you're actually at home.
If you don't have a designated dining area or it feels too normal, consider moving your table elsewhere for the evening. Setting up a dining experience near your fireplace or in a closed-off living room can help you create a unique experience. 
Changing the lighting will also transform the space and create a romantic atmosphere. Adding candles to the table as your main source of light will create a moody glow. If you don't have dimmable lights, adding a pashmina or scarf over the light fixtures will add a warm glow. Using a star projector is also a lovely way to create an outdoor experience when you're trapped inside due to the winter weather.
Finally, make sure the area is clean and distraction-free. Setting up a speaker with soft music in the background will make the room feel more intimate and encapsulated from the world.
Use the Nice Dishes
Use nice dishes when presenting your food. Now is the time to pull out the good china if you have any. If you don't, picking up some basic white plates and contrasting charger plates will assist with food presentation.
If your budget allows, consider renting a table set up from a local event planning or decorating service. Renting a few nice chairs, dishes, and linens for the evening is a nice touch that will surprise your partner.
Fold Cloth Napkins
Cloth napkins are another great addition to a fancy at-home meal. Learning how to fold cloth napkins in interesting shapes is easier than one might think. Take some time to learn a basic napkin fold technique to display on your table. You can find step-by-step tutorials on YouTube.
Add Surprise and Delights
Add other elements to your table to surprise and delight your partner. These elements tie the table together and make everything feel more romantic. 
For example, you could add a romantic letter or printed photos from your time together. Adding finer details like name cards, a wine list, and a printed menu is also fun and special. Yes, you should still add a printed menu if you're serving mac and cheese.
Consider Catering
Finally, consider hiring someone to cater your dinner. You may choose to do all the cooking and prep work, but having someone bring and clear the dishes is a nice touch. It's also worth paying this person to clean up the dishes and kitchen afterward, so you and your partner don't have to worry about it. Look for a TaskRabbit or a friend hoping to make some extra money. 
Don't be surprised if your at-home dining experience leads to a new tradition. With these ideas and decor concepts, you can create a romantic Valentine's dinner without leaving home.