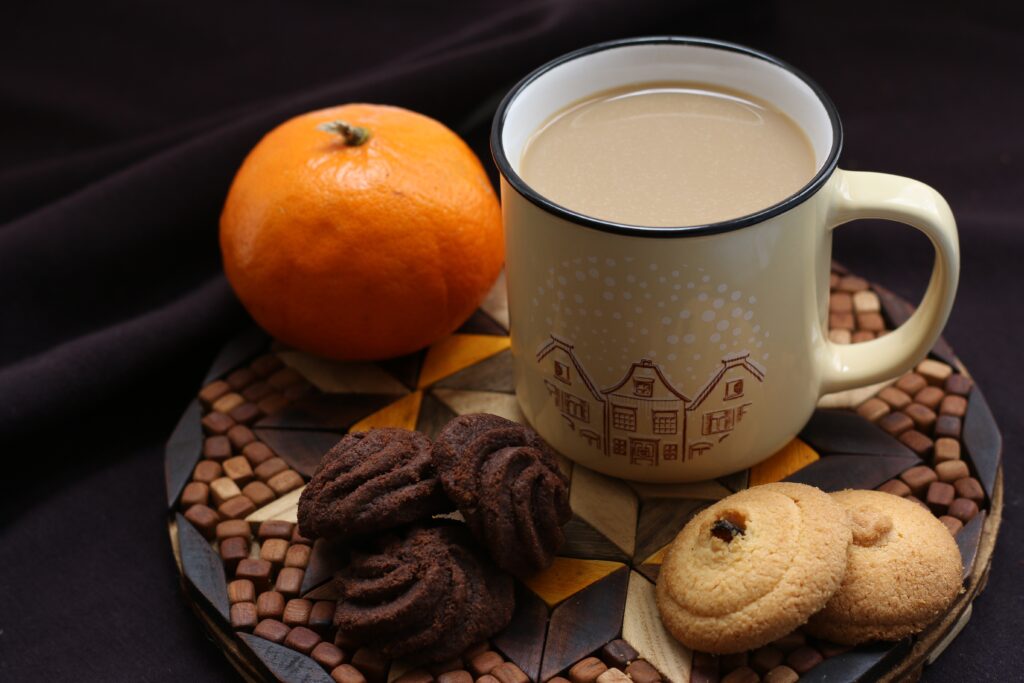 Craving something sweet but cannot quite figure out what to have? Well, look no further, for we have the answer for you. Here, you will find a compilation of cookies you can try with the bonus of drinks that go well with them.
This list will have the classic and dependable chocolate chip cookie. But it is not just the classics; other types of cookies are included as well. From Christmas parties to just everyday cravings, this cookie list will be able to cover all that you may need.
Chocolate Chip Cookies with Milk
This list will not be complete without the classic chocolate chip cookie. The original cookie is always someone's favourite. Either store-bought or made with love at home, this combination will be comforting to have.
Although, it is important to make sure that you do not munch this while it is hot- no matter how tempting the fresh baked cookies are. The perfect condition for the best eating experience is when the cookies are warm enough, then pair them with cold milk, either cow or plant based. This combination will leave you satisfied!
Maple Leaf Sugar Cookies and Hot Apple Cider with Buttered Rum 
The combination of maple sugar cookies and hot apple cider with buttered rum is perfect during the autumn season. The autumnal flavours will leave you feeling warm and fuzzy on the inside while also leaving your sugary craving satisfied.
Plus, a hot apple cider drink with buttered rum will leave your home smelling delicious with the scents of fruit and spices. It may even impress your guests if you serve this to them during their visits. Not to mention the delectable maple syrup on the sugar cookies that complement the drinks.
In addition, the maple syrup sugar cookies are simple enough for you to make a batch of them in the comfort of your home. The buttery flavour of these cookies will make your buttered rum taste better- a sip won't be enough!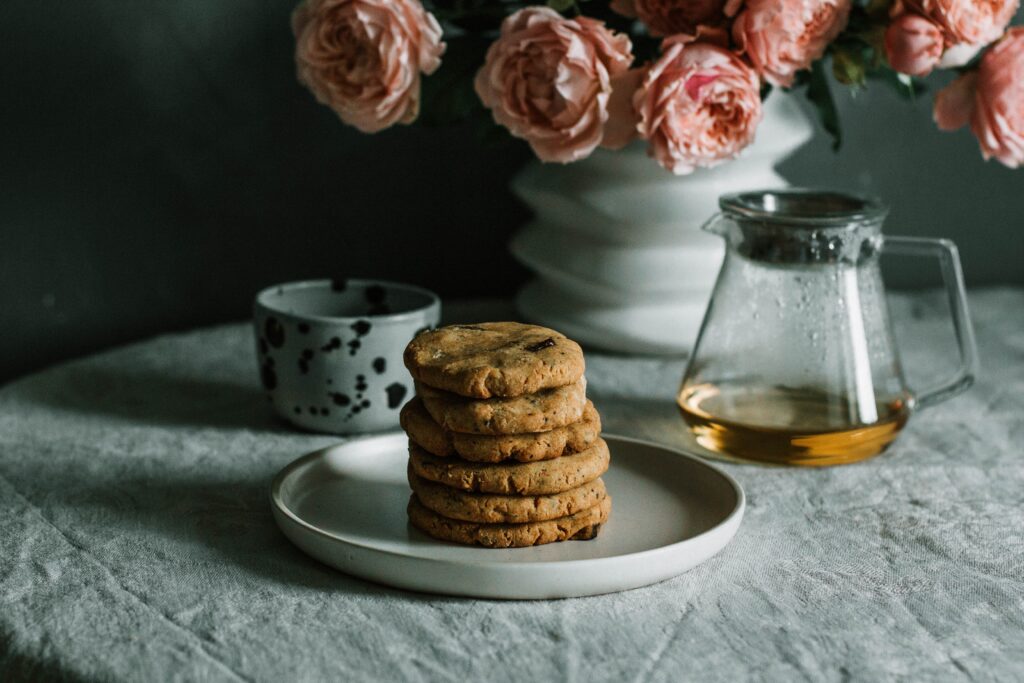 Source: pexels.com — Marta Dzedyshko
Brown Butter Sugar Cookies with Kahlua Coffee
If you are into earthy flavours, this combination should be one you should try. Although the term "brown butter" seems fancy, it is really easy to make, even for beginners. All you need to do is to get a pan and stir the butter until it turns brown, but make sure you do not accidentally burn it.
When included in the cookie batter, the normal sugar cookie taste will get elevated. In addition, it will get a strong but not overpowering earthiness flavour that will leave your sweet tooth happier. Then, you can whip up a good cup of Kahlua coffee from your favourite coffee machine.  
Furthermore, the coffee's vanilla and caramel notes will be accentuated with the help of the delicious buttery sugar cookies. This pairing will be comforting on a chilly day, either alone or with a company, perfect pairing that can be a staple during the fall season.
Snickerdoodle Cookies with Apple Cider 
A Christmas party would not be complete without the appearance of the snickerdoodle cookies, a cinnamon spice sugared cookie that is baked to perfection. The smell of these delectable cinnamon goodness baking in the oven will make you excited for Christmas. Plus, they are quite easy to make, even if you are not a seasoned baker. 
In addition to this deliciousness, pair it with a glass of hot apple cider, and you will be filled with even more flavours to marvel at. This pairing is also perfect when you need something simple yet satisfying to serve your guests. Everyone from kids to adults can enjoy the delicious cinnamon spiced sugar cookies. While so, the adults can relax with a glass of apple cider, making the Christmas party more fun.
Orange Cinnamon Maple Doodle Cookies with Spice Mulled Wine 
This holiday season, you should also try the delicious orange cinnamon maple doodle cookies that are a twist from the original snickerdoodle cookies. These have a more seasonal taste that will make your holidays feel cosier.
In addition, the spice mulled wine is also a fantastic addition to your holidays. Even if you are not entertaining guests, this drink will be just as satisfying to sip while watching some movies. The combination of spices mixed with apple cider and a splash of brandy will leave you with a wonderful taste, especially when you have it together with the cookies.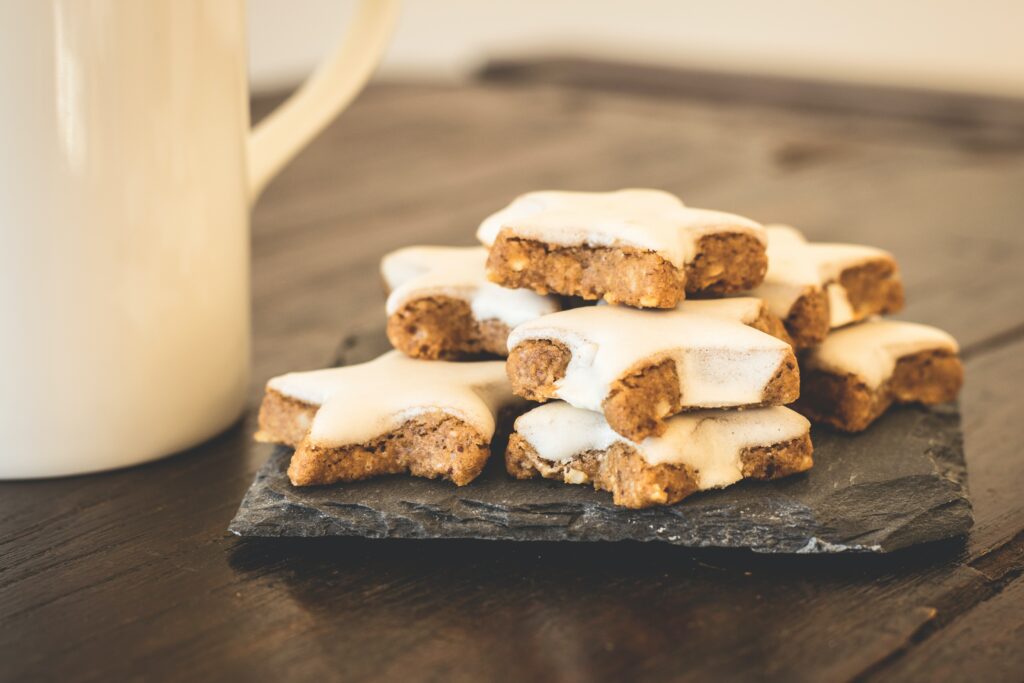 Source: pexels.com — Lum3n
Gingerbread Cookies with Milk  
Either store-bought or homemade, gingerbread cookies can bring joy to your stomach. The taste of peppery gingerbread cookies can leave you feeling good and keep you wanting more. Not to mention, when you pair it with a good glass of milk, the two flavours will complement each other.
The creamy fattiness from the milk, either plant-based or cow's, will make the gingerbread cookies taste better when eaten together. Although on its own, the cookie is still delicious, with the milk adding a whole new experience.
There are many cookies and drink combinations that are simply too good not to be shared. Hopefully, this list will inspire your next baking project or your next gathering event. Good luck!