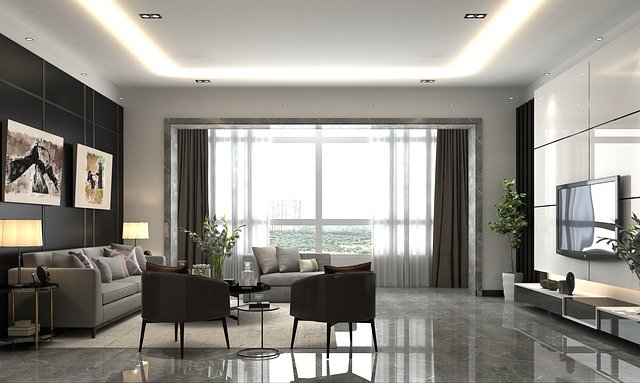 Image Credit: Hansuan_Fabregas from Pixabay.
Selling your home is a complicated process, no matter how much you'll want to get through it. That's primarily driven by the countless things you'll need to look after when you're selling up. It'll involve much more than simply letting a few people view the property and put down an offer.
You'll have to make your house as attractive as possible to potential buyers. That involves figuring out what to do before selling your home is vital for this. As complicated as it might seem, there are more than a few things you can focus on to do so.
It'll not only make the selling process more simple, but you could even increase your property value when doing so.
What To Do Before Selling Your Home: 5 Important Tasks
1. Make It Smell Nice
Everyone gets used to the smell of their home, but that doesn't mean there isn't a smell. You'll need to make sure this is appealing to potential buyers. Giving your home a deep clean is a step in the right direction. You'll also need to remove pet odors, the smell of smoking, and any other negative smells.
Scented candles and similar items can be recommended in helping with this. The fresher and nicer your home smells, the more attractive it should be to potential buyers.
2. Declutter
Decluttering your home is one of the more common pieces of home selling advice you'll find. That's because of how effective it is at helping sell your house. The more clutter there is in your home, the less appealing it'll be.
Potential homebuyers could feel claustrophobic when they're there. You avoid this completely by decluttering. This has the added benefits of letting potential buyers envision what they can do with the space if they move in.
If there's anything you want to keep but needs to be removed to declutter your home, it can always be worth storing it somewhere until you've sold your home.
3. Clean The Windows
When paying attention to your windows and selling your home, you could think you'd need to replace or repair them. As recommended as that is in certain circumstances, they're not always the best-recommended option. Instead, they could simply be in need of a cleaning.
The cleaner your windows are, the more natural light they can leave in. You'll make a room appear brighter and avoid the dull light often associated with dirty windows. You'll subconsciously make a room appear nicer.
The brighter a room is, the more appealing it should be to potential buyers. Since cleaning them only takes a few minutes, there's no reason not to do it.
4. Straighten-Up The Pantry
Pantries help to sell homes, but simply having one isn't going to be enough. You'll need to help potential homebuyers envision how they'll use it. Doing so is quick and easy, as you'll simply need to make sure your pantry is organized.
The more organized it is, the more appealing it'll look. This works on the same principle as decluttering and ensures the pantry is visually appealing. Make sure you mop the floor and clean any shelves when you're doing this.
Throwing out expired food is also recommended. Look at your pantry from another person's perspective and organize accordingly.
5. Don't Overlook The Garage
When you're getting ready to sell your home, you'll likely focus on a few particular areas. The kitchen and living room may be some of the more notable. One that isn't really thought of a lot is the garage. You'll need to pay particular attention to this, as potential homebuyers definitely will.
You might want to take several steps when you're taking care of the garage. Decluttering and cleaning it is vital, and it's also worth giving it a new lick of paint. The cleaner and more oranized it looks, the better.
While this only takes a little effort, it'll make a large impression when people view the property.
Home Renovations That'll Improve Your Property Value
Making your home as attractive as possible to potential homebuyers often involves more than some cleaning and decluttering. You could need to do some home renovations and improvements. Since these can be relatively expensive, it's worth making sure you choose the right ones.
Some home renovations come much better-recommended than others, thanks to how much they'll add to your property value. These include:
Redo The Kitchen –

Many homebuyers will concentrate on the kitchen when they're inspecting a home. With how often it'll be used, it's easy to see why. They'll want to make sure it's practical and appealing to use. Make sure that's the case.

Update The Bathroom –

Like the kitchen, the bathroom receives a particular amount of attention. If there's only one bathroom in the house, make sure this is as attractive as possible. Retiling, adding new faucets, and similar renovations are recommended.

Change The Light Fixtures –

Not all home renovations that'll increase your property value cost a lot of money. Updating the light fixtures doesn't cost too much and you can even do it yourself. It'll make a room look nicer without needing too much work.
While these take a decent upfront investment – especially if you do all of them – you'll reap the rewards once your house is sold. Your property value should skyrocket because of them, as potential buyers will find your home more appealing.
What To Do Before Selling Your Home: Wrapping Up
Figuring out what to do before selling your home can be complicated. There's a wealth of factors to consider, as well as more than a few things to actually do. A real estate agent or similar professional can help with this process, but you'll still have a lot to take care of.
That doesn't need to be as confusing or stressful as you could think. Each of the above steps comes recommended and will make everything much smoother. You should also see an increase in your property value.
You'll have a more stress-free sale while earning more money. What's not to love?