In the past I had subscriptions for make-up or snack boxes but never an activity box!  In the past, boxes came and months went on.  I would have a drawer or cupboard full of useless items. Things I would end up never using and then throwing away! This equates to so much waste. 
 I don't at all see that to be the case with the Movement In A Box.   I feel the opposite.  With the high quality items we received in our Ready, Set Swing Box.    Everything we got in our box has multiple purposes. The creators even thought about organization of the items after use.  The box included a netted bag for easy storage and maintenance. 
In our first box included two foam rackets, bash birdie, six snowballs (in various sizes), various colored cones and my favorite, a movement guide.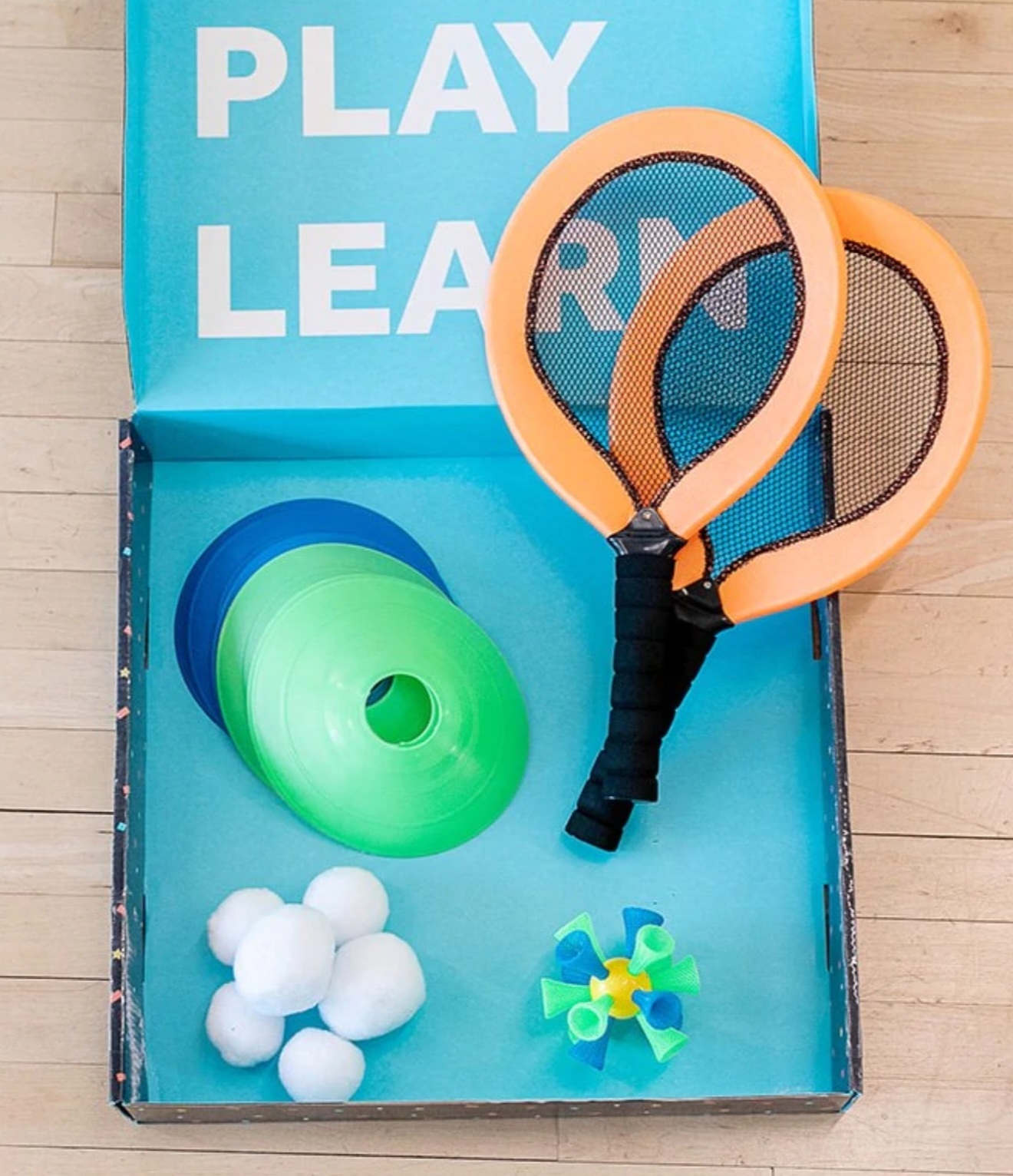 Foam Rackets: 
These foam rackets are high quality. The handles are padded making it easy for tiny hands to hold. There is a cloth lining around the entire top of the racket. This lining is really helpful to protect the hardwood floors in the house. 
Bash Birdie: 
This birdie is multi-colored and textured. Aurora loved talking about the colors and textures. Aurora loved throwing it around as the birdie rolls differently than our other balls.  Aurora also loved balancing the birdie on the racket! 
Snow Balls: 
The snow balls are soft and fluffy like cotton balls but are ultra durable. We have been hitting them around the house, pulling, hitting and carrying the snowballs for several weeks. They have held up really well. (And no broken items in the house since they are so soft) They are durable enough for my two year old to run around the house hitting them with the racket.  And then soft enough for my five month old to roll around chew and drool on. 
Colored Cones: 
These cones are super versatile, colorful and useful for countless activities. They aren't hard like some cones, rather they are pliable. They are forgiving for a clumsy toddler.
My favorite: Movement Guide: 
I LOVE this guide!! This guide has 12 activities with the four categories of items included in the box. The guide helps educate the caregiver with nuggets of knowledge.  Increasing engagement between caregiver and child.  The guide is like having a child development specialist right in your living room helping to guide engaged play.  Movement Guides literally outlines activity with direct, simple and easy instructions for activity 1 through 12. These step by step guides and QR codes throughout make instruction and reference a breeze.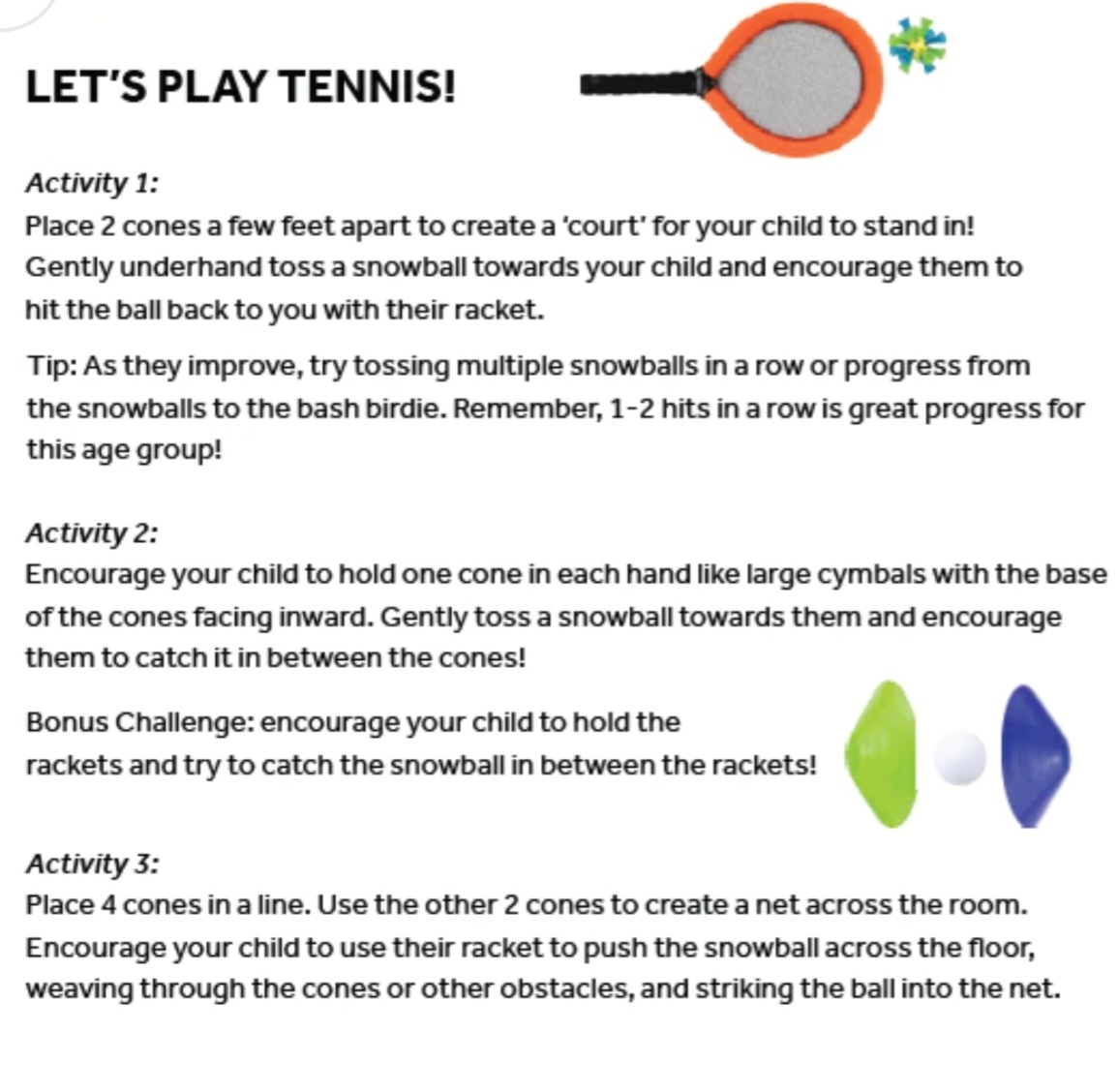 The guide outlines the skills that the box is designed to help kids develop essential skills. For example, this movement box fosters development: Locomotor skills ( run, walk, slide, March)  Stability: (Bend stretch, turn, lift, reach) Manipulative: Strike, catch, toss. Learning concepts: Counting, spatial awareness, body awareness/control, listening skills and body part awareness. 
This guide is tired momma gold! I love this guide! This guide is so helpful after a demanding day at work when I am not feeling very creative or engaged (guilty tired working momma here). The direction and resource of the movement guide provides help to direct creative and engaging play with my children.   This education helped me understand the importance for carving out play time. Additionally the guide helped me be more creative and adapt the play for my five month old. I was able to utilize the cones and snow balls for a miniature baby floor obstacle course.
One of the did you know sections in the movement guide explained that both children and parents benefit from play time. I learned that when caregivers and children engage in affectionate play time that the bonding hormone oxytocin is released.  This is the same hormone that allows nursing mothers to bond to their infants. This realization has helped me reinforce the importance of carving out this time with Aurora and Arlen every day.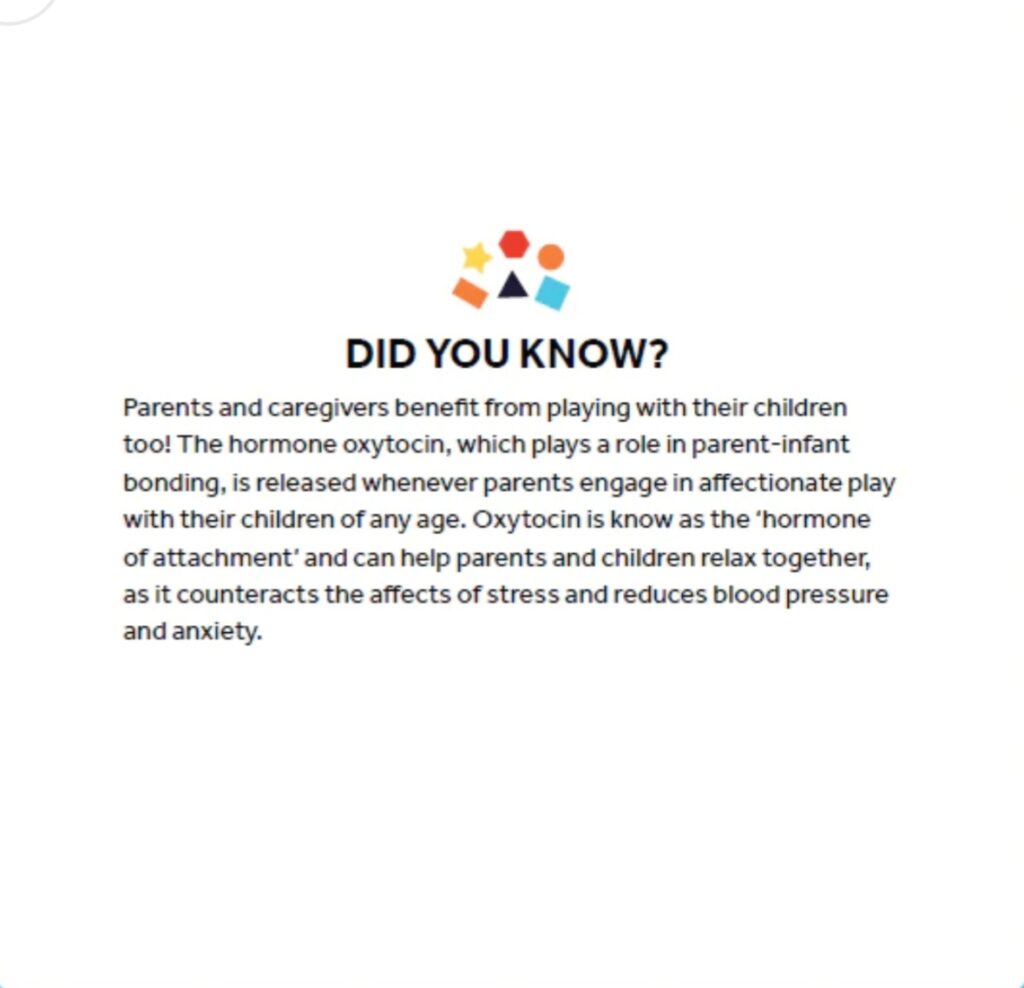 In conclusion, I really enjoyed playing with my children with the items in our Movement In A Box. The items are engaging, durable and interchangeable for numerous activities. Activities that foster healthy lifestyles for my family.    I am looking forward to trying some of the other boxes such as, the Shape Exploration Box to help Aurora work on shapes and colors.
Getting the kiddos to hold still to get photos taken was quite the feat. ( But that is the point)