Well, we never thought this day would come. Australia has had one of the world's toughest, most extreme, and longest-lasting lockdowns anywhere in the world. Borders between states have been closed, never mind countries and Australian citizens were subjected to tight movement controls, working restrictions, and the list goes on,
But, if you've been chomping at the bit like many of us to get your dose of G'day Mate!, then read on because as this article from ABC News Australia reports – the country is finally ready to start welcoming tourists again – but (yep), there are some conditions and restrictions.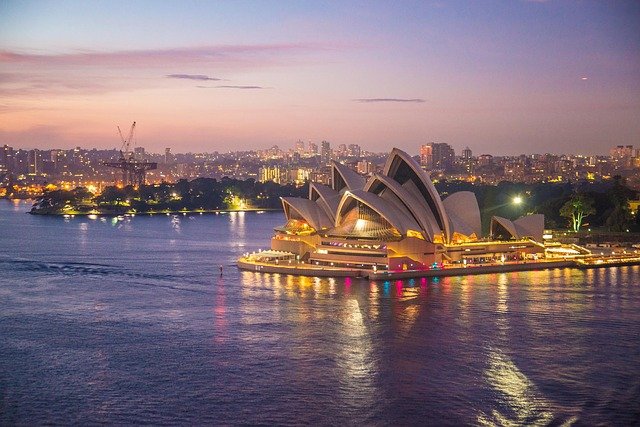 First of all, just why do we love Australia so much? Well, that's one of life's easier questions to answer as it happens, because the real question is: what's not to love? The country is blessed with an abundance of natural beauty and wildlife, one of the most diverse ecosystems in the world which means you can experience tropical Queensland, the gorgeous waters and beaches of the Pacific, and the desert region of the Outback in one country – and we've not even started on the cosmopolitan cities and urban landscapes that the country offers.
But what we probably love the most, is the fact that Australia is super family-friendly. The country itself is beyond safe and just about all activities are geared with families in mind, so if you're thinking of a vacation that's great for your tiny humans too, then Aussie has got to be top of your list.
FOOD GLORIOUS FOOD!
Meanwhile, never mind Ularu, Koalas, Kangaroos, and Wombats, Australia has been welcoming waves of immigrants from all over the world for decades and that means that you're blessed with just about every conceivable cuisine on the planet. So if you're a dedicated foodie looking to populate your vacation with exotic dishes, tastes, and smells – then you're going to be spoiled for choice.
The city of Melbourne is particularly well known for its culinary culture and you will never be forgiven for visiting Melbourne and not sampling their coffee! Melbournian coffee is well known for being the best coffee in all of Australia – if not the world.
THE BEST ROAD TRIPS IN THE WORLD
Now, don't get us wrong – America has some of the finest road trips anywhere on the planet and you'll be very hard-pressed to find a rival, but if you are going to find one – it's going to be in Australia. The Great Ocean Road offers more than 155 miles of stunning coastline in the State of Victoria from Torquay to Warrnambool (we don't know how to say that either). Allow plenty of time for photo opportunity stops. You'll take in sights like the 12 Apostle rock formations and some of the best beaches in Australia – and that's saying something.
And after your soul has taken in all the thrill and felt all the natural greenery and beauty, you could relax at a Lorne accommodation or a similar place. Moreover, having a good rest tends to be equally important when on an expedition, especially after a road trip. So, wherever you decide to lodge, make sure to take ample rest to be ready for the next day's adventures.
EXPLORING THE OUTBACK
Now, this isn't for the faint of heart and certainly not for beginners if you're not used to this sort of travel and are not equipped or experienced enough to handle it. The Outback is huge, it covers an area of 5.6 MILLION square kilometers and you're going to want to know where you're leaving from, where you're going to and what lies along the way if you need help. You'll want to make sure that those 4×4 wheels are sorted, that's for sure.
ULURU KATA-TJUTA NATIONAL PARK, YULARA
No visit to Australia is complete without going to see the massive rock formation at Uluru. Formerly known as 'Ayers Rock', this massive sandstone monolith is found right in the heart of Australia's Northern Territory. The closest town is Alice springs – and that's 300 miles away. This rock is very sacred to the indigenous Australians and they believe that it started forming some 550 million years ago.
SUN, SAND & SEA – BUT BE SMART!
Whether you're taking in the Winelands, exploring the bush, or the rest of the country, at some point you're going to be taking in the awesome weather that Australia has to offer the tourist. Be it on the beaches or in the bushes, Australia's sunshine is legendary for all the right…and not so right reasons. Do your search beforehand to find affordable places to rent near the sites that you want to visit.
The sun is harsh here and Aussies are well accustomed to taking care of themselves as they're used to it, for foreign visitors even from warmer climates, take care to apply sunscreen especially on your children at least 45 minutes before heading out into the sun and reapply regularly when out swimming or hiking. Stay hydrated and wear a hat – you'll thank us later. Also, for those looking for properties that are Commercial for sale, you might want to do in-depth research on the options available here. Perhaps, you might not be disappointed!
More than anything – have a blast! Australia is truly a wonderful place and you're going to be so glad that you visited.