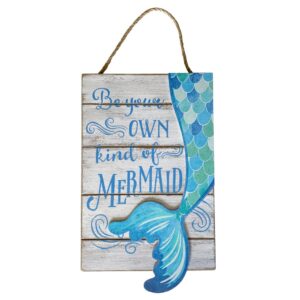 Rengöra Mermaid Beach Decor
Do you have a child who loves mermaids? Mermaids are fun mythical creatures that bring smiles and wonder to children and adults alike. This fun summertime decor is great for kids bedrooms, bathrooms and summer vacation houses. Comes with a hemp rope, ready to be hung. Made with quality MFP wood, this sign is painted with a rustic background. Size is 6.75″ x 11″. Head over to the Rengöra website to see all the other fun nautical themed home goods.
PLAYMOBIL 1.2.3 Advent Calendar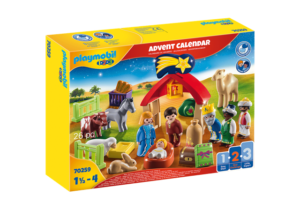 Create the story of Christmas with the 1.2.3 Advent Calendar – Christmas Manger. This is the perfect gift for a child who is visiting a relative. It's fun to open and easy to travel with. Unopened it is a lightweight box with 25 piece to be popped out.  The bright and colorful designs and large, rounded pieces make this gift simply perfect. First challenge will be to set up the scene will help your toddler. This allows for the development of language and social skills as they play out this classic Christmas truth. The calendar contains twenty-four surprise items leading up to Christmas. Set includes six figures, manger with star, horse, cow, sheep, and other accessories.
(ages 8-12, hardcover, 192 pgs) – Did you know that a great white shark can weigh as much as 15 gorillas, that you drink the same water as the dinosaurs did, or that there's a car that drives underwater? A supersized, hardcover addition to the blockbuster Weird But True series, Ultimate Weird But True is packed with 1,000 amazing facts and eye-popping photos that prove truth really is stranger than fiction. With a colorful, metallic cover, a kid-friendly design, and a wacky sense of humor, this stunning book delivers a winning combination of smarts and fun.  Plus, there are cool illustrations, and "Ultimate Secret Revealed" features that explain the strange truth behind the most mind-bending facts, such as how it's possible to convert peanut butter into a diamond and how frogs can fall from the sky.
Photo Ark ABC: An Animal Alphabet in Poetry and Pictures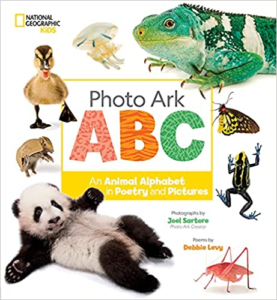 (ages 3-7, hardcover, 48 pgs) – From armadillo to zebra, this enchanting picture book pairs the stunning photography of National Geographic photographer Joel Sartore with playful poems by New York Times best-selling author Debbie Levy to represent the letters of the alphabet and celebrate the diversity of the animal world.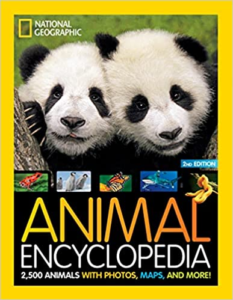 NG Kids Animal Encyclopedia 
(ages 8-12, hardcover, 304 pgs) – Discover the thousands of animals that call Earth home in this new edition of National Geographic's best-selling Animal Encyclopedia.  Updated and reviewed by experts in the field for the most accurate, up-to-date information, this comprehensive reference book features 2,500 species, 1,000 stunning photos, and more than a dozen engaging maps. Jam-packed with fun facts — such as the world's tallest animal, the longest living animal on Earth, and even the smelliest — it also contains new, exclusive "From the Field" reports highlighting National Geographic explorers working around the world to study and protect every kind of animal, from giraffes to penguins and sharks to snails.
Treasury of Magical Tales from Around the World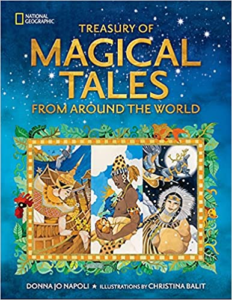 (ages 8-12, hardcover, 208 pgs) – A flower-spouting princess, gobbling prince, emerald-winged fairy, foolish giants, fearsome ogres, and talking frog and fish are just a few of the captivating characters found in this anthology of beloved stories from 29 places around the world, from the Arctic to Africa to Asia to Australia to Europe to the Americas.  Donna Jo Napoli's powerful storytelling makes these stories fresh and fun, and Christina Balit's dazzling illustrations make this book a true treasure―a very special gift and a must-have for family bookshelves.
(hardcover, ages 4-8, 48 pgs) – Welcome to the wild world of pandas! In this intro to the species, youngsters discover where on Earth these animals live, what they eat, how big they grow, and how they communicate. Cool photos of all the different kinds of panda relatives and just-born panda babies bring the creatures into full focus. After learning the basics, young readers will discover why pandas need our help and what people around the world are doing to help save them. Filled with fun facts, games, and an activity focused on making a difference in the panda world, this book will inspire kids to care about these amazing animals.
Brain Candy 3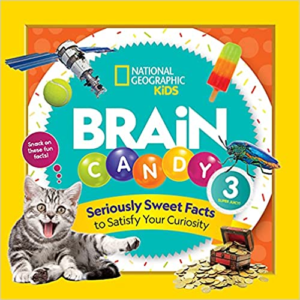 (ages 8-12, paperback, 208 pgs) Elephants have thick skin, but just how thick? Turns out it's 50 times thicker than human skin and can add as much as 2,000 pounds (900kg) to the weight of this massive animal! Earth's smaller animals offer some sweet surprises, too. Hop on a honeybee to discover just how hardworking these fast-flying insects are. They beat their wings 200 times a second as they fly about. And no wonder they're so busy — they need to pollinate two million flowers to make just one pound of honey. If you like seeing far-out facts in a new light, the third book in the series takes a deep (and delicious) dive into numbers, fun facts, and cool trivia on all kinds of topics. It's a novel approach to feeding kids smart snackable bites about the world and is sure to be an addictive addition to bookshelves and backpacks.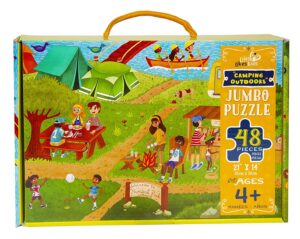 Camping Outdoors Jumbo Puzzle
Puzzles are always a boredom buster and activity the whole family can participate in. Little Likes Kids has a variety of vibrant and delightful puzzles that are thoughtfully designed for the new generation. The aim of the family centered company is to provide a mix of inclusive toys. Toys are created with playful images that reflect the world's wonderful diversity of today.  This package contains 48 extra-thick puzzle pieces that are easy for little hands to manage, and it comes in a sturdy, rope-handled box. All of their puzzles are eco-friendly and printed with nontoxic inks. Little Likes Kids is a women-owned, certified-minority business founded by a mother who wanted toy options for her son that reflected his friends and his experiences.  Whether you want to stock your classroom, playroom, or e-learning space, Little Likes Kids has a variety of puzzles and games to create an engaging learning environment.
Sports Go Fish! Card Game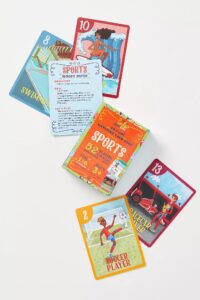 Based on the classic game Go Fish, this version brings its "A" game. Each card is filled with fun original artwork of kids engaged in different types of sports. Learning through play, this game teaches simple number and letter recognition as well as cooperative play. Little Likes Kids was founded by a mom of color who wanted her son – and everyone else – to have toys that reflect the world around us in a sweet and realistic way.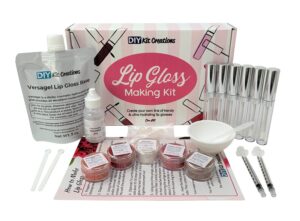 Do-It-Yourself Lip Gloss Making Kit
This kit gives you the freedom to customize 6 unique tubes of high-quality lip gloss. Includes an American-made lip gloss gel base that provides an excellent lip-softening moisture barrier. Each natural mica-based mineral pigment powder provides a unique finishing effect and can be used alone, or mixed with others. With the included moisturizing oil, you are free to control the texture, reduce stickiness, and the adjust the feel of your final product. Comes with enough material to experiment with color combinations on a palette or paper plate before committing to a full tube. Great for rainy day activities, DIY-ers, gifters, and even small entrepreneurs!
Original Stomp Rocket® Stunt Planes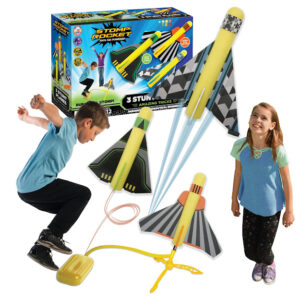 Run, jump and stomp to launch Stunt Planes; 100% kid-powered. No batteries required. Great for year round fun to get kids away from screen time and play with outdoor toys. This toy includes 3 Stunt Planes (Looper, Glider and Wildcat), a sturdy adjustable air rocket launch stand and launch stomp pad with an air hose. Looper plane performs giant loops, glider plane soars up to 100 feet and Wildcat plane does all kinds of crazy tricks. Adjust the angle of flight with the adjustable launch stand, fly into or with the wind and change how these planes fly. These air rocket launchers are the perfect toddler toys for girls and boys ages 5 and up.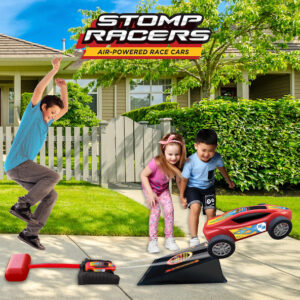 Stomp Racers by Stomp Rocket
Ready, Set, Stomp! The ultimate in race car performance! Race to the finish with 100% KID powered race cars. Great for year round fun to get kids away from screen time and more active. Includes a Stomp Launcher, race car and ramp. Decals to design your car included. No batteries required; easy and fast assembly. Play inside or take Stomp Racers to the park or on vacation. You'll be amazed at how many children and adults want to play! See how fast your car will go and jump off the ramp for extreme racing and tricks.
The Gift Box Ornament Decorator – Christmas Tree Ornament  Decorating Kit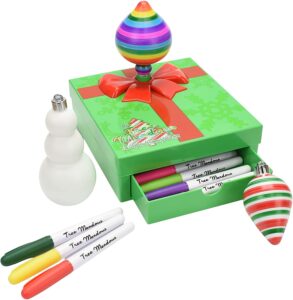 From the creators of the Eggmazing Egg Decorator and the Treemendous Ornament Decorator comes the Gift Box Ornament Decorator! This new creation allows you to decorate a variety of different shaped ornaments by simply placing an ornament into the top of the decorator and the unique spinning action creates colorful designs with the touch of a marker. When you're done decorating, put your markers in the storage drawer for safe keeping. Each unit includes 1 Gift Box Decorator, 3 plastic ornaments, and 8 colorful non-toxic markers. Extra ornaments sold separately.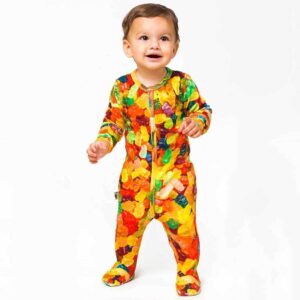 Inchworm Alley
Are you looking for fun, unique and corky clothing for the kids in your life? Inchworm Alley is going to be perfect for you. They are are lovers of outrageous digital prints, but they are more than just a clothing company, they are a company that really cares about the environment and the human race. By using organic cotton and eco-conscious design they have created the perfect clothing. They really focus on using GOTS Certified Organic Cotton. This type of cotton is sustainable, renewable and biodegradable. Simply said, it is grown using methods and materials that have a low impact on the environment. Their organic production systems replenish and maintain soil fertility, which reduces the use of toxic and persistent pesticides and fertilizers, which leads to a more biologically diverse agriculture. Best of all it is a child labor and sweatshop-free! Workers have a livable wage and are given vacation time and holidays. When you purchase from Inchworm Alley you are going to feel good about where they came from and who made them. The cherry on top is that their fun and unique prints will allow your kid stand out. Head over to their website to see all the fun prints.
MINISO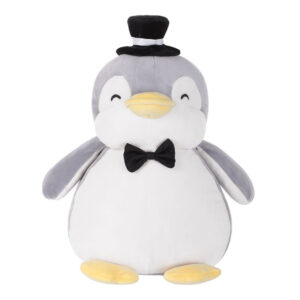 Have you heard about the ever growing new store MINISO? They are the #1 $10 and under store in the USA. It is the perfect place to find gifts at such a great price point. MamatheFox loves Sanrio and they have some amazing stuffed animals from this line.  MINISO offers exclusive licensing with major brands and a fun experience, particularly for Generation Z shoppers looking for quality goods at affordable prices. The retailer is known for its plush toys, home décor and organizers, beauty and wellness items, fashion accessories, and electronics. Customers enjoy the original licensing collaborations with their favorite characters such as Marvel, Mickey Mouse & Friends, Sanrio, We Bare Bears, Tom & Jerry and Coca-Cola. Click over to their site to order online and to find a store near you.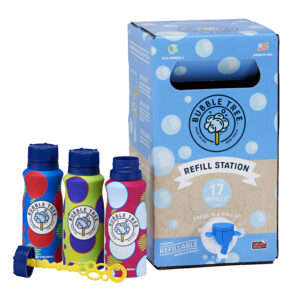 The Bubble Tree
To create a safer and healthier space for the kids without interrupting the fun that every kid deserves, the American Bubble Company came up with the first-ever eco-friendly sustainable bubble system that uses a non-toxic bubble solution made in the USA – The Bubble Tree. A brand dedicated to changing the way we play with bubbles forever. In addition, the refillable bubble system saves parents money by not having to repurchase a bubble wand and container when they run out the first time.  Each year, more than 300 million one-time-use plastic bubble bottles are imported to the United States. Many will contain bubble solutions from foreign countries with formulas and ingredients that often fall below the safety, sustainability, and quality levels that modern American consumers demand. Bubble Tree's mission is to enhance bubble safety and solve plastic pollution, waste, and the overuse of one-time-use plastic bottles.
Glow Battle by Starlux
I love to help my kids find fun ways to play without a screen. If this is something you are looking for then you need to get them the new Glow Battle from Starlux. Let them battle like a ninja!! Family, friends, and neighbors play organized sword fighting games using (harmless!) glowing foam weapons. The neighbor kids love to come over to play outside and battle until its dinner time. When you buy off Amazon it includes a free download of 10 game variations for repeated play. Inspires creative gameplay for kids who love Star Wars, laser tag, RPG, and ninja games
Affordable and reusable and at $34.90 with all batteries included this is a safe bet for the perfect holiday gift.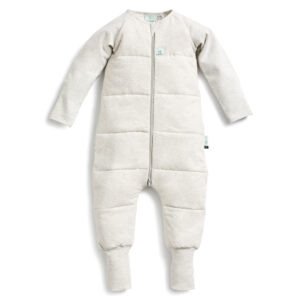 ergoPouch Sleep Onesie 2.5 TOG
The Sleep Onesie is a TOG-rated sleeping bag alternative, designed to be worn on its own during sleep or with Pajamas underneath for warmth and comfort. These are the perfect option for toddlers or preschoolers transitioning into a big bed, sleep walkers, kids who kick off their blankets, or little starfish who don't like the restriction of a sleeping bag. The Sleep Onesie is made from and filled with GOTS certified organic cotton that is non-toxic and gentle on irritable skin. The stretchy material allows your little one to move freely and stay comfortable for sleep. The 3-way zip configuration is helpful for overnight diaper changes or toilet trips, and foot cuffs add extra warmth for little toes.
Giving practical gifts is just as important as "fun" gifts, but these labels are fun and practical! Mabel's Labels creates labels that stick to many different types of surfaces, even clothing too. These labels are great for keeping track of all kinds of kid items including water bottles, backpacks, shoes, clothes, lunch boxes, pencil pouches, and so much more. All the labels are high quality, washable, and very affordable. Lots of styles, colors, fonts, and shapes are available; personalizing them is super fun! These labels are a great stocking stuffer for any child on your list.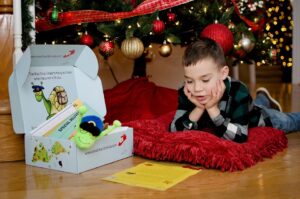 Sunny the Mail Snail
Looking for a fun but educational gift? Sunny the Mail Snail is an exciting new subscription box perfect for budding readers (ideal for ages 4 to 8). Each month your child can receive a story-telling letter with cool animal facts, geography, fun adventures, and special treasures. Some of the treasures can be animal trading cards, stickers, secret code card and temporary tattoos. Inspire and encourage excitement in reading. While some kids may not desire to sit and read a book, this can be the key to get them interested in  reading. By getting a special package in the mail with all the fun extras will get the joy and curiosity break through. The best part is you get a letter each week! This short laps between the letters will help keep the excitement up. Getting a box each month is fun, but a letter each week? This tops the cake.
This brand creates adorable decks of cards that helps kids learn to tune into their feelings to regulate their emotions. The cards are a large 4X6 size, which is great for kids hands. On each card there is beautiful artwork that is inspired by nature. Each deck has 40 cards in it and offers to help bring mindfulness to their mental health and wellness. Two different card sets are available – Mindful Kids Activity Cards and Mindful Kids Bedtime Cards. The activity cards are filled with "exercises to teach children the basics of mindfulness", all while using exercises that kids will love. Bedtime is much more peaceful when using the "evening visualizations and peaceful prompts." These allow kids to transition from their day to a calm, relaxing bedtime. These beautiful cards are perfect for any kid on your list!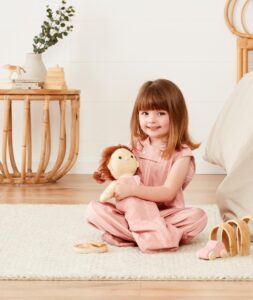 ergoPouch – Doll Sleeping Bag
If you've got a toddler or preschooler who needs help with their sleep routine (don't we all), the Doll Sleeping Bag is for you. This cute but functional sleep tool is designed to help your child learn their bedtime routine and make night time settling easier and fun through role play. Play is essential for learning and development in toddlers and preschoolers to nurture their imagination, help them make sense of their world, develop confidence, problem solve and build relationships. The Doll Sleeping Bag can be incorporated into bedtime or playtime to promote positive sleep associations, routine learning and sleep cues through pretend play. Encourage your mini to dress their doll or toy in the sleeping bag, read them a story and put them down to 'bed'. Added bonus – the Doll Sleeping Bag also aids in fine motor skill development (practicing zips and threading doll/toy arms in arm holes), and your child will love matching their sleepwear with their best friend!
Sandra Aris Pants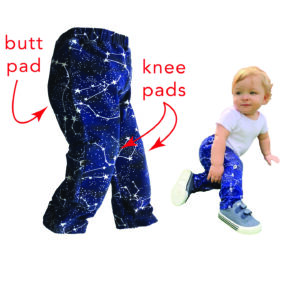 If you have a child who is learning how to crawl and walk then keep reading this! As kids learn how to be mobile they need to learn by trial and error. Meaning they are going to fall. Fall a lot. Rather than feeling like we need to put them in bubble wrap and constant hover over them we can now lean on Sandra Aris. They created protective pants
for kids that encourage exploration and keep injuries from holding them back. The pants are made with protective 3D padded technology in the butt and knees inspired by the protective materials used in motorbike and ski apparel, jackets, gloves and helmets. Check out the link to see them on Amazon with all the other great information.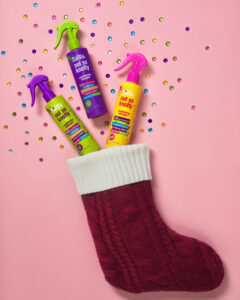 Rock the Locks
Do you have a fashionista on your list? Then check our Rock the Locks. Rock the Lock is a bold hair care line that kids love with safe, clean ingredients that moms trust. No harsh chemicals, sulfates, parabens, phthalates, dyes or petrolatum! They JUST released their Hair Colors and Conditioners in pink and purple – SO fun! The leave in conditioner is great for traveling and the Detangler is an everyday must. I like to apply one of them to my daughters hair before she swims, which helps getting those tangles our after she is down playing in the pool. Check out their full line, you are going to love what you see.
The pajamas that LazyOne designs and creates are just so adorable. Their matching family sets are perfect for Christmas. Wearing them as a family on Christmas day would make for such a great memory. The patterns of the sets are really cute and very gender neutral. The flapjack onesie pjs would make for the perfect gift. The fun flap on the back of them adds a little touch that is functional as well! Their sizes are very unisex, so be sure to keep that in mind when ordering.
The winter months are upon us, and those relying on mild fall days to get their dose of fresh air will be reminded about grey skies and single digit wind chills. Unfortunately, the closed-window, insulated lifestyle that cold weather brings makes for a dry, stagnant environment that promotes the incubation and spread of viruses. We use masks and implement social distancing to ward off the virus while we are away, but how can we better defend our home against COVID and other viruses? This holiday season, an Airfree air purifier should be making it under the tree of every loved one, especially those at a higher risk of serious illness. This holiday be smart and choose the perfect combination of highly efficient TSS™ air-sterilization technology and the award-winning design of the Airfree P series. The P series includes a soft and adjustable blue nightlight. Suitable for spaces up to 650 ft². The Airfree P works completely silently to get rid of up to 99.99% of bacteria, fungi, viruses, pollen, pet allergens, dust mite allergens and other organic air pollutants that cause allergy attacks and asthma.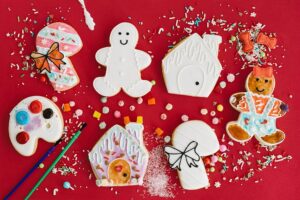 Color My Cookie
Are you looking for a fun activity for the kids this holiday? Have some cousins coming in to visit or heading to their place to celebrate? Then bring a Color My Cookie set with you. Each kit (only $35 – such a deal) contains perfectly made and iced cookies, a cookie shaped like a palette (used to 'paint' the cookies), paint brush, frosting and sprinkles. Each season they release new themed kits, but also have some popular kits they keep all year round. Color My Cookie is fun not just for kids, but adults love them too. Before you start to paint you may want to check out the link to an online cookie decorating tutorial taught by a real pastry chef! Head over to their website to learn more about Color My Cookie. Best of all you'll help support a family owned businesses this holiday.
Feltman Brothers
This latest collection from Feltman Brothers pays homage to the best in holiday family traditions. The soft, warm velour makes perfect cozy loungewear during the cold winter nights. All the annual holiday events, everything from choosing and decorating the tree to wrapping and opening presents and taking the annual family photo, are made even better with these classic designs. The 2 piece Velour Holiday Set is warm and yet stylish, with a cute embroidered design showing the holiday tradition of picking out the tree. Available in sizes from 12M to 6Y, babies and kids can have the perfect look for the holiday pictures.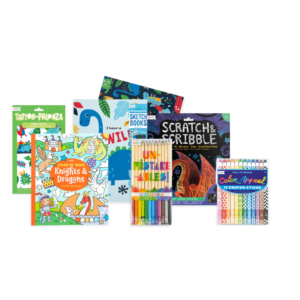 OOLY – Dinosaurs and Dragons Bonus Box
We love OOLY! It is one of MamatheFox's favorite brands. This holiday OOLY has done it again – they made the best line of crafting and art products for our kids. OOLY is the brand that kids, teens and adults all love. Their use of bright colors, creative product line and affordability make them a front runner in the arts an crafts world. This year the product we recommend from them is the Dinosaurs and Dragons Bonus Box.  One ruled the earth millions of years ago while the other ruled our imagination hundreds of years ago. Either way, these dinos and dragons are here for playtime and creative fun. This ginormous collection is full of clever kits and art supplies that will wow any dino lover. Plus receive a free bonus gift and free shipping*!
Know Yourself 4 Book Set: Dr. Bonyfide Presents 206 Bones of the Human Body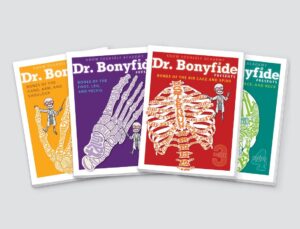 Knowing yourself makes you better at everything! The award-winning company offers Dr. Bonyfide's Bones of the Body Workbooks full of fun and educational activities for children eight and up, developed by a culturally diverse team of educators, health professionals, and parents. Enjoy activities such as crossword puzzles, mazes, x-ray vision, and more. Featuring an in-depth exploration of the human body guided by Dr. Bonyfide and his friends as they help develop a lifelong love for science, an appreciation for one's body, and the path to learning to Know Yourself. Books include: Bones of the Hand, Arm, and Shoulder In Book 1, then Bones of the Foot, Leg, and Pelvis in Book 2's (with a fun circus theme!) and Bones of the Rib Cage and Spine In Book 3. Click over to Amazon and check out this fun gift idea.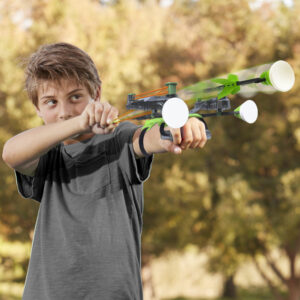 Zing Air Hunterz Wrist Bow
The Air Hunterz Wrist Bow is safe and durable, but it can still launch the arrow over 45 feet making this thrilling for kids as well as adults. Portable design has adjustable straps for a great fit. Since it is adjustable the length will be great for a variety of wrist sizes. Exclusive Loop & Launch Technology provides a quick reload so that every moment is filled with action! Quickly and easily launch arrows; Just hook arrows on the loops, pull back and release. The soft foam tips and fins keep the arrows safe for light indoor use, too. The Air Hunterz Wrist Bow is the perfect family toy for Christmas morning.  This toy includes: 1 Wrist Bow and 3 Suction-Cup Arrows, Colors May Vary (Red or Green).
Chalk of the Town Christmas T-Shirt Kit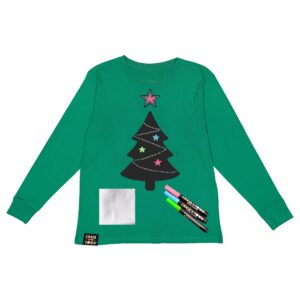 Do you have a child who loves to draw? Someone who wants to create and design? Th Chalk of the Town Christmas T-Short Kit will be perfect for them. The unique washable chalkboard surface allows anyone to design and style a shirt with bright chalk markers, over and over again! The possibilities and designs are endless. Once dry (it only takes a few minutes) the chalk marker ink won't smudge. It's as easy as pie. Simply draw, wear, erase and repeat. The shirt is soft and 100% cotton machine washable. It includes 3 bright water based, non-toxic, chalk markers (green, blue and pink), and a washcloth. Appropriate for ages 4 and up. Made in the USA with both domestic and imported components.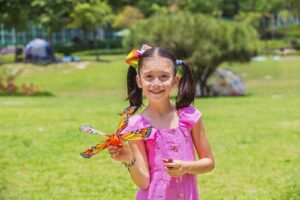 Zing Go Go Bird – Remote Control Flying Toy

Take to the skies with ease with Zing's new bionic, flying toy, the Go Go Bird Butterfly. This thrilling flying butterfly toy is the perfect blend of traditional RC toys and today's trendy drone toys. Explore the skies from up to 200 feet away with the intuitive directional buttons on the remote control. Perform aerial tricks and race your friends. Inspired by nature, the butterfly features a lightweight design that is safe for indoor and outdoor use. Recommended for ages 8 years and up. It is even a Toy Insiders Top Holiday Toy Award Winner! Package includes: 1x Go Go Bird (butterfly), 1x remote control (2 AAA Batteries not included), 1x lithium battery and 1x USB charger.
TickleMe Plant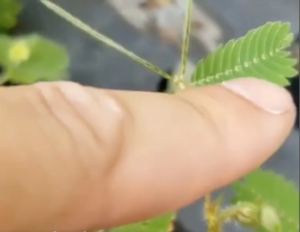 TickleMe plants are the first plants that play dead and come alive within seconds! If your kids like STEM and learning about how the world works and how great God's creations are, then you need to consider getting them a TickleMe Plant. What makes this plant special and worthy of a gift to a child it that this plant that reacts when touched! When the leaves are stimulated, they will close up and play dead before opening back up again.  It produces beautiful looking, fluffy pink-colored flowers which make it a great home decor.  They will love playing with it and feel proud showing it to their friends! It's incredibly easy to grow and doesn't require any substantial effort. All kits are mess-free and are easy to maintain.  An interactive and fun DIY gardening activity great for keeping the kids entertained. The TickleMe comes in a bunch of themes, like Christmas, Birthday, Teacher Appreciation, Mother's Day and more.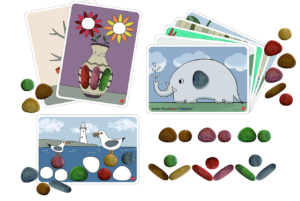 Edx Education – Eco-Friendly Rainbow Pebbles
Do you have some little one's coming to your home this holiday? This is the perfect toy for young ones to sit with and play without a screen. Use these Junior Rainbow Pebbles to teach toddlers how to recognize and organize by shape, color and number. They're also a useful construction resource. These Rainbow Pebbles are made from the agricultural waste products, rice stems and rice husks! These materials decrease waste in the environment. Safety tested for children aged 18m+, these pebbles come in 3 large sizes which are perfect for small hands to grasp.  This toy includes 36 Junior Rainbow Pebbles + 8 double-sided activity cards.
LetsGlow Studio – DIY Arts and Crafts Glow Kit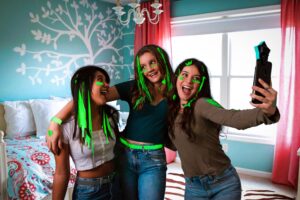 LetsGlow Studio is a creator kit of reflective fashion accessories to light up your glow parties, sleepovers or group dances – no app required! Design your own custom looks using LetsGlow, non-toxic reflective stickers and materials, attach the 16 color LED Clip to your tablet or phone, & light up your custom outfit in super-bright glowing colors. Attach the LetsGlow LED Clip to any tablet or phone camera and control the reflective LED color of your accessories using the remote control. Light up your accessories and make fun and unique videos with your friends and family. Includes: the LetsGlow Selfie LED Clip with remote and charging cable, three non-toxic reflective sticker sheets with stencils, ten reflective nail stickers, 10+ ft of non-toxic reflective sticker tape, 55+ ft of double-sided re-usable reflective material with hair clips and a pair of shutter shades for you and all your friends to glow!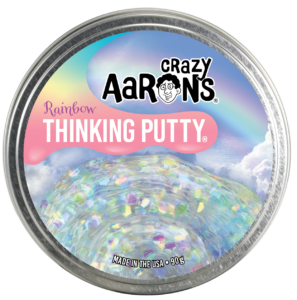 Rainbow Thinking Putty from Crazy Aaron's
Kids love all of the products from Crazy Aaron's. Their putty is the leading brand and it is for a reason! The quality, storage and price are right where we want it. Rainbows make everything better! Certain transparent materials will bend various colors of light differently. White light is then broken up into a dazzling rainbow. With every twist, pull and stretch, uncover a sparkling band of colors in your very hands. Part of the Trendsetters Collection. Made in the USA from nontoxic silicone and never dries out. Stretch it, bounce it, pop it, tear it, and sculpt it! Includes 1/5 lb. (3.2 oz) of Genuine Crazy Aaron's Thinking Putty. Ages 3+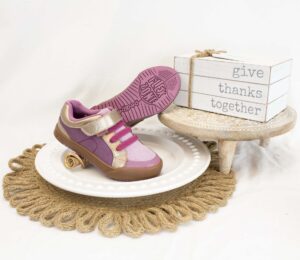 Pediped
Pediped offers a vast variety of innovative shoes for boys and girls sizes newborn to 6 Youth. Their three collections Originals , Grip 'n' Go™, and Flex all offer children with high quality leather shoes ideal for healthy foot development. The ultra light technology is specifically designed to support kids' feet in all activities while providing flexibility and freedom. Take them to playground, vacation, school, or any adventure and easily clean them in the washer afterwards. These shoes are even equipped with quick-dry EVA footbed. In addition, Pedipeds has a unique Flex Fit System where inserts can be added or removed to create the perfect fit for a child's growing foot!  Pedipeds award-winning design and technology makes them one of the fastest growing children's footwear brands in the United States! They are approved by the American Podiatric Medical Association and ready to fit any child's footwear needs.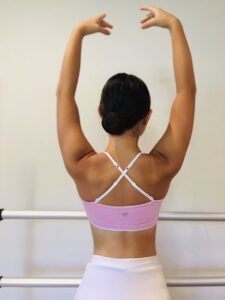 Bleuet
Do you have a young lady on your list? Maybe a girl who is active and loves sports and gymnastics? Consider purchasing her a Bleuet active bra. They are SO soft and are made with moisture-wicking performance fabric. It fits seamlessly under her favorite shirt, jersey or tank. They are perfect for a first time bra. You can buy them individually or in sets. With a wide options of colors. What MamatheFox loves is this is not only a wonderful purchase for your young lady, but they are a company that supports young female entrepreneurs by supporting their passion, vision, mission and business. Head over to their website to see not only the amazing bras, but the many partnerships they have. You can be joyful that you are supporting a quality product and a phenomenal brand.
Pottery Awesomeness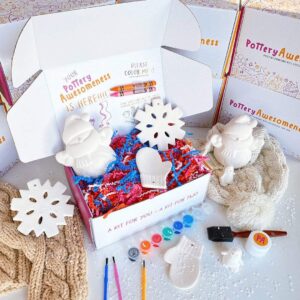 Do you have a crafty kid on your list? Maybe some kids coming to your holiday from out of town? A perfect activity to keep them busy is Pottery Awesomeness! These super cute new kits from Pottery Awesomeness are the perfect project for kids and families to enjoy together. With themed-subscription boxes, like Winter, Christmas, Sweet Tooth, Sports Fanatic and more, kids will be excited to receive these boxes that come with everything they need to create their masterpiece! Each box includes three cute figurines, acrylic paint, paint brushes, a glossy sealer and an instruction card with QR codes that will direct painters to painting tutorials and instructions. For every kit purchased, Pottery Awesomeness donates a painting kit to sick children in hospitals. They work directly with the lead art therapist at each hospital to determine what supplies are needed.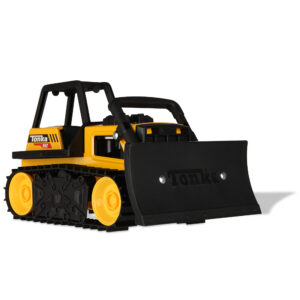 Tonka – The Claw Dump Truck Yellow
For over 70 years, Tonka has been the world's favorite toy truck and today with their range of diecast toy vehicles, Tonka are still providing imaginative fun for children all over the world. Designed to handle the toughest terrain with its "Claw Grip Wheels", the Claw Dump truck features close tires for cruise action or press and pop claws to climb! Simply click the wheels to release and take on some claw climbing action. Specially designed for boys and girls aged 3 years and up, Tonka's range of indoor and outdoor toys introduce children to independent play as they develop their fine motor skills and dexterity.
Ryan's World Galaxy Explorers Mega Mystery Rocketship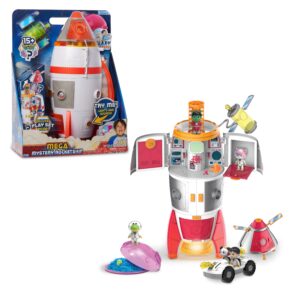 3, 2, 1, blast off! Enter a universe of fun with the Ryan's World Galaxy Explorers Mega Mystery Rocketship. Press the button to activate the countdown, lights, and realistic Rocketship sounds. This 22-inch tall playset unfolds to reveal four levels of hidden surprise-filled compartments that reveal a space blaster with lights and sounds, buildable rover, hammer, moon dig with three moon rocks, five articulated figures and five accessories, satellite, space cable and clip, sand compound, glow in the dark stars, and a Ryan astronaut badge! Open the door to reveal the Ryan Astronaut figure and hammer. Then turn the spacewalk lever to reveal a control room, and discover the hidden surprises including Gus and Alpha Lexa figures and accessories. Press the hatch buttons to release the escape pods and discover more surprises! Use the hammer to smash open each of the pods to find each piece of the buildable rover. Press the button at the base of the Rocketship to find the special astronaut badge and insert the badge at the top of the Rocketship to unlock the ultra-secret compartment which reveals a lights and sounds ultimate space blaster! Surprises even include a moon dig with space sand.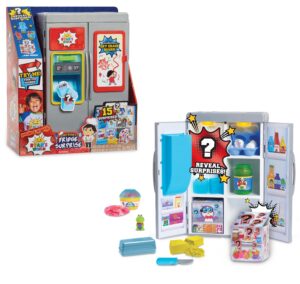 Ryan's World Ryan's World Fridge Surprise
The Ryan's World Fridge Surprise is full of over 15 awesome toys inspired by some of Ryan's favorite treats. Find all 15 surprises including mini figs, oozes and compounds, a build-it Ryan fig, and so much more! Standing 16 inches tall, this giant fridge is filled with hidden surprises, and even has lights, sounds, a working ice cube dispenser, and a working dry-erase board! Press the button on the front of the fridge to play sounds and dispense ice cubes. Each ice cube includes an exclusive mini fig of Combo Panda, Gus, or Alpha Lexa! There is even a hidden translucent Peck fig hidden in the freezer. Refill the ice dispenser for endless fun.  What's hidden inside the pickle jar? Open the top and a Ryan fig pops out! Kids can crack open some more fun when they pretend to cook a meal with the eggs, find all the hidden play accessories! They can even open the mystery snack boxes and build their very own Chef Ryan fig! Use the dry erase marker to create fun messages or pretend to meal plan by writing on the dry erase board. Kids will even enjoy decorating their fridge with the included stickers. The fun and creativity never-ends with the surprising and exciting toys from Ryan's World. Bring home the Ryan's World Chef Ryan's Fridge Surprise and the rest of the Ryan's World inspired toys, and let your little fan bring their own imagination to life! Requires 2 x AA batteries (included).
Disney Doorables Multi Peek Series 6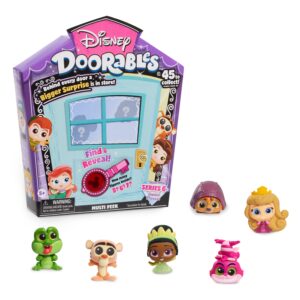 Behind every door a surprise is in store with the Disney Doorables Multi Peek Series 6 collectible figures, featuring Special Edition Jeweled Disney Princess characters and introducing the Discover Magic Key. Multi Peek includes either five, six, or seven collectible mini figures, each standing approximately 1.5 inches tall and featuring signature Disney Doorables stylized detailing and glitter eyes. There are 45 figures to collect across Series 6 including five Jeweled Disney Princess characters dressed in beautiful faceted jeweled dresses, five pearlized Disney The Little Mermaid figures, and six flocked Winnie the Pooh figures! Series 6 features characters from the stories of Disney's Raya and the Last Dragon, The Little Mermaid, Alice in Wonderland, Peter Pan, Snow White and the Seven Dwarfs, Pinocchio, Dumbo, Winnie the Pooh, and Mickey Mouse and Minnie Mouse. Ideal for collecting and trading. Recreate the world of Disney with all the Disney Doorables collectible figures and playsets. Ages 5+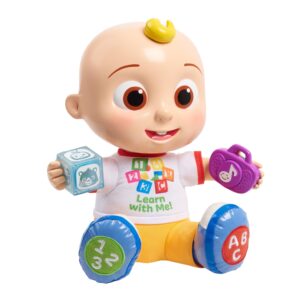 Cocomelon Learning JJ Doll
This interactive doll looks just like JJ and uses lights, sounds, music, and over 50 phrases to encourage children to learn their letters, numbers, and color recognition. With four interactive buttons JJ will interact with you! Press the block in JJ's hand to learn colors. The button on his radio plays songs. Learn letters by pressing JJ's left foot, and numbers and counting by pressing his right foot. JJ's cube lights up to the beat of the music as his radio plays the "ABC's" and "Head, Shoulders, Knees and Toes". Develop fine motor skills, reading and talking, cognitive learning, social emotional skills and creativity with this early learning toy.
My Fuzzy Friend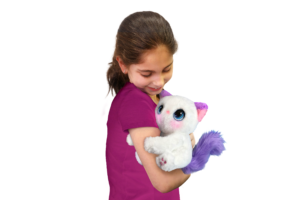 My Fuzzy Friend Kitten is the Interactive Hugging Kids Companion Plush Pet! Extremely cute interactive pets with nuzzling feature – nuzzles you as her paws hold on your arm. Each Fuzzy Friend comes with an interactive accessory. Two styles in the first wave include a Koala and Kitten. They have multiple touch points, multi-color LEDs in their cheeks and sounds that communicate her feelings. Each pet comes with bottle and brush.