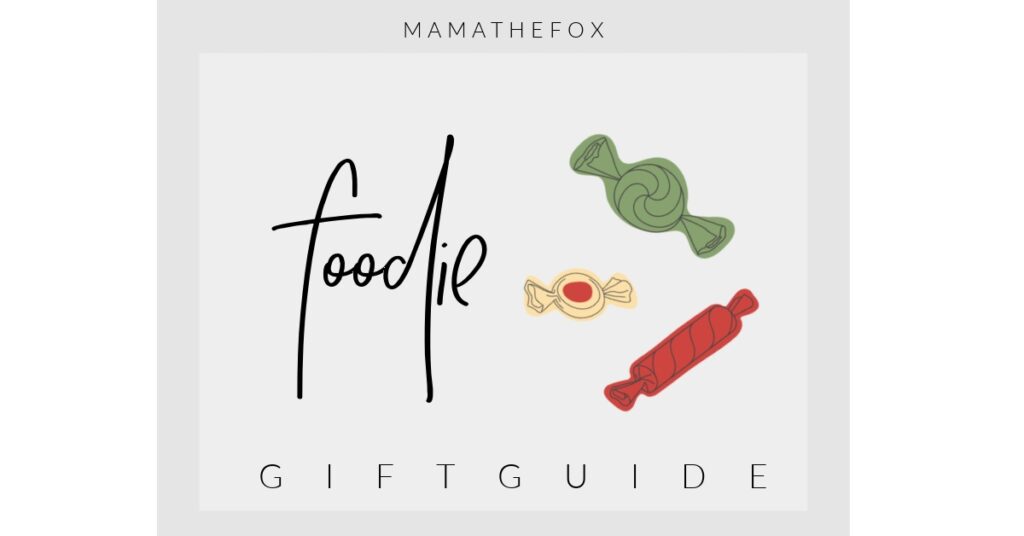 Air Fryer XL by Uber Appliance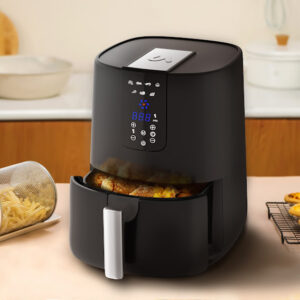 Uber Appliance offers one of the best air fryers on the market today. The Uber Air Fryer XL is perfect for any family with its roomy 5 quart basket you can air fry a whole chicken. The dishwasher safe basket and grease separator with non stick coating make cleaning a breeze just wipe it down with a damp soapy microfiber towel and toss it in the dish washer. The Uber Air Fryer XL features an easy to use touch display for temperature and time setting with temperatures ranging from 150F to 400F, the digital display also has several pre-set cooking temperature and time to perfectly cook chicken, steak, fries, wings and so much more with a single press of a button. Every Uber Air Fryer XL Comes with a free recipe book so that you can explore tasty meals as soon as you get it.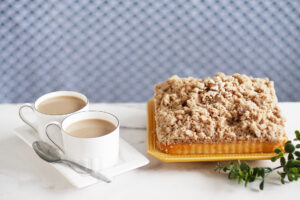 Clarkson Avenue Crumb Cake Company
Getting together with your loves ones is what really makes this season special. The second most important part…the food! This is what we gather to do. To eat, to talk and to make memories. This year set out a fresh, delicious Crumb Cake from Clarkson Avenue Crumb Cake Co.  Their crumb cake delivery is available in a variety of unique flavors from Classic, Blueberry, Salted Caramel, Blackout, & Brooklyn Joe. They even have a Gluten Free cake. Keep an eye out for limited edition and seasonal flavors. Their cakes are available as either a traditional cake or our famous Crumbkins, which are one of a kind miniature crumb cakes. Check back monthly to see what the cake of the month it, because the cake of the month ships FREE! Take a look at the website (link above) and see what cake would make your gathering that much more special this year.
Steeped Coffee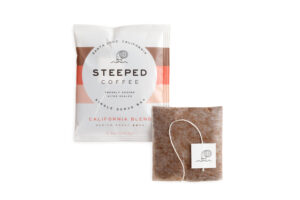 Do you have a serious coffee drinker on your list? Steeped Coffee is a proprietary brewing method that does not require machines or brewing equipment, made much like tea. The coffee comes in single-serve bags that are nitro-sealed to ensure absolute freshness. It's a uniquely "unplugged" coffee experience, from the award-winning packaging made using compostable and renewable materials to the non-GMO filters. All it takes to brew a perfect cup is hot water and a few minutes, and at the end of the day, there are no wasteful plastic pods accumulating in waterways or landfills. They offer subscriptions and one time purchases. Light, Medium, Dark, Decaf and French Roast are the current options available for purchase.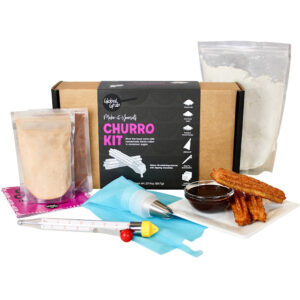 DIY Churro Kit by Global Grub
Can you believe this!? I was so excited when we found this DIY Churro Kit from Global Grub. Now we can rival the food carts and treat ourselves to new memories of churros, at home… because there's nothing like freshly fried pastry sticks coated in cinnamon sugar with decadent chocolate dipping sauce! This DIY Churro Kit comes with just about everything you need to easily make about 40 homemade churros (2 batches of 20). The included piping set creates the classic churro shape with ridges, and the deep fry thermometer will help maintain the frying oil heat for delicious golden brown homemade churros. Click the link above and see all the other fun kits – kits like the Sushi Set, Focaccia Art and the Fortune Cookie kit.
Kitchen Garden Textiles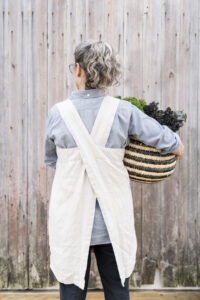 "Live Beautifully. Live Plastic Free" – This is the main focus of Kitchen Garden Textiles. They have the perfect gifts for your environmentally-conscious friends and family, the line includes linen market bags, gorgeous napkins, kitchen aprons, harvest aprons and much more. All of their textiles are created with organic, 100% natural linen. This reduces reliance on single use and plastic disposables with elegant linen products you'll use and love every day. Crafted in Pennsylvania, their textiles are for gathering, storing, preparing and serving food. If someone in your house loves hot tea then you need to gift a simple reusable tea bag by slipping it into your loved ones stocking.
This InterMix 9-speed immersion hand blender is a great gift for anyone who likes to spend time in the kitchen. Because of all the different tools included with the blender there are tons of ways to use it. The blender has the ability to mix, blend, whisk, and chop. It's the perfect kitchen tool to have on hand, it won't take up a lot of space but is able to replace lots of individual tools you may already have. The design of the blender offers durability using high quality materials. So many foods can be made with the mixer – soup, baby food, sauce, batter, smoothies, and more. Really, anyone can benefit from having this in their kitchen! Use discount code MTF20INTERMIX for 20% off when purchasing the intermix blender!
Sweet and salt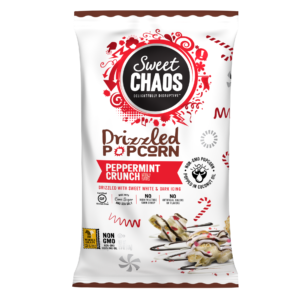 y is something you'll get from these yummy snacks. This popcorn is a perfect gift and/or stocking stuffer as their bags are individual wrapped. You will certainly put a smile on anyone's face with the unique flavors – like peppermint, chocolate, peanut butter, and more. The non-GMO popcorn is popped in coconut oil and seasoned with sea salt and cane sugar. This popcorn is is gluten-free and is not full of high fructose corn syrup, trans fat, or artificial flavors and colors. These are great to serve at a gathering or to gift to a friend, loved one, or acquaintance. Both kids and adults will love this sweet treat.
Would you have ever thought to make a sweet treat from quinoa and chocolate? Luckily you don't have to, because its already been done! These super crispy quinoa-dipped chocolate snacks are surprisingly not too bad for you. The ingredients are all-natural, gluten-free, and non-GMO. Kids will even like them too! Many flavors are available including pomegranate, blueberry, currant, milk chocolate, and dark chocolate. They even have Christmas flavors with peppermint in them. Having tasted tested them ourselves we can confirm that they are very good, and very festive. You can purchase these yummy treats individually wrapped or in a re-sealable bag.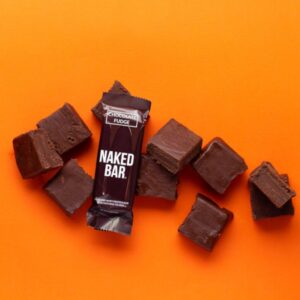 These new protein bars are packed full of quality nutrition. Each bar has 15 grams of protein and just 8 grams of sugar. The bars are primarily premium grass-fed whey protein, other ingredients include almond butter, cocoa powder, and monk fruit juice. Everybody loves a good granola bar, and this is a great one. Adults and kids will enjoy this yummy, fudge-like bar!
This fun and unique brand makes life with toddlers a littler easier. The cups that they design are long lasting and great for kids of all ages. Elk and Friends has mason jar and stainless steel cups available. Their cups come with with a silicone sleeve, lids with a straw hole, leakproof lids, silicone straws, and a straw cleaning brush. A really helpful design feature is the stopper on the straw. This is especially helpful with toddlers who like to pull their straw out of their cup. Each of the sleeves have a cute, fun design that is unique. There are birds, squirrels, leaves, and more that are raised and cut out. Not only can these cups be used for liquid, but they are also perfect for snacks too. The leakproof lids create a seal that is really great for bringing along on day trips or packing in the lunchbox. These are superb gift for kids or parents.
Mason jars are becoming quite popular these days. These Shanti Creations stainless steel lids are great for adding a little something more to your drinks. The lids are infusers that coffee, fruit, and tea can be added to for a yummy drink – on the go or not. Stainless steel is a very sturdy and durable material that will last for years to come. What's great about the lids is that they give mason jars another use, so they can be repurposed again and again. The Shanti Creations lads are dishwasher safe too, which is a huge benefit for everyone. This is a great gift for those on your list – coffee drinkers, tea lovers, anyone!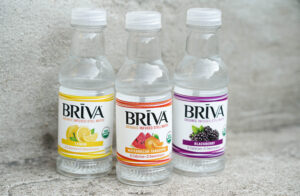 Briva Water
Briva is dedicated to creating healthy products that supports a healthier body and mind without compromising taste. Briva believes in using only the highest quality ingredients, ensuring our water is crisp, palatable and refreshing, without the nasty aftertaste found in most flavored water and seltzers. What we put into our bodies matters and that's why BRIVA organic infused still water was born, to give consumers a delicious and healthy alternative to drinking sugary water, seltzers, sodas and other unhealthy artificial tasting beverages on the market today. They have zero calories, zero carbohydrates and are Non-GMO & vegan. Flavors currently are available are: Lemon, Blackberry and Watermelon Tangerine.
Daily Crunch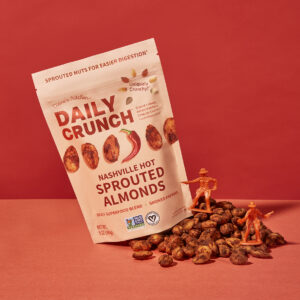 When you soak almonds in water for a long period of time, they "sprout". The result is easier to digest + more nutrient dense + crunchier almonds! Inspired by these health benefits + the "sprouted-nut-crunch", Diane, creator or Daily Crunch, began sprouting almonds and then dehydrating them, as opposed to roasting them, at home. She would then flavor them with real ingredients. She loved the way they tasted, and even more, the way they made her feel. MamatheFox loves to snack on healthy treats, and Daily Crunch is the perfect choice. Daily Crunch has a wide variety of flavors. Flavors like: Golden Goodness (turmeric and sea-salt), Cacao and Sea-Salt and the ever popular Nashville Hot! Check out their website for all the options and more information on how great these snacks really are.
Every foodie knows the value of anything from Wilton. They are the leader in the industry for a reason. They only provide high quality and useful products that last. This holiday they have released some super fun products. We just love the Gingerbread Kits! They are fun for kids and adults alike. After you order yours check out their website, it has a bunch of fun decorating ideas to get your creative juices flowing. A super useful product is there cookie cutter sheet. Its laid out in a unique design so that you only have to cut once, and all the shapes come through! Don't forget to grab your sprinkles, icing and other décor must haves.
True Primal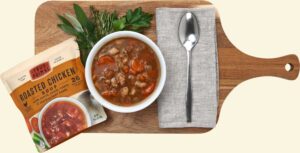 With so much going with the holidays I oftentimes run out of time to make a healthy dinner for my family. To solve this problem I use a little help from True Primal. It's the comfort food we crave as the temps get cooler. True Primal makes deliciously healthy soups that are free from preservatives and artificial flavors. They are gluten-free and paleo-friendly with real, high-quality ingredients. They even make sure all their meat is sourced ethically – all cows are free-range and grass-fed and chickens are pasture-raised. Their beef is 100% free-range, 100% grass-fed, with no feedlots ever. Cattle are raised in open range pastures, like cattle should be.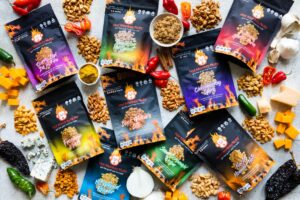 Hot Monkey Nuts
Spicy food lovers, look no further! Hot Monkey Nuts are the snacks that will have you craving the heat. Enjoy them on your own or for entertaining, just be sure to choose wisely! Select from Mild, Medium, Hot!, Very Hot!, and Insane! and see how this delicious brand has created a delicious combination of peanuts, flavor, and heat. The nine flavors are all gluten-free and Non-GMO with no added preservatives and Made in the USA. There's even a vegan bundle that makes a terrific gift for all your plant-based friends. These spicy peanuts contain different combinations of Carolina reaper, scorpion pepper, ghost pepper, habanero, jalapeno, chilli, cayenne, and ancho peppers in 9 AH-mazing flavors like sour cream and onion, salt and vinegar, cinnamon and sugar, 3 cheese, buffalo sauce and blue cheese, garlic parmesan, Jamaican jerk spice, masala curry, and hickory smoke and cheddar cheese.
Congo Tropicals: Arabica Ground Coffee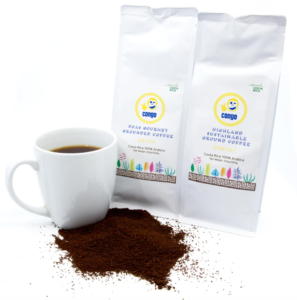 Delicious and robust coffee is here to change your taste buds! Available in both medium and dark roast, Congo Tropicals' coffee is harvested from 100% Arabica beans imported from Costa Rica. Their popular blend is a gourmet dark roast with a floral aroma, chocolate hints, and intense citric acidity providing full body flavor. It is also available in a medium roast with a softer floral aroma and dry herbed finish for a more robust flavor profile.  It is grown using traditional techniques with the latest technology without GMO's to produce the highest-quality organic coffee available. Congo also sells a variety of tropical produce. Produce like plantains, pepino melons, tree tomatoes and other exotic foods. This is perfect for foodies looking for some hard to find ingredients. Head over to their website to see all the amazing foods they have available to ship straight to you.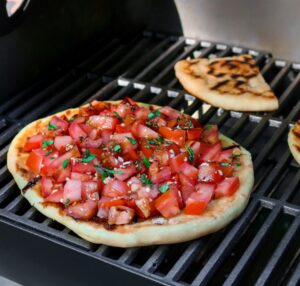 Atoria's Family Bakery
Atoria's Family Bakery offerings are perfect for wraps, pinwheels, flatbread pizza, panini, dips, chips and more this holiday season. Non-GMO and Vegan, the tasty varieties include New Roasted Red Pepper Mini Lavash, Coconut & Cauliflower Mini Lavash, Flatbread, Whole Grain & Flax Mini Lavash Flatbread, Traditional Flatbread, Garlic Naan Flatbread, Pita with Whole Grain Flatbread, Traditional Pita Flatbread and more. If you love the taste of fresh naan, then you need to order a few from Aroria's. My kids love to make homemade pizza on them. By allowing them to help in the cooking process they are more excited and willing to try new foods. They can add the types of toppings they prefer and the quantity they desire. Head over to their website to see all the great products they have available to ship.
The Naked Cookies are a sweet treat for those on your list. These cookies are baked fresh in the USA and great to have any time of the day. Eat them as a snack or dessert, or use them as a meal replacement. The nutrition content of these cookies are much different than other cookies on the market. High in protein and low in calories, sugars, and carbohydrates, they taste good too! Your gluten-free friends and family can enjoy these cookies because they are made with almond flour instead of wheat flour. The cookies are yummy and come in three different flavors – chocolate chip, sugar, and oatmeal raisin. With 10 grams of protein, these will fill up anyone on your list!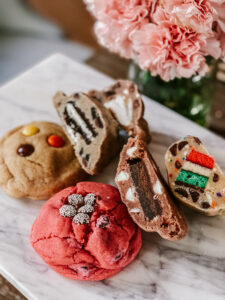 Honey & Rose Coffee Co – Secret Stuffed Cookies
Are you wanting a fun treat to set our when your friends and family visit this holiday? When you put out some Secret Stuffed Cookies you are going to hit it out of the ballpark! They are perfect with coffee, as a snack or as a dessert. The 4 flavor options are: Rainbow OG – A funfetti chocolate chip cookie, stuffed with a fresh Italian rainbow cookie.
O-Mellow – A chocolate chip and Oreo crumb cookie, stuffed with a double stuffed Oreo and mini marshmallows.
Peanut Butter Explosion – A rich peanut butter cookie, stuffed with a full size Reese's peanut butter cup, topped with Reese's pieces candy. S'mores – A classic chocolate chip cookie, stuffed with Hershey's chocolate and a marshmallow, rolled in graham cracker crumbs.
Brand-new for this year's holiday season, eat2explore's World Holiday Treats Part II. This fun, limited-edition, holiday treat box includes popular holiday treat recipes and ingredients from Turkey, Sweden and Colombia. eat2explore's holiday treat box provides tools for families to bake together, learn and dine on different desserts and cultures. You'll have a great time learning about the history of Turkish Sekerpare, Swedish Chokladbollar (chocolate oatmeal balls) and Colombian Natilla (Christmas custard) while baking up tasty treats. Each of the boxes include an easy-to-follow recipe and shopping list. The great part is the boxes do not include perishable products, so you can use the included ingredients and bake when you have time. If dessert isn't up your alley, eat2explore also offers savory boxes from 19 countries/regions like Italy, Mexico, Greece, etc. Kids will gain a mindset of respectful understanding and appreciate that people have similarities and differences while learning life skills in the kitchen.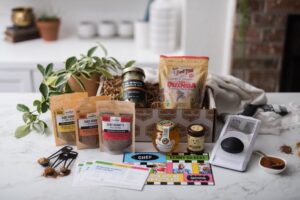 CrateChef
If you like to explore new recipes and ingredients then you have to check out CrateChef! When you purchase from CrateChef, gourmet items will arrive right at your doorstep!  Sign up for their subscription box or gift boxes and receive non-traditional curated kitchen favorites and pantry items handpicked by a top-name cooking expert. A different chef, cookbook author, cooking show star, restaurateur, recipe developer, or food blogger is featured every other month to expand your cooking horizons. Past chefs have included "Top Chef" Season 7 Contestant Chef Kenny Gilbert, TV Cook and YouTube Personality "Sam The Cooking Guy", and Pastry Chef and Food Network Personality Chef Waylynn Lucas. MamatheFox's personally loves that each box has a signed cookbook. It includes a sheet listing the special ingredients that are also in the box; giving you a little blurb about each product. The coolest part is each of the ingredients can be used with a recipe inside that cookbook! Click over to their website to see more about this super Foodie gift.
These reusable beeswax wraps are made individually by hand in small batches. From the washing and cutting of the cotton, to waxing piece by piece, to folding and packaging, they do it all themselves. Each wrap is held to the highest of quality standards and infused with an extra dose of love. Their beeswax wraps are super easy to clean. Just use a drop of soap and wash the wrap in warm water. It dries as if it is brand new. When treated and used correctly the wraps can last up to a year. The wraps are perfect to use with sandwiches, but can be used for veggies too; they are perfect to use in a lunch box. If you know someone who is switching out their plastic, Goldilocks is a great alternative. They have tons of really cute patters for their wraps, so you'll be able to find one for anyone on your list.