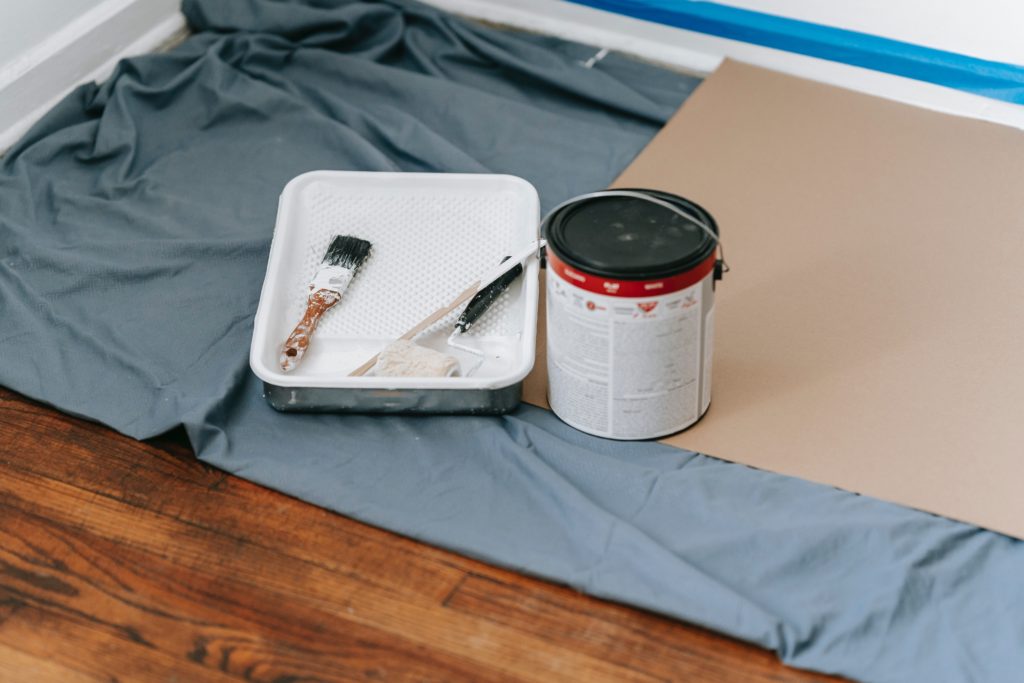 Home Improvements are something we always look to do. It helps us turn a house into a home. Somewhere we feel happy, comfortable and can forget about the worries of everyday life. You want your home to be the space you go to feel calm and relaxed not to give you stress. There are different home improvements you can do which can make your home look incredible and some of them are very affordable and will work for any budget.
Revamp Your Wood And Doors
Unfortunately, there are certain areas in the home which manage to get dirty and are used more so to wear and tear is more obvious. Take the stair bannister for example. How many times do people walk up and down then and hold on to the bannister? The paint starts to thin, it gets dirty or the varnish is worn. A nice quick fix that will give your home a cleaner and fresher look is simply to buy a tin of gloss emulsion paint. You can then run a quick layer of them all and give them a brand new look. It can completely transform the look of the room with very minimal effort.
Kitchen Cabinets Budget Makeover
Our kitchen cabinets are another overused part of the house. Looking worn, chipped paint and maybe even outdated. They can be given a makeover without the crazy expense of whole new cabinet units. You can buy wood or furniture paint and can get a brand new look for your cabinets. You could go modern and sleek and go for black or change things up and add a pop of colour. However, if the cabinets are damaged due to moisture or heavy pressure, you might have to replace them with new ones. In that case, why not go for inset cabinets that can sit flush with the cabinet frame giving a modern and futuristic look. Also, one way to make them look attractive could be by having new handles put on, you can pick them up from any DIY store.
Replace Your Windows
Windows are something that needs to be replaced every so often. Whether that be a double hung window replacement or a side window replacement, you need to assess your home to see what has to go and what requires a little bit of TLC. Windows are an important part of the home, keeping in the heat, not letting drafts in and being the way your home gets its natural light. So if your windows are looking a bit worse for wear it may be time to replace them completely. You can get amazing deals on things like a bay window replacement but you will need a specialist to do it for you.
Add A Lick Of Paint
One of the simplest ways to look at changing the way your home looks. It's cheap, refreshing and can transform your space. You could look to just simply add a neutral colour all over and then you can build on that in the room to add more character from a cushion, home decor, art and ornaments. The other option is to introduce a feature wall. This is where you have 3 neutral walls then one completely different so it stands out.
Replace All Of the Sealant
Sealant is in different areas in the house. The most common of course is the bathroom. You know the drill, it starts to go a bit brown, then becomes cracked, mouldy and brittle. It's not a nice site so spend an afternoon getting some sealant and going over it all so it looks fresh and new. You can even get easy applicators now so it comes out like toothpaste and is easy to apply.
Add A Secret Hideaway Room Into Your Home
Have you ever seen a spy film where they just make a room appear from nowhere, how amazing would it be to have that in your home? If you have a spare room that you don't really use then you too can have that without it costing a lot. It could be a secret playroom for the kids, a work space, a place to relax and unwind or maybe even a place to hang out with friends and have a drink. All you need to do is install a bookcase door and it will hide the location of the room.
Transform Your Entrance To An Inviting Sight
A few simple changes can make the entrance to your home very inviting and a welcome sight to come home to. One of the first jobs is to paint the front door. Choose a cheerful and bold colour to make or stand out. You can also update the door with new hardware like a new knocker, letterbox and door handle, as well as your house number if it is on there. Maybe add a beautiful drum shade chandelier to create a statement look to your entryway! Then a few finishing touches like introducing a quirky or beautiful door mat, whatever your style is. Add some potted plants and even a small tree on each side of the door and it will be transformed. You could easily do this all in an afternoon on a weekend.
Create A Whole New Atmosphere In The Room
A quick and simple way for you to change the atmosphere in your room, introducing a more romantic vibe on date night, cosy lighting for Autumn nights in and the vibe of a restaurant when you are having dinner guests is by simply installing dimmer switches. It means you can choose the level of lighting in the room and you don't have to have really dark or really bright lights as your only two options. You can also create a new atmosphere by adding in some home decor items. You could find awesome things that cost 30 dollars or less and change the whole vibe of the room. If you're not sure where to check for such affordable things, check sites like novelty street.

Add More Storage To Your Home
Everyone always needs more storage, we are always buying new things and needing to find places for them to live. It could be as simple as introducing some floating shelves, or bookshelves to a room. Or you could add some bigger storage spaces like adding storage cubbies under your stairs or expand the closet space you have if you want to go big and add a walk in wardrobe. However, in a hurry to create more storage options in the room, homeowners often forget that removing the unnecessary and unused items can also help create a larger storage area. By removing the hoarded items from your old wardrobe or bookshelves, it could be possible to get the extra space that you need. Yes, you might need the help of Junk Buddy or similar junk removal service providers to clean the hoarder junk. But in the process, you can at least be sure that you do not have to do the daunting task alone.

Transform Your Attic Space
Most people use their attic space to store old things that could probably of been donated or thrown away, to keep the Christmas tree in lots of other stuff. However it is such an amazing space to make use of, the size of your house with a bit taken away due to the roof. It is one of the more expensive home improvements but you can add a whole new room to your home. It could be another bedroom, a playroom for the kids, a home office or simply anything you want it to be. You will need to hire help for this but when it's finished you will be so pleased and will make your home feel new as well as adding a lot of value to the house price.