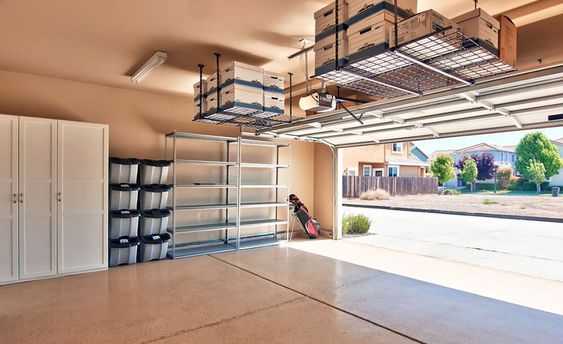 Image Credit – https://pinterest.com/pin/430093833153652101/
A garage can offer overwhelming space if it is properly organized. Unfortunately, most of us dread organizing our garages and leave them cluttered. However, following some tips and products, you can manage the garage in the best way possible. In addition, you can get premium-quality and durable overhead garage storage items from professional companies. Have a look at this article to know the best overhead garage storage ideas for a well-organized garage.
Ceiling Racks
You can store your items in the ceiling racks. Then, whenever needed, you can take the required stuff out and place the remaining stuff back. A good quality ceiling rack can hold up to 600 pounds. It will make your floor mess-free, and you will get a lot of space to put other stuff or sit and do your work. These racks are perfect for placing things like holiday decorations, etc.
Industrial Shelves
These shelves are sturdy, tough, and excellent to manage your items in the garage. You can get them in various sizes. They can hold a lot of items. It is easier to grab items through these shelves, and they don't take that much space.
Walls Storage
Walls are the best way to organize your junk and make a lot of space in the garage. You can get wall hooks and shelves and install them easily. Then, arrange your items according to the requirement on the shelves and make your life easy. Hooks can hold up stuff while leaving so much room for you to sit or work. Slatwall panels are another space organizing product. You can hang small and most needed items on it. Then, you can adjust them according to your need.
Corner Storage
Right when you think that there is no space left, have a look at the corners of your garage. This can serve as the best spot to place the kind of stuff you want to grab frequently. You can get shelves for the corner, and it would provide you extra space to place your items. It can be a very common habit to dump things in a garage in empty spaces, but by utilizing proper storage racks, you can easily organize your garage. For example, you can install a firewood rack in the corner to store wood for winter instead of tossing it in the corner of a room. Moreover, it could be beneficial to protect the wood from getting ruined due to moisture and mold.
Storage Bins on Racks
If you think you don't need stuff often, you can place them in storage bin racks. They are attached to the ceiling and give plenty of space to your garage. You need to find storage bins that are durable and sturdy. Take note of how much weight a single storage bin can hold, and don't put any more weight in it. Clear bins will be a good choice if you want to see what's inside without opening the bins.
Pulley System
You can hang some items with the help of a pulley. Cycles are the best to hang with the help of a pulley which provides you so much space on the floor. The pulley must have a rubber-coated hook so that your items will be saved from slipping or getting scratched.
These were some of the best ideas to organize your garage and reduce the mess. A properly organized garage will not only provide you space but will also become a great place for you to hangout and do your work.