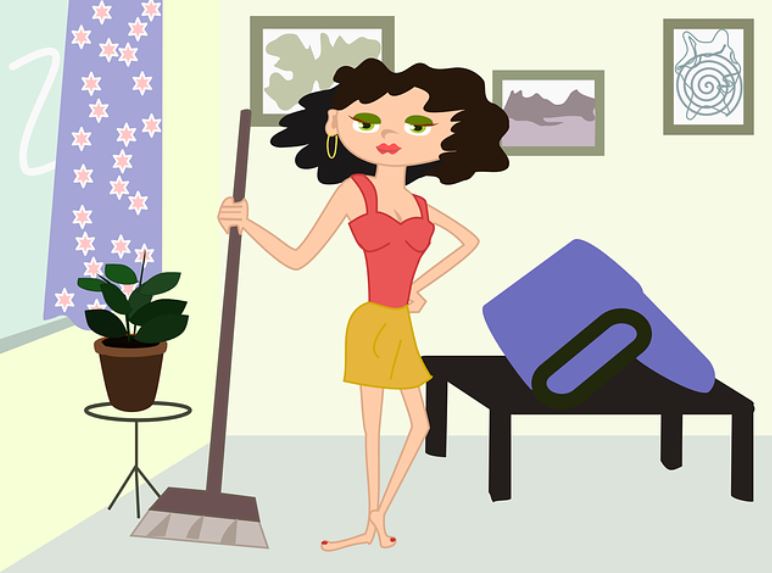 Image by OpenClipart-Vectors from Pixabay 
Cleaning your house sometimes feels like it never ends, if you do a bit one evening and then a bit the next, by the time you've got around the whole house it's time to start again, so sometimes it's a good idea to not only do it all in one go but to do a thorough deep clean all in one go. Set aside some time, it doesn't have to take all day even but give it more time so that you can get stuck into the areas you usually skim over.
How To Deep Clean The Kitchen
If you wash floors and wipe surfaces every week, concentrate on kitchen appliances and cupboards for a thorough clean. Open the windows, get any pets out of the way and go through this list:
The Fridge
Clear out the fridge, remove any old food and wipe out drawers and compartments with a damp cloth
Cupboards
Empty wipe down cupboards and throw away anything that is out-of-date.
Floors
Sweep and mop the floors, pull out any removable appliances such as the cooker or the fridge and clean underneath and behind
The Hob
Scrub your hob using a cleaning product that is suitable for the type of hob you have; it's likely to be ceramic, glass or hot plate
The Oven
You can either find a video on how to clean your oven if you're not sure or, get a professional in to save you the job. 
How To Deep Clean The Bathroom
Having a clean bathroom can make a world of difference to your house, make it sparkle, and once you're done, you can treat yourself so a long relaxing bath. 
Surfaces And Cupboard
Wipe down all the surfaces and clean out the cupboards, and throw away any out-of-date products or medication
Tiles
Clean tiles with a scrubbing brush, and make sure you pay attention to any mold or mildew that has built up on the grouting. If this is bad, then have a look for professional mold services to help you out.
The Shower And Bath
Try using natural products like vinegar and baking soda in the bathroom as these are useful for removing tough soap scum. You could also use a disinfectant on areas where bacteria are likely to build up. 
The Toilet
Not the most glamorous of jobs but the toilet does need a thorough clean, using a toilet cleaner to tackle hardened limescale build-up
Accessories
Wash any bath mats, your shower curtain, all hand towels, and face cloths, anything you have in there, take it out and bung it in the wash. 
How To Deep Clean The Bedroom
As well as the general, vacuuming, dusting and wiping surfaces, to do a real deep clean pay special attention to:
The Curtains And Blinds
Wash curtains and or dust blinds but make sure you always read the care label first before putting anything in the washing machine
The Bed
Wash all your bedding and flip your mattress while you're at it.  But if you are doing it for years, better to purchase a new mattress. You may check this review portal MyBestMattress for variety of mattresses that high quality yet affordable.
The Clutter
Sort and re-arrange wardrobes, concentrating on 'junk' drawers and forgotten storage space.