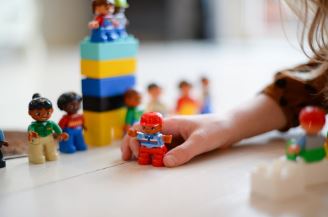 Image via Pexels
Of all the many balancing acts of parenthood, trying to get your home right has to be one of the most challenging. It's a constant battle between you wanting a stylish space that expresses your personality and facilitates family life, and creating a home which is child friendly and not too overtaking by the tide of baby equipment and toys that having children tends to bring. A sleek, Minimalist decor may sound perfect – but is it realistic and practical? Making a few small adjustments can have a huge impact in making your home much more conducive to family life while still keeping it looking great.
Create A Dedicated Play Area
If you have the space, creating a playroom space for your kids is a great move. It helps to keep toys, books, gadgets and games contained in one area and also lets children have the space to explore and play without being in the way. If you can dedicate a corner of the family room or kitchen, so much the better as you can keep an eye on playing children. Set up a soft rug and some extra storage for toys and you have a great play area that your children will enjoy.
Pick Hardwearing Surfaces
The wear and tear that your house can go through during the normal course of family life can be extreme, and the signs can soon show in your home. Pick surfaces such as flooring, work surfaces and wall coverings according to how durable they are. This doesn't have to mean compromising on style – there are plenty of stylish and durable finishes available that you may not have considered such as Stained Concrete or new paints which are washable so any traces of crayon can be wiped off! Consider what may be an impractical choice as well – for example, that super modern high gloss kitchen looks fabulous in the brochure, but once it's covered in sticky toddler hand prints that you have to continuously wipe off it isn't going to look as good! Choose the highest quality, sturdiest materials you can afford for your home and they will stand up to the test of time.
Add In More Space
There's little doubt that children and their possessions can tend to take over a home, but before you consider the expense and stress of a move, consider whether it's possible to squeeze extra space out of your existing house, perhaps by investing in a loft conversion or home extension. Many families also opt to add a freestanding garden studio if they have outdoor space available – this can act as a home office, gym, studio or even as a hangout space for older kids and a playroom for smaller ones. There are also generally corners of the home that are dead space and can be adapted with some clever carpentry work into extra storage – always a welcome thing. Having said that, if you're thinking of any house extension or renovation project, try to get in touch with AB Builders Borehamwood or wherever you're located as they could provide you with various ideas on how to go about making your home look unique.
Go Open Plan
When you have a family, you need to be able to supervise children at play, and it's also nice for the family to be together even when pursuing separate activities. For this, an open plan layout works best. Consider how you could alter the floor plan of your space by opening it up and removing some internal walls. Not only will this give a lovely feeling of space, but it can bring areas that are currently underused up to their full potential and transform the whole feel of a home.