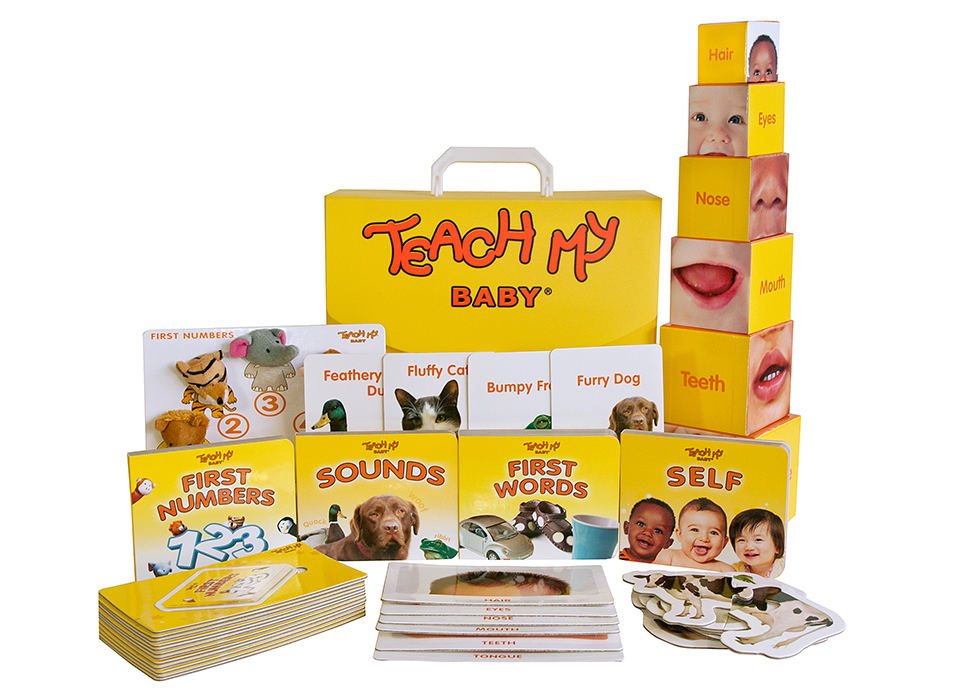 Teach My is the creator of award winning learning tools. They provide toys to help parents give their babies, toddlers, and preschoolers a head start in their education. Teach My's engaging fun products cover the educational basics; language, alphabet, colors, shapes, numbers, reading and even math. In addition, their toys help develop social, motor, and language skills. You can shop a range of learning formats that meet the dynamics of your family. Teach My Baby Learning Kit is full of developmentally appropriate activities for infants that are screen-free! Included is Teach My First Words, Numbers, Self, and Senses learning sets. With an encouraged 20 minutes a day of parent and child playing, Teach My products are sure to boost your littles self esteem as you bond and engage over educational activities.
The bbluv's versatile playmat is the only playmat you'll ever need for your children. The durable and waterproof non-toxic material is easy to clean and flexible enough for rollable easy storage. Baby and kids are kept secure with super comfortable cushioning. Bright and colorful patterns are eye catching for little ones, while promoting learning and curiosity. The reverse side is a neutral gray for subtlety or a calming contrast. bbluv is a high quality company that delivers practical and functional items to make parenthood easier and babies happier.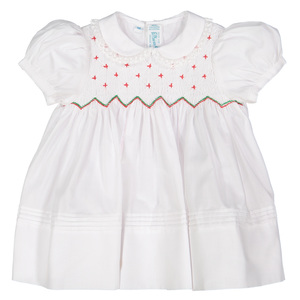 Make your little one's 1st Christmas extra special with a Feltman Brothers dress. This holiday dress has vintage inspired design and beautiful intricate hand-embroidery. The delicate holiday colors are the perfect pop of holiday spirit against the perfect crisp white. Classy French lace along the color makes this piece extra fancy for those special holiday occasions. A coordinating boy's creeper makes for adorable "twinning" for families of multiple kiddos. Be sure to check out the rest of Feltman Brothers distinctive collection for authentic and timeless fashion for babies and toddlers!
OXO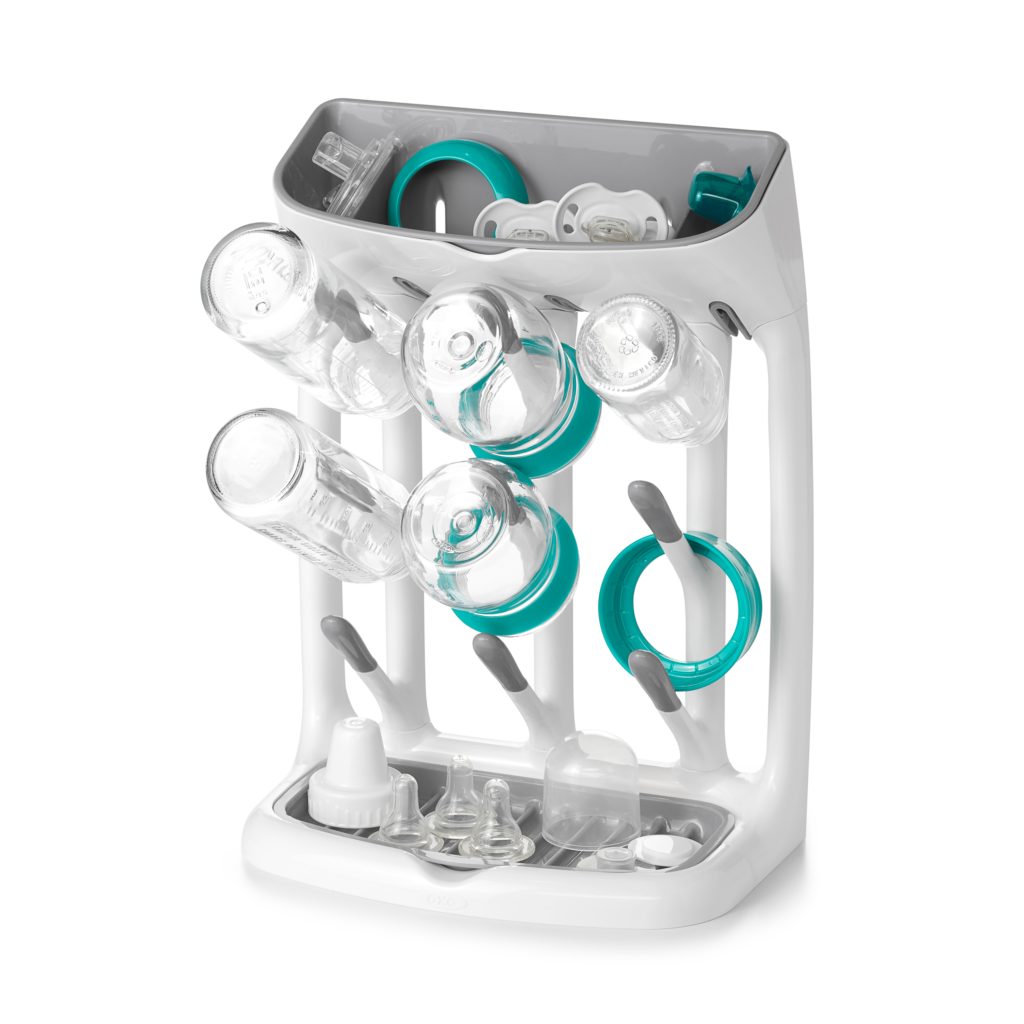 OXO Tot delivers some of the most innovative and simple solutions to life with kids. The OXO Tot space saving drying rack is perfect for any kitchen, but especially ideal for small spaces. Its vertical design frees up counter space while still efficiently drying bottles and accessories. The angled pegs assure water gets out and leaves dishes moisture free. Pacifiers and small parts can conveniently dry on the top or base. Give the gift of organization and some extra space to that new mama in your life! This works with compatible baby bottles, like the ones outlined here by HMHB.
This drying mat is amazing. Having one myself, we use it everyday. The rib design aerates and elevates drying dishes allows your dishes to dry quicker and stay sanitary after being washed. With baby(s) in the home, keeping things sanitary is a high priority; this drying mat is the perfect solution. Place just-cleaned bottles, nipples, and pump parts on the mat to dry and have assurance that they're staying baby-ready. The mat is also heat resistant up to 425 degrees, so it doubles as a trivet! It's large so it can hold multiple small pots and/or pans or large pans and platters. We love OXO, so be sure to check out the other products they offer; there are hundreds!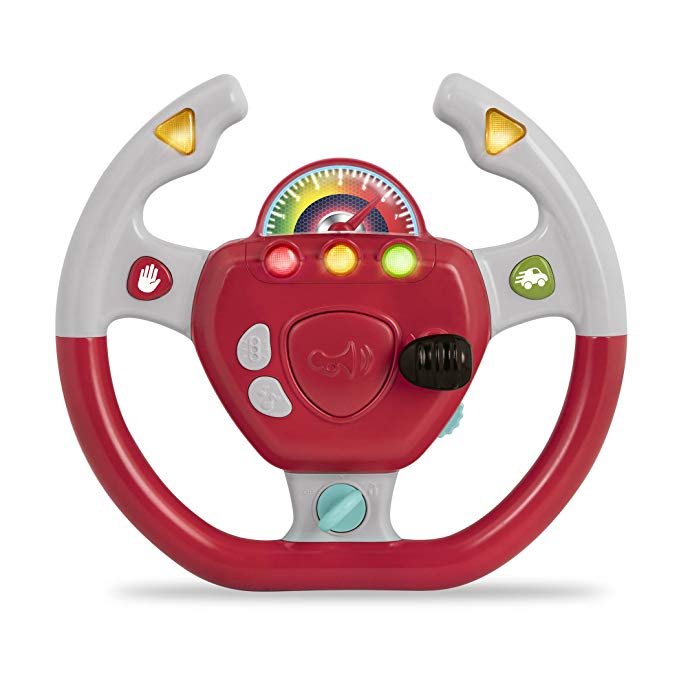 Every kid can't resist the fun of a driving wheel! The Battat Geared to Steer Driving Wheel is interactive and portable. Imaginative play is heightened with realistic lights and car sounds. Moveable parts and noisy buttons makes any kid feel like they are in control. Also included is a game mode for fun and educational entertainment. This Battat Driving Wheel would make an excellent travel gift as families spend time commuting during the holiday season! Be sure to check out the rest of Battat's developmentally appropriate and engaging toys!
For all those tired Mamas out there, Doodle Pants knows how you feel. The hilariously cute baby bottoms were created to up the cute factor in your home while still bringing function and convince to dressing your dragons…I mean kids. Today Doodle Pants has a collection of comfy baby leggings, hooded towels, baby onesies, kid pants, even adult and toddler 3D hoodies! But one thing is for sure, their eye catching adorable wear is definitely made for comfort and letting your kids move like kids! MamatheFox especially loves them because they fit perfectly over cloth diapers!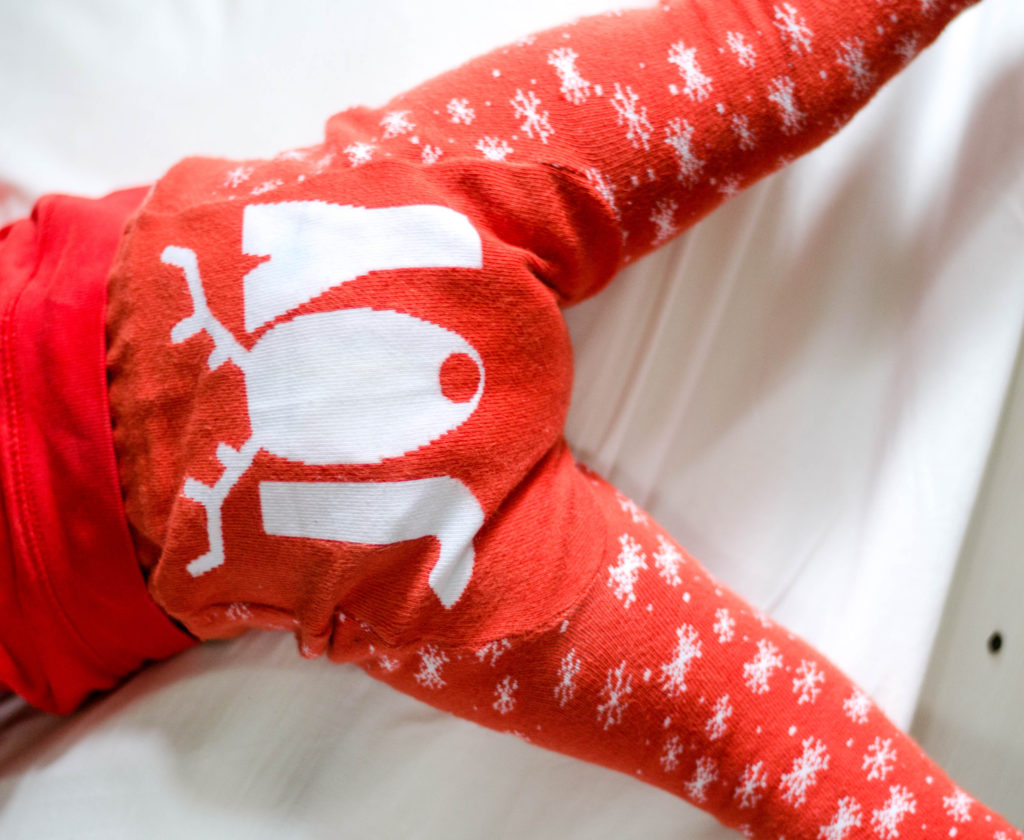 These holiday inspired leggings are just the perfect attire for any family gathering or event! They are cozy and soft while still bring some style to your child's holiday get-up. Speaking of cozy, you might also want to get yourself some custom blankets with photo of your kid dressed up in these cute leggings for your winter shenanigans! Well, this is not technically a gift for your child, but you need to be pampered, too. Anyway, for the past two years my daughter has shown up to Christmas morning with a big itchy dress, however after a few good pictures she normally sneaks into her pajamas. I love that Doodle Pant's Joy leggings are stylish enough to be under her dress, and when she is sick of the dress its just a simple shirt change! Then we both win with comfort and style!
Doodle Pant's Blue Winter Moose Leggings are just something to swoon over! The snow flake pattern is perfect to be worn all winter season and and can easily be for girls or boys. My favorite part is the giant graphic moose on the butt. It brings an adoring chuckle and is sure to keep you smiling through every diaper change. These leggings come in a bright wintery blue or a soft neutral gray! Don't forget to search Doodle Bug for possible matching pieces to complete the outfit!
After noticing a lack of sustainable, Eco-friendly baby dishes, Avanchy was born. Their collection includes plates, bowls, spoons, and forks. The products are designed with practicality and safety in mind and are made from organic bamboo; they are non-toxic, earth-friendly, BAP, BPS, PVC, Lead, and Phthalate free. The plates and bowls lock with a suction cup, airtight-lock mechanism. Simply press down on a hard surface and the suction cup will stay in place, this reduces spills and makes meal time much more manageable. The forks and spoons have a silicone tip with a bamboo handle. Kids can eat safely without doing damage to their mouth or gums. The best part? The Avanchy products grow with kids, from infants to toddlers, and beyond, these products won't disappoint.
This family owned company was created to keep our kiddos and planet healthy. All of the WeeSprout products and packaging are made from recyclable materials, so they really are doing what they can to make every aspect of their business 'green'. The reusable pouches they make create less waste and in turn keep the environment clean[er]. The zipper at the bottom of the pouch makes filling them up a quick, easy process. The duel zippers close easily and are super strong, so you won't have any leaking problems. Get creative with the food you're giving your kiddo and feed them true, raw, and natural ingredients. Applesauce, smoothies, yogurt, baby food, fruit or veggie purees; the options are endless! The WeeSprout pouches are perfect for kids of all ages. Be sure to check out the other products on their site, they will not disappoint.

All the mama's of MamatheFox currently or previously cloth diaper their kiddos. Because of the chemicals and waist that disposable diapers contain and produce, cloth diapering is an awesome alternative. Geffen Baby is right there with us. Creating the first universal cloth diaper insert, they seek to be as organic as possible. Made from 40% organic cotton and 60% hemp, baby's bottom is going to feel great while wearing them. This makes the performance of the fabric more durable and more absorbent than your regular cloth insert. Leaving nearly no carbon footprint in their manufacturing process is just one way they try to eliminate waste and pollution. Geffen Baby offers prefolds, absorbers, flat diapers, wipes, nursing pads; if you cloth diaper or want to, go check out the Geffen Baby product line!
Being as eco-friendly as possible is many people's goals these days. Wean Green is looking to do just that. Their 'goal is to ensure your eco-footprint does not grow faster than your baby's sweet little feet.' Plastic is a huge problem for our planet, so Wean Green products are reusable and recyclable containers. There are no BPA, Phthalates, or plasticizers because glass causes no chemical reaction(s) to foods. Tempered glass has amazing strength and is 3-5 times stronger than a normal drinking glass; this greatly reduces the risk of breaking, and in turn will allow the container to last longer. The airtight lids give a perfect seal to avoid spills and/or freezer burn. All of Wean Green products are dishwasher, microwave, and freezer safe too!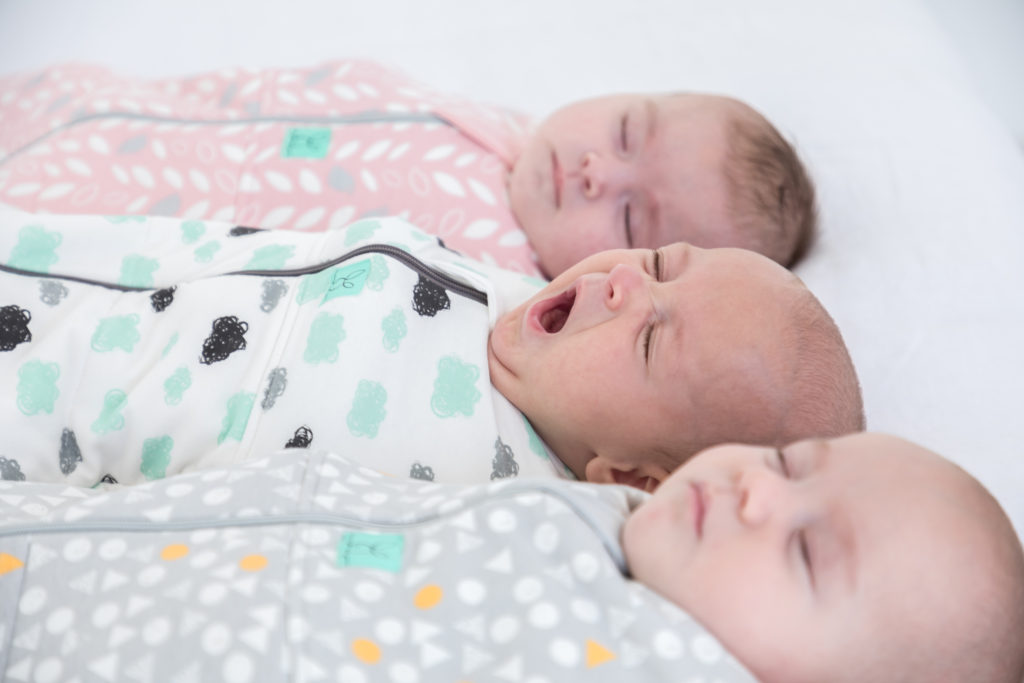 Oh you have a baby, know a baby, seen a baby? Then you've probably discussed their sleeping habits! A full nights rest free of worry seems like only a dream to most moms. ergoPouch is an award winning manufacturer of organic sleep products that are specifically designed for better night's sleep. They've engineered a wide range of bags including swaddles, sleeping bags, sleep suits, and ergoArms; covering ages newborn to 36months. The ergoPouch Sleep Suit Bag is one of their most innovative products as it converts from a sleep bag to a sleep suit with legs using zippers. Their products are ergonomically designed for optional hip development, and have been recognized as a hip-healthy product. Natural breathable fibres such as organic cotton, bamboo and merino are used in the making of their pouches. An added bonus is the fashion forward adorable prints! ergoPouch loves sleep and is backing you up with moms just like you.
The Bioserie toys are made with safe ingredients, that's what sets them apart from other toy brands. With absolutely nothing harmful, these toys are the perfect product to give your kiddos. The plant-based materials means that there are no toxins, carcinogens, disruptors, retardants, GMOs, heavy metals, pesticides, solvents, or VOCs. Those are all some pretty scary words, am I right? Well, you can rest assured that special, hard to meet guidelines are needed to receive the certifications that Bioserie has. These unique, specially made toys are a perfect option for any kiddo you need to buy a gift for. Use the link above and take a look at their cool products.
We love the Handsocks brand. Created to keep little baby hand warm, these are the perfect solution for winter. Handsocks are more like socks and less like mittens. The sleeve-like effect that the socks give reaches up to baby's armpits; they really take a lot for baby to pull them off. Not only do Handsocks keep little hands warm, but they protect fresh babies from scratching themselves. These are a lifesaver when in the hospital with a newborn. The soft fabric is perfect for on the skin. Not only that, but the Handsocks keep fingers warm all while protecting skin from sharp nails. With sizes ranging from newborn to 3T, they are versatile for many kids.
Based out of Sweden, the DockATot was created to give every baby a comfortable environment to be surrounded in each day of their lives. This comfy contraption allows mothers to feed, soothe, and bond with their baby; there is nothing it on the market. The DockATot is ideal for co-sleeping and bed sharing, it's designed to offer a sung, womb like environment, facilitates tummy time when kiddos are a little older, is ideal for travel, and is very multi-functional. Materials used are high quality and offer comfort . The OEKO-TEX fabrics used do not harbor heat and ensures the micro-climate is the best for baby. The fun designs speak to any momma out there, classy and oh-so-cute. Give this to baby and mama will thank you.
The Grabease self feeding utensil set includes a fork and spoon. These utensils are one of the safest ways for babies to learn to self feed. Proportional to baby's hands, these ergonomically designed handles are easy to use and grasp. The choke protection shield is a lifesaver for little mouths. The Grabease utensils are BPA free and FDA tested and approved; giving parents security and confidence. These are such a great gift your little friend, niece, nephew, child, or grandchild.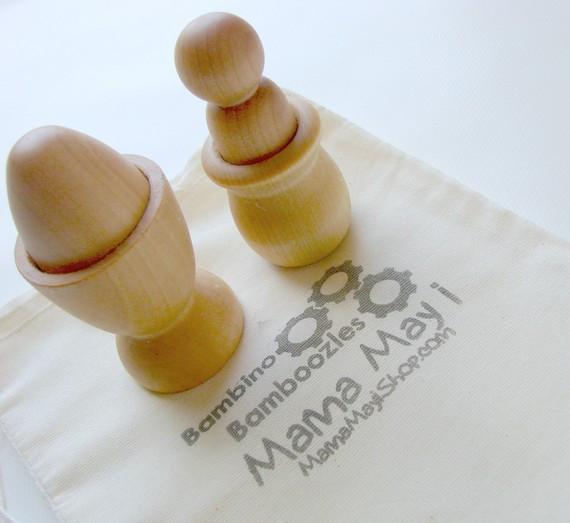 Mama May I is a handmade shop dedicated to making learning into play and playing to learn. Their learning toys are made of high quality natural materials and are designed with developing brains and exploring hands in mind. Mama May I toys allows children from birth to elementary to use their imagination by playing with open ended toys that are simple yet engaging. In addition, their research based designs help children of all ages develop and exercise fine motor skills and explore the world around them. Mama May I's baby collection consists of beautiful yet simple toys to spark curiosity and engage the senses. They encourage social time with parent and baby but are also safe and engaging enough to be independently explored. See the world in a fabulous new way this holiday season by supporting and nurturing her developing senses.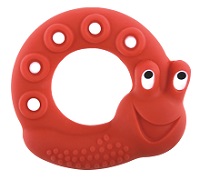 Every mom loves a practical and simple gift for her new little one! Check out MAM this holiday season for all your real parenting solutions. Their wide range of products include: pacifiers, baby bottles, cups, teethers, oral care, and coordinating accessories. Since 1976, MAM has been committed to creating products that support the individual development of each child. Their products are innovative, medically functional, and are eye catching with contemporary designs. All MAM products are free of BPA, BPS, lead, and phthalates. MAM Teething friends are the perfect combination of toy and teether! Made from 100% natural rubber each friend is soft to the touch and has a variety of textures and curves for exploring. Each friend toy is strategically designed for little hands to grip and easy to clean. Parents can have peace and comfort knowing their bundles of joy are using safe and developmentally engaging products. So whether you're shopping for a newborn or a three year old, MAM has something for everyone!
B. Box –
Click here to purchase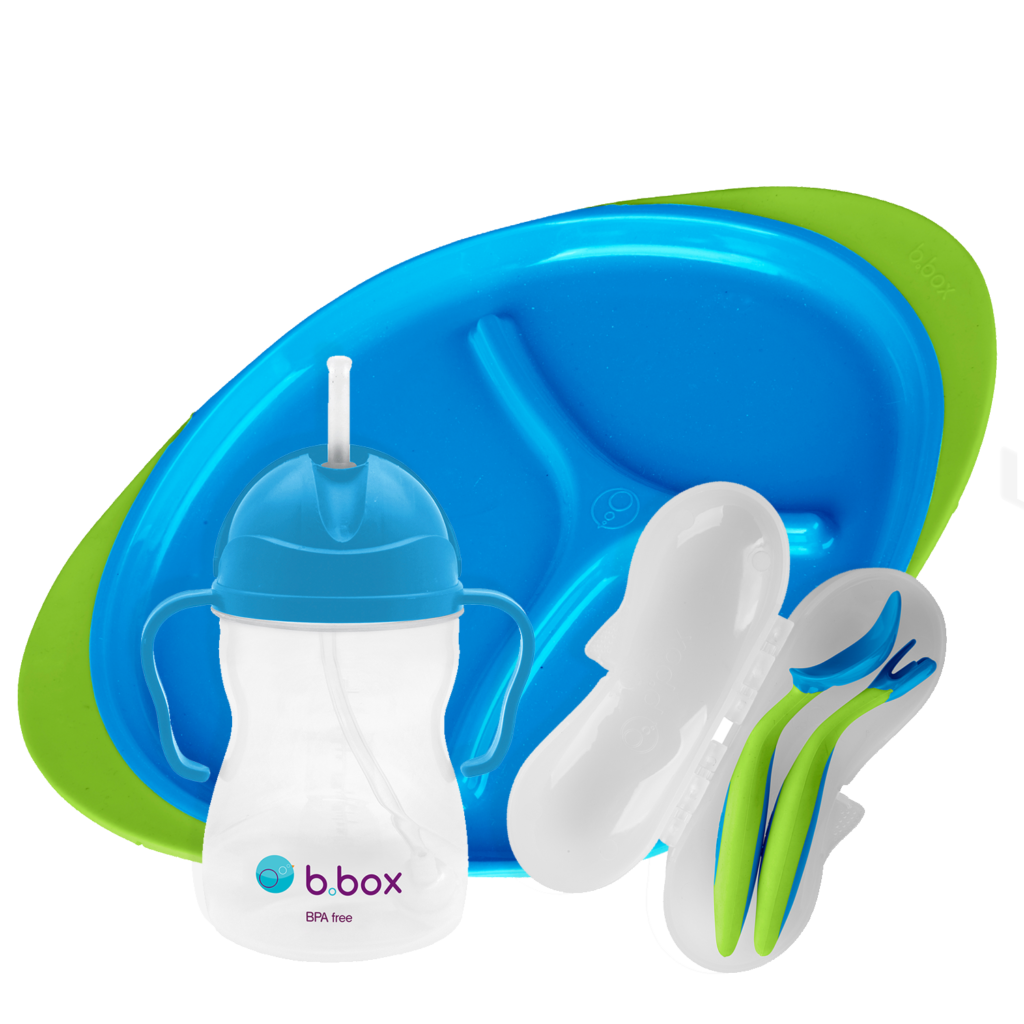 B. Box has a passion for creating fun and functional baby essentials. They are dedicated to making parenthood a little bit easier with simple, high quality, and affordable products. Their products are not just practical, but also adorable with unique bright colors and sleek modern designs. This Australian based company started with the diaper wallet and has continued to grow to 20 products sold in 800 stores Australia-wide and in 35 countries. We love their new feeding set that comes in three vibrant colors. Each set includes b. box award winning sappy cup, toddler cutlery, and divided plate, all in a liftable box set. Check out B. Box and their FUNctional, innovative products that are perfect for any kid.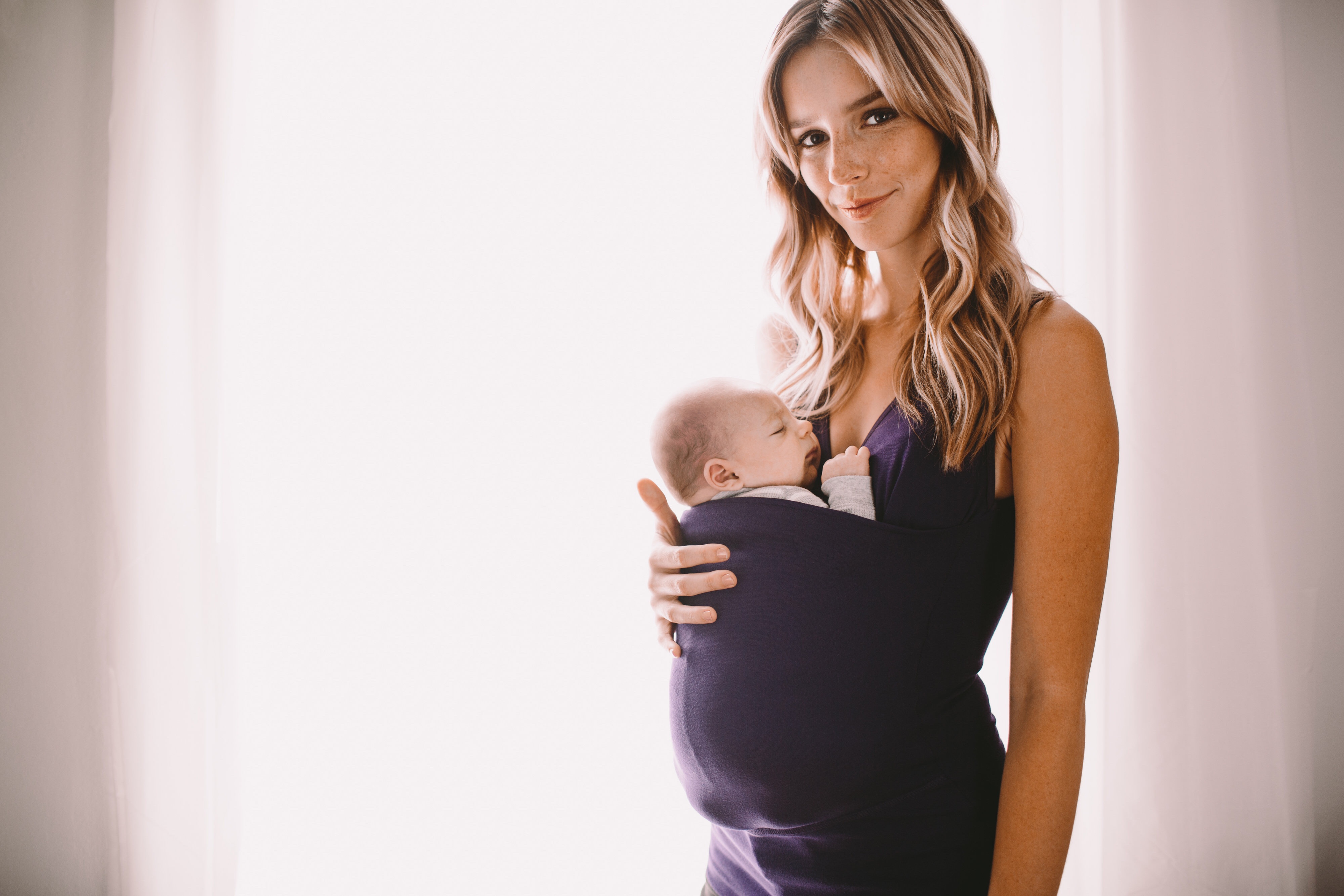 When connected to their parents, babies feel very safe and secure. Babywearing jump starts learning because babies can easily observe how the parent moves, talks, and interacts with the world around them. The creators of Lalabu wanted parents to be able to wear babies easily so they would wear them more often. Simplifying babywearing was the perfect solution; they combined the clothing and gear into one brilliant design – the Soothe Shirt for moms and the Dad Shirt for dads. The simple design means there is no wrapping, adjusting, or tying involved, just simply slip the baby into the open pouch an go! The polyester, rayon, and spandex blend that creates the softness of the shirt is just that – soft! Not to mention, the inner mesh panel provides breathability which is perfect for keeping parents comfortable. This shirt allows parents to be hands free, all without putting on any extra gear.
Baby Benjamin
These 4-in-1 nursing covers are so versatile and perfect for moms at any stage of life. Really, this nursing cover has way more uses than four. Use it as a cart cover, high chair cover, car seat cover, blanket, or fashion accessory – scarf, poncho, or hood. A variety of different colors are offered with the cover too, any lady will be pleased with one. The colors all have a different meaning and those meanings are highlighted upon receiving the cover. Made from rayon, these covers are so soft and super cozy; a perfect blanket for baby. A matching bag and bib comes with the cover, so really you're giving three gifts in one! With the lifetime warranty that Baby Benjamin offers, the nursing cover can be used to the very end.
Sophie Bag – Click here to purchase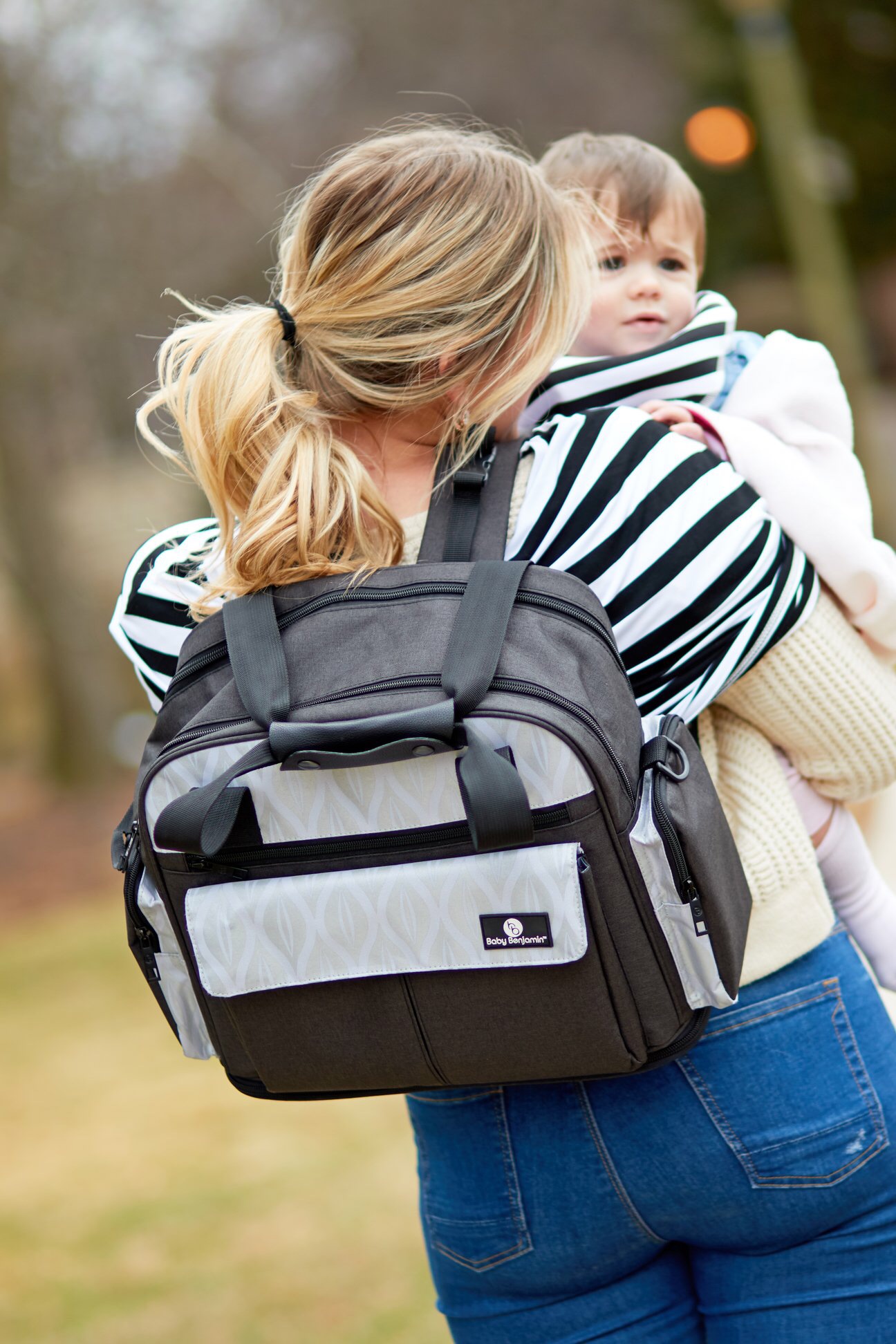 Small diaper bags with the functionality of a large bag is what all parents want. Ample storage, large pockets, wet wipes dispenser, key ring, three insulated pouches, place for diaper changing mat, and an extra bottom compartment. The double zipper is super convenient and makes accessing anything in the bag a breeze. The easy-carry bag can be used five different ways – stroller bag, clutch bag, tote bag, messenger bag, and backpack; seriously amazing. Seriously, this bag is great for new and previous parents. The bag, as with any Baby Benjamin product, comes with a lifetime warranty, which give security to any user. This bag is the perfect for new (or not new!) moms.
Created after realizing parents didn't know how to properly swaddle their babies, Swaddle Designs allows you to properly swaddle baby so they are comfortable and sleep as well as they can. Swaddles, sacks, and baby essentials are all offered by Swaddle Designs, and the majority of their products are sewn in Seattle, Washington. The Transitional Swaddle Sack is a bridge between a swaddle and a sleep sack. Some unique features of the swaddle sack include fold over mitten cuffs and a two-way zipper. But the most unique design of theirs is the 'arms up' design. This allows baby to self soothe by having access to their hands. The Transitional Swaddle Sack is perfect for new parents or a new baby. The Ergonomic design is great for babies and really allows them to sleep comfortably while being secure.