Modern Oats Carrot Apple Cookies
Written by Marquardt Chick: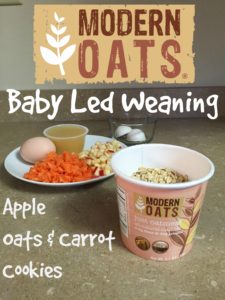 Baby Lead Weaning is a very popular way to feed babies now-a-days. MamatheFox wishes she did this with her son, but is thankful that Marquardt Chick has taken this route and they have both learning some awesome new recipes and about the human anatomy and digestion. To learn more about Baby Lead Weaning we suggest looking at this book.
Baby-Led Weaning: The Essential Guide to Introducing Solid Foods-and Helping Your Baby to Grow Up a Happy and Confident Eater
Here is a fun and healthy baby lead weaning recipe you can use
Modern Oats Carrot Apple Cookies
Modern Oats, Just Oatmeal – 1 container
3 tablespoons flour
1 egg
2 tablespoons applesauce
1/2 cup chopped carrot
1/2 cup chopped apple
Preheat oven to 350. Mix all ingredients together. Use a spoon to transfer scoopfulls of dough to a greased cookie sheet. Bake for 12-15 minutes. Yields 12 cookies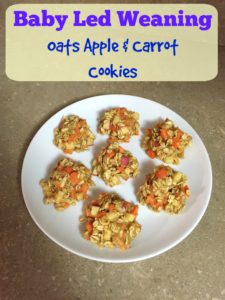 Would you like to find more Baby Led Weaning tips and ideas? Head over to our friend My Baby Care  – she has a new article that is perfect for parents looking how to start Baby Led weaning safely.