Kushies Bath Giveaway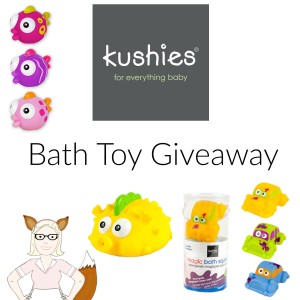 Read the full review here
Kushies is a Canadian business with all products made in North America. They sell everything from clothing and toys to diapers and bath accessories. No matter what baby product you are looking for, odds are Kushies has something for you.
Now you can enter for your chance to win a prize pack of Kushies Bath items!
One person will win:
(1) Kushies Bath Squirter Blowfish
(1) Kushies Bathmat Owl Set
(1) Bath Squirters Going Places Set
(1) Kushies Bath Squirters Going To Shore Set.
Thank you for stopping by the Pot O' Gold giveaway hop hosted by The Anti-June Cleaver and Our Piece of Earth.
It's almost St. Patrick's Day so what better time of the year is there to get lucky by winning a great prize?! We have teamed up with an amazing group of bloggers to bring you a bunch of great prizes that are sure to appeal to everyone. As always, after you have entered a giveaway visit the linky at the bottom of each post to visit the other blogs for more great prizes.
Valued at $54. Open to US and Canada