I love a crisp salad. Here is my version of a southwest salad.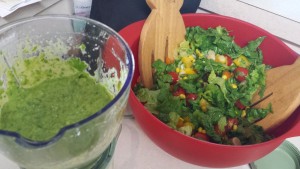 Ingredients:
Salad:
Romain lettuce (chopped into strips)
Green onions (chopped finely)
1 Can of corn (rinsed)
1 Can of black beans (rinsed)
1-2 Large colorful bell peppers (chopped finely)
Pint of cherry tomatoes (sliced in halves)
Dressing:
1 avocado
1 bushel of fresh cilantro (break off stem **where the rubber band is)
1 lime (roll before squeezing to loosen liquids to make it easy on yourself)
1/4 cup of olive oil (California is a nice option but use whatever you have on hand)
1 teaspoon of salt
1 tablespoon of cider vinegar
Blend dressing in whatever blending device you like…I used my infants baby bullet because it was on my counter at the time. If it blends it will work!