Four Money-Making Options for Stay-at-Home Moms
As a stay-at-home mom, it is important to have time for family and to care for the home. Nothing can beat or replace quality family time. On the other hand, bills can be tight so, the need for more income might be pertinent.
If that is the case, you don't have to necessarily get back out on the job market. There are many ways to make money from home such as trading penny stocks, offering graphic design services and more.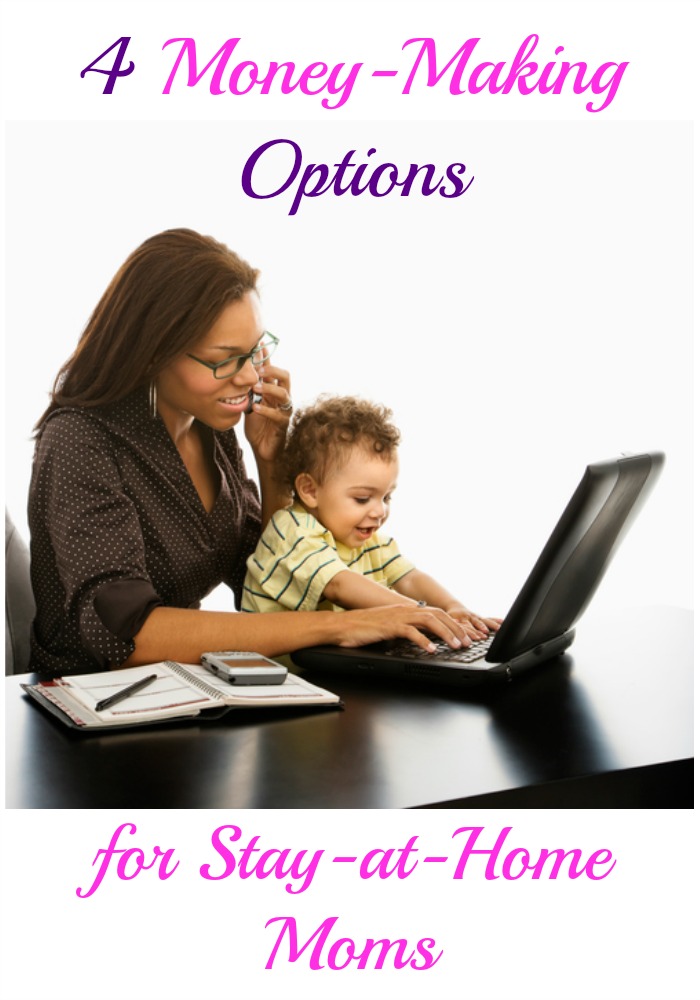 Launch a Blog
There isn't any question that being a stay-at-home mom is a full-time job–if only it came with a full-time paycheck. Nonetheless, if you have some free time on your hands, you might consider starting a blog. Yes, it does seem like everyone has a blog right now.
But, that doesn't mean that all blogs make money. You have to choose a blog topic that is in demand. Luckily, mommy tips are always in demand.
Plus, you want to have a blog that interest you–otherwise, you won't be committed to writing on a regular basis. Yes, you have to write consistently.
Still, you can write once a day or several times per week. What matters most is the quality of your posts. In addition, you should monetize your blog by becoming an affiliate advertiser or by using Google AdSense. You make money when people click on and buy something from your ads.
Yet, you don't want your site riddled with ads either, because that would feel spammy. A few relevant, and carefully placed ads should do the trick. You want a mixture of image-based and text ads.
They must feel natural, as well. To illustrate, if your blog is about organic food, you wouldn't want ads on your site selling mattresses.
Trade Penny Stocks
Penny stocks offer some of the best opportunities for making money from home. And, it won't cost an arm and a leg to invest. Penny stocks trade at below $5 per share.
Imagine if you were to buy 100 of $4 penny stocks that doubled or tripled their price in one year. That's what happened to Apple years ago–yes, it was once a penny stock. Hard to believe, isn't it?
When trading penny stocks, it is important to know when you will take a profit and when you will exit your trade.
Only enter when you have the right buy signals. You don't want to chase a stock and add to your position, because that would be the easiest way to lose money. Furthermore, you want to diversify. Don't put all of your money in one basket.
My friend from die besten Aktien Apps, says that a good rule to follow is to never put more than 20 percent of your investing funds in one company. Moreover, only trade high-volume stocks. Otherwise, it can be difficult to get out of a low-volume stock. There is so much to consider when it comes to investing. Doing research into companies such as Stocktrades or even watching videos on people telling you their experiences of stock investing would be good moves to make if this is a route you want to go down. Making money fast is ideal, especially for a stay at home mom, but only if you go about it the right way.
Create an Online Store
If you have a knack for selling, and retail, then you can easily set up your own online store with sites such as:
Etsy

CafePress

Zazzle

eBay

Amazon

Shopify
Many people make an excellent part-time or full-time income by selling goods online. if you have a great business idea, or create items that you want to sell online, there are places that could help with custom packaging for your business. If you're not the business minded person but you're creative, you may want to have a look into running a regular master classes on 'how to design your shopify store' through a webinar, there are loads of people who want to learn more about the web and this is one way they and you could work from home. If you are invested in the idea it might be interesting to check out some sales funnel templates to consider better options moving forward. Moreover, if you are sophisticated enough you can even create successful website revenue streams for content creators, such as branded merch or branded partnerships. This is a great way to improve your revenue margins from content creation as they help you make money. 
Freelance
There are many options for freelancing from software development to writing. The Internet is full of sites that offer portals for freelancers and clients to meet. Depending on your area of expertise, you could make a good amount of money for just a few hours per day of work.
You can work when your kids are napping or at school. Then, have the rest of the day for your family.
Final Thought
As you can see, there are many ways to make money as a stay-at-home mom. The choice is yours.